Joan Collins has snotty makeover suggestions for Camilla Parker Bowles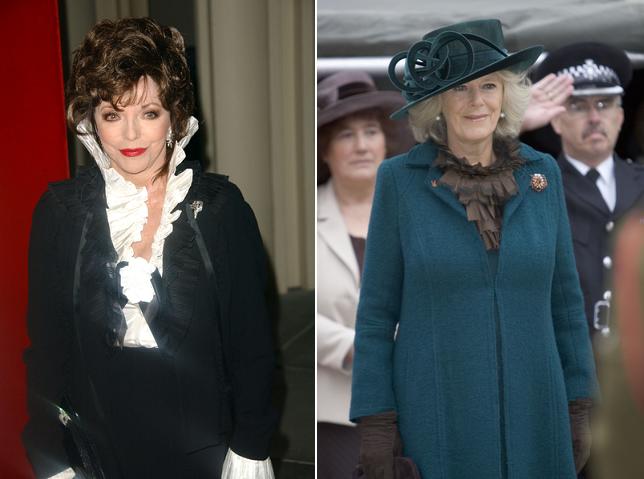 CB sent me this story, and it's ridiculously funny. The gist is that Hello! Magazine asked Joan Collins how she would give Camilla Parker Bowles, The Duchess of Cornwall, a makeover. The piece is ridiculously passive-aggressive, with Joan taking up nearly a page to describe (as if to a child) how Camilla should apply makeup. Stuff like "don't use anything shiny and orange, it will make you look old, which you are," only Joan can be that honest. She says things like "Camilla has pretty eyes, so she should accentuate them… Camilla's mouth is crying out for a strong-coloured lipstick."
Joan also goes in detail about all of the horrible clothes Camilla wears, the terrible way Camilla does her hair, how lumpy Camilla looks, and how Camilla needs to work out. But again, Joan doesn't come out and say it. The weird thing is that Camilla's appearance has drastically improved the past few years. Her hair alone is applause-worthy. Camilla, bless her heart, has always been and will always be one of the horsiest women ever, but she's putting some effort into her appearance, and it shows. This is, after all, the woman whom Princess Diana referred to as "The Rottweiler".
Let's start with her clothes. Camilla is looking a little matronly of late. The big hats that she has taken to wearing… overpower her. They seem to mirror the Queen's style, yet Camilla is 22 years younger than Her Majesty. In some photographs, they could even be contemporaries.

The Duchess needs to dress younger, but not too young. There is a fine line between mutton dressed as lamb and a chic, slightly daring older woman.

Camilla should invest in a one-piece bodysuit that hugs her figure and pulls in at the waist. And shoulder pads are excellent for improving shape.

As for her hair, Camilla's current style drags her face down. As we get older, gravity pulls everything down, so she needs to counteract this. A richer honey-blonde shade, with a few paler highlights at the front and sides, would bring light to her face. One should always have a lighter colour next to the skin.

And for toning up without the horror of going to the gym (how I hate it!), my trainer… comes to my house two or three times a week and, without knocking me senseless, works me out brilliantly and gets fabulous results.
[From Hello! Magazine, print edition May 5, 2009]
It's almost enough to make me feel badly for Camilla. It's not her fault the future King of England prefers women who look like horses. Part of me thinks there aren't enough highlights in the world to make Camilla look beautiful, but really, it wouldn't hurt her to take some of Joan's advice. And, by the way, I've always loves the expression "mutton dressed as lamb" – definitely not for Camilla. Perhaps a sleek pantsuit? Maybe a good ashy blonde hairstyle? But for my money, the devil's in the details… who cares what Camilla's wearing if she's blinged out in millions of pounds worth of royal jewels? Who would even notice how lumpy she is? Besides Joan Collins.
Here's Camilla looking quite fetching at the Trooping the Colour in London in June. Images thanks to WENN.com .

Written by Kaiser

Posted in Camilla Parker Bowles, Joan Collins

- Mariah Carey lip synced on American Idol [CDAN]
- Colin Firth is looking good [Lainey Gossip]
- Internet celebrity charged with murder! [D-Listed]
- What is Paz Vega wearing? [Go Fug Yourself]
- New bachelors on The Bachelorette [Reality Tea]
- Goodbye to The Office [Pajiba]
- Bachelor Sean's fiance cheats on him [Evil Beet]
- Britney Spears out with her man [Popsugar]
- Nina Dobrev works it [Popoholic]
- Cindy Crawford needs to lay off the 'tox [Celebslam]
- Who said it: Carrie Bradshaw or The Dalai Lama? [Buzzfeed]
33 Responses to "Joan Collins has snotty makeover suggestions for Camilla Parker Bowles"