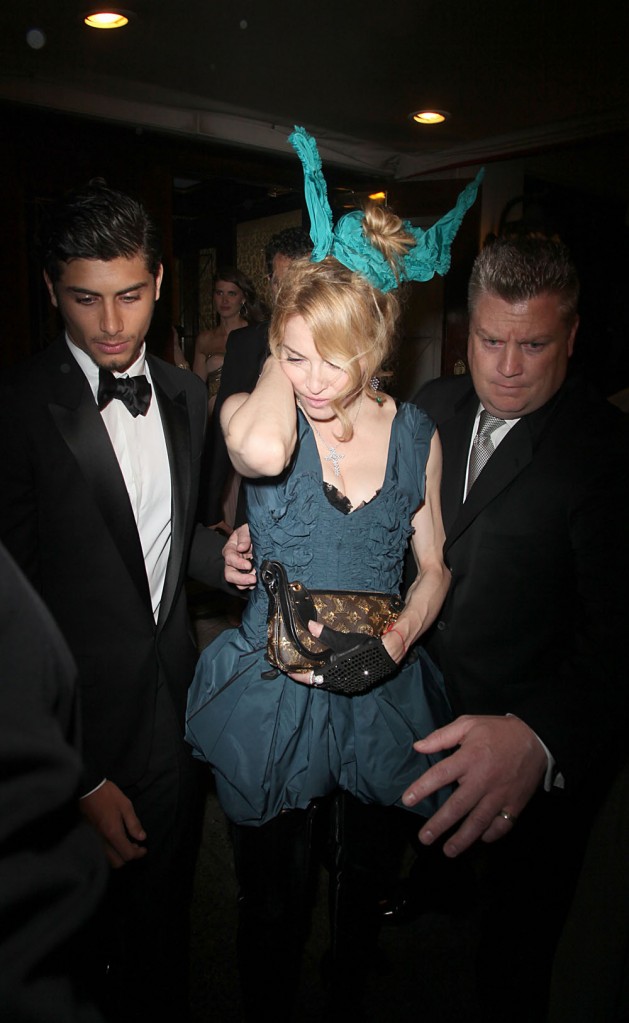 We all know what exacting standards Madonna has for everyone in her life. Not only must you be above perfection to be in her employ, but the same holds for anyone she dates. You must be a prime physical specimen, of a highly desirable age (preferably half her own), and capable of extended bouts of Madge worship. Oh, and you must speak the Queen's English. Or at least you must speak better than Jesus Luz apparently does.
Madonna has shelled out a whopping $1,000 a week to improve Luz's English. No ESL schools that advertise on the subway for her.
What's Portuguese for "sugar mama"? Frustrated by her Brazilian boyfriend's iffy English, Madonna has hired an English tutor for Jesus Luz!

"She's paying more than $1,000 per week for him to learn English," a source says. But it's a small price to pay for bridging the language – generation! – gap.
[From Star; May 18, 2009, print ed.]
Out of sheer curiosity, I wonder if it had ever occurred to Madonna to consider learning Portuguese? Perhaps a nice compromise, and she and Jesus could meet in the middle? Of course Madge is not known for her ability to compromise. And something tells me that between her vigorous workout routines and eating 750 calories a day, she's a pretty busy woman. I doubt she could fit in the tutoring to learn. Which really leaves the ball in Jesus' court.
I knew there were perks to dating Madonna, but I thought they mostly had to do with lavish clothes and nice hotels. Who knew language improvement and accent reduction were part of the package?
Here are Jesus and Madonna at the Costume Institute Gala on Monday in New York. Images thanks to WENN.com .