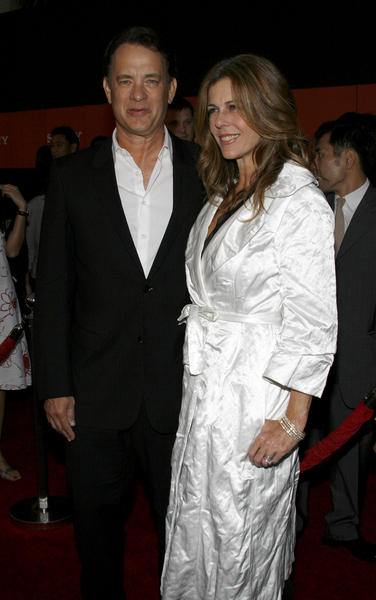 Tom Hanks, Rita Wilson, Nia Vardalos and producer Gary Goetzman have filed a joint lawsuit against Gold Circle Films, one of the other producers of "My Big Fat Greek Wedding." The four allege that Gold Circle has withheld their share of the film's profits. Hanks' and Wilson's Playtone Company was one of the film's producers.
"The lawsuit, filed in Los Angeles Superior Court, seeks unspecified monetary damages and a full accounting of the profits.

"Vardalos, who wrote and starred in the film, and producers Hanks, Wilson and Gary Goetzman claim Gold Circle Films owes them their percentage 'share of net profits.' The lawsuit also names Big Wedding Prods. and Vortex Pictures as defendants.

"The lawsuit said the movie cost $5 million to make. It has grossed about $370 million in theatrical sales, according to Box Office Mojo, a tracking firm. According to the plaintiffs, Gold Circle maintains the film's aggregate gross receipts total $287 million.

"Scott Niemeyer, a principal at Gold Circle, has denied all claims in the lawsuit, which he labeled as 'frivolous' and 'completely without merit.'"
[From USA Today]
Gold Circle claims that they have already paid the four a combined $44 million from the profits. "Vardalos' contract stipulates an 8% participation in adjusted gross profits, while the other three plaintiffs are owed one-third each of the net balance remaining after backend disbursements," according to the lawsuit.
I know we're a pretty litigious society, and Hollywood is a great example of that, but it really seems like the last week is filled with a crazy amount of suits. I know that spring is real estate season, fall is car-buying season, is summer lawsuit season? What I find most offensive about this lawsuit is that Nia Vardalos was only supposed to get 8% of the profits, even though she created, wrote, and starred in the film. She also got an Oscar nomination for writing the script. That's the difference between big names and unknowns I guess. I wonder what's happened to her. She's one of those actresses you could tell had a lot of substance and brains. Not enough brains to avoid doing a TV spin-off called "My Big Fat Greek Life," for CBS, but everyone makes mistakes.
Picture note by JayBird: Here's Nia Vardalos at the The Polar Express Los Angeles Premiere and the cast and producers of "My Big Fat Greek Wedding" at the 29th Annual Peoples Choice Awards. Header image of Tom Hanks and Rita Wilson at the Sony Global Marketing Partners' Celebration in September. Images thanks to PR Photos.