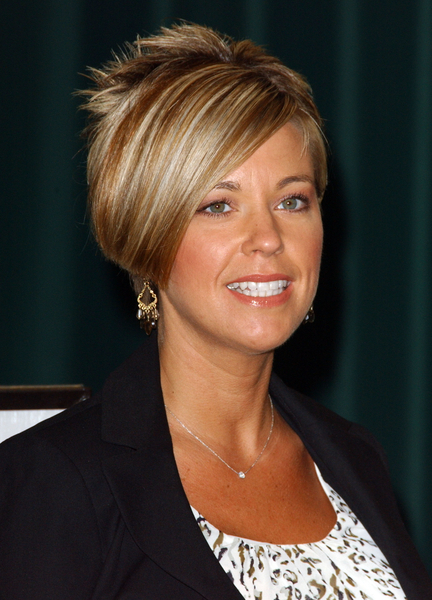 Jon & Kate Plus 8 reality star Kate Gosselin bragged last week that her bizarre asymmetric long in front-spiky in the back hairstyle reflected her attitude and that "everyone wants it," claiming her hairstylist "gets calls from across the country." It was a moment of levity amidst a couple weeks of scandal for Kate, although she didn't seem to be in on the joke.
US Weekly has solicited experts' opinions on Kate's much talked-about hair, and they're not complimentary. The style is too inconsistent, hair experts say, and Kate needs to either cut it short or grow it long, not try and have it both ways. It just doesn't match up and the result is jarring:
Kate Gosselin recently told Entertainment Weekly that her spiky, asymmetrical hairdo reflects her "attitude," but that "it's not going to work for everybody."

Celebrity hairstylists, however, don't think the cut works at all.

"The style seems almost punk 1980s, which might be cool if it was 1985 and she wasn't a mother of eight," Jessica Gillin of NYC's Sally Hershberger Salon tells Usmagazine.com.

Gillin's gripe? "The back is way too short," she tells Us. "It is almost a men's clipper cut."

Gosselin would look cute with a pixie cut, but "she'd have to cut the front shorter," says Gillin. If she wanted a bob, "she'd need more length in the back."

Right now, Gosselin just looks like she "has two haircuts going on that don't blend at all," says Gillin.

Says Valery Joseph, owner of Valery Joseph Salon in NYC: "The only aspect of this look that works are her side bangs. But her smooth, long bangs just do not match with the short, spiky back."

Joseph adds that the look is "definitely not appropriate for a woman of that age." (Gosselin is 34.)

Joseph jokingly calls the look "the modernized version of the mullet — business in the front, party in the back."

Matthew James Fugate of NYC's Sam Brocato Salon tells Us there is a plus side to Gosselin's 'do: It won't take long to style.

"Hold your super long bangs in your hand," he jokes, "and put the rest of your hair in a salad shooter."
[From US Weekly]
I live in Germany and it is much more common here to see women with streaks in their hair, bright red hair, and variations of buzz cuts, mullets and hair sticking out all over. Sometimes I point out odd hairstyles to my husband, who then proceeds to stare in that completely obvious way guys do while thinking they're being subtle about it. He then tells me I'm wrong and their hair looks fine, which makes me question every time he's ever complimented mine. If Kate likes her hair and thinks it looks great that's all that matters. That security guard she's rumored to be banging probably doesn't mind that her hair isn't stylish. Guys rarely do.
Kate Gosselin and her most likely estranged husband, Jon, celebrated their sextuplets' fifth birthday with a big party at their Pennsylvania estate on Sunday. The festivities were complete with a big castle bounce house.
Header photo credit: PRPhotos. Photos of the sextuplets' birthday party on Sunday credit: INFphoto.com