I hope Santa Claus treated you all well this year, and that none of you ended up with coal in your stocking. (I got a Fitbit from the BF, which I actually asked for – it was not a passive-aggressive hint that I needed to watch my weight or anything.) Some people, however, lucked out a bit more this holiday season than others, like recent college graduate Rebecca Howe, who found a gorgeous red dress under the proverbial tree from none other than model/snappy dresser Chrissy Teigen.
The 23-year-old New York state resident, who recently got her degree in public relations from SUNY Oswego, casually tweeted that she liked the red dress Chrissy donned for a recent episode of Lip Sync Battle. As many of us (okay, maybe just me) would jointly do, she sent a tweet to Chrissy complimenting the dress and asking, "But seriously when you're done with that red dress, can I have it please?" This, of course, was punctuated with a heart-eyed emoji for dramatic effect. Well, you can imagine the surprise when Rebecca received a response from the 31-year-old "mom-del" stating, "I am done. DM me your address!" Rebecca got in touch, and on Christmas Eve, she received the gorgeous red dress, by Australian designer Nicholas. You can see it in action in this clip posted to Chrissy's Instagram.
The dress was a bit tight, according to Rebecca, but she felt she'd be able to get into it by New Year's Eve. On her blog, she thanked Chrissy for her generosity, writing, "I just want to thank you, Chrissy, for the beautiful dress. You rocked it on Lip Sync Battle, and now I promise to rock it, too. You are so generous and down-to-earth. Don't ever stop being yourself, please….I am a lucky girl to be given this opportunity." This kind of stuff never happens to me, although Chris Carmack from Nashville liked one of my tweets a few days ago. Sigh. I know, #coolstorycorey.
And, Chrissy, if you're still clearing out your unwanted clothes, I could really get a lot of wear out of those over-the-knee boots you rocked back in May…#justsaying.
It's been a busy holiday season for Chrissy. She wouldn't be the same social media addict we all know and love if she didn't slap back at a random Trump supporter who recently implied via a tweet that he hubby John Legend was illiterate, after Chrissy implied she and John would rather do anything than go to Trump's inauguration. The random tweeter got on the caps lock button and spewed, "AT LEAST WE WON'T BE ALL SUBJECTED TO YOUR NO TALENT ILLITERATE HUSBAND," to which Chrissy came back with "John went to the same university (the University of Pennsylvania) as the Donald, silly billy. Only difference was John went at the young age of 16." Insert mic drop here. Way to go, Chrissy.
John and Chrissy had a Merry Christmas with their daughter Luna. They posted pictures and video of Luna in an adorable Santa suit (which she seemed to enjoy more that her Halloween costumes) with her Hatchimal, the "must-have" Christmas toy of 2016. Chrissy (semi) joked when opening the present that, "We are all pretending this is for Luna," which totally lends credence to my theory that sometimes parents buy toys more for themselves than for their kids. The talking Peppa Pig I bought for Kevin's niece that I couldn't stop playing with is evidence of this.
Chrissy was so enamored with the toy that she almost missed her 8-month old daughter's first attempt at crawling waiting for the stuffed critter to hatch. She posted a video with the caption. "My daughter might crawl for the first time but I'm busy." Side note: Chrissy also excitedly posted a photo of the cotton candy maker her Mother bought for her. I'm jealous.
My daughter might crawl for the first time but I'm busy pic.twitter.com/sB8nIvcBVf

— christine teigen (@chrissyteigen) December 25, 2016
With all of this Christmas excitement, the Legend-Teigens need a getaway, don't you think? The family, with Luna and Chrissy's Mom, Vilailuck, in tow, jetted their way to Miami on Tuesday for a little warm, post-Christmas vacation. I hope she brought the cotton candy maker, and made sure to put those boots in the mail for yours truly! Hope all of you in CB-Land had a great Christmas/Hanukkah/Kwanzaa/Festivus!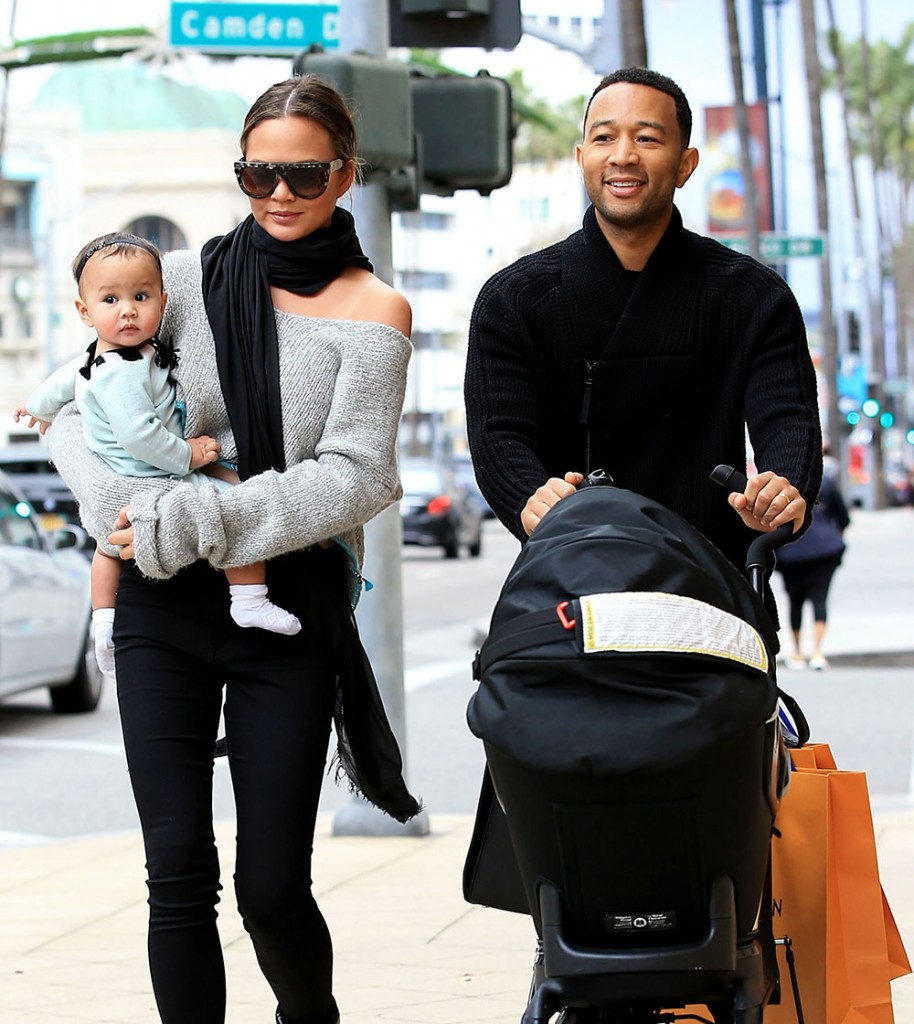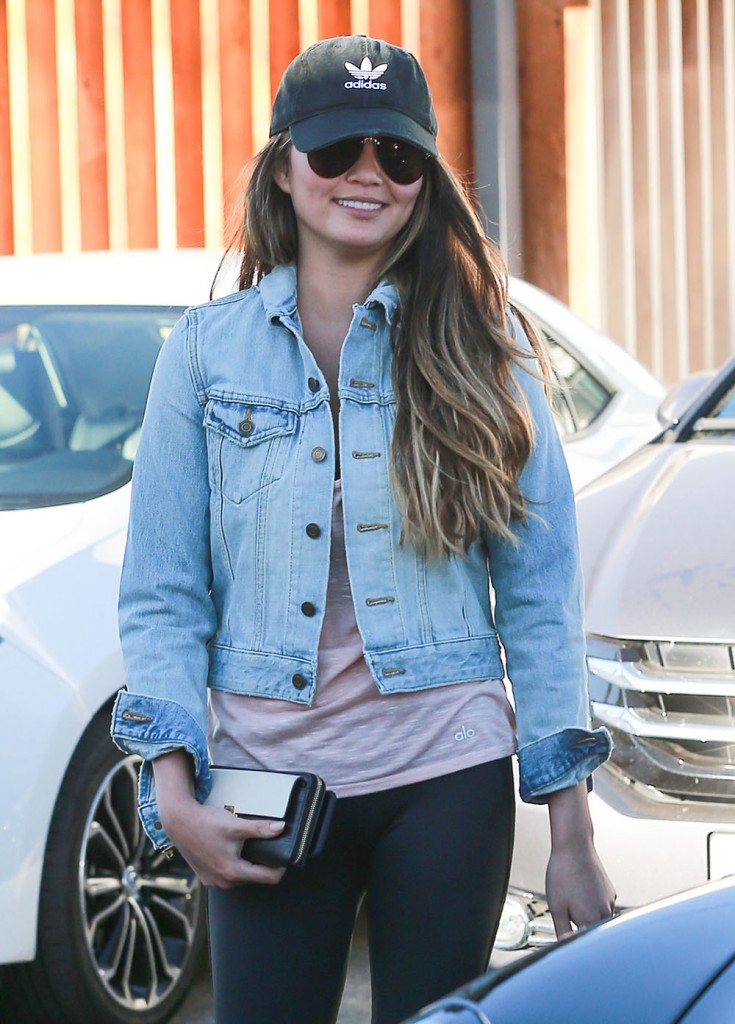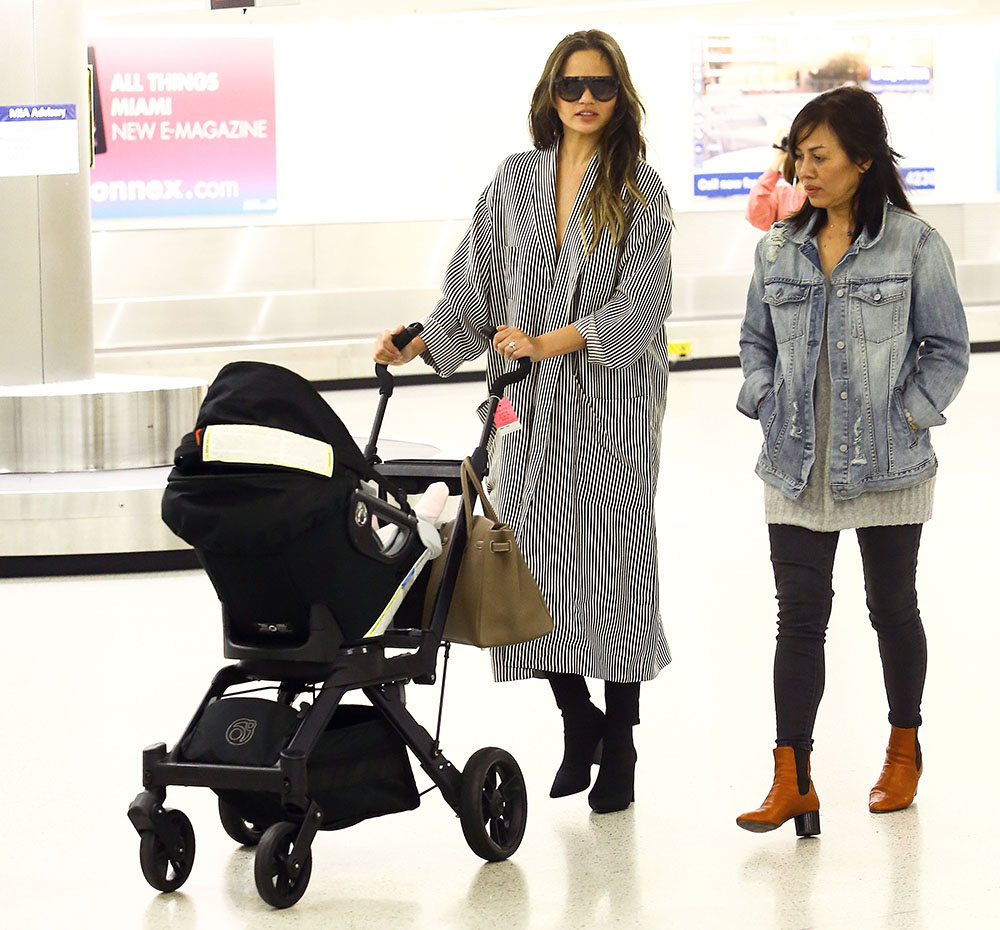 Photo credit: WENN.com, Getty Images, Fame Flynet