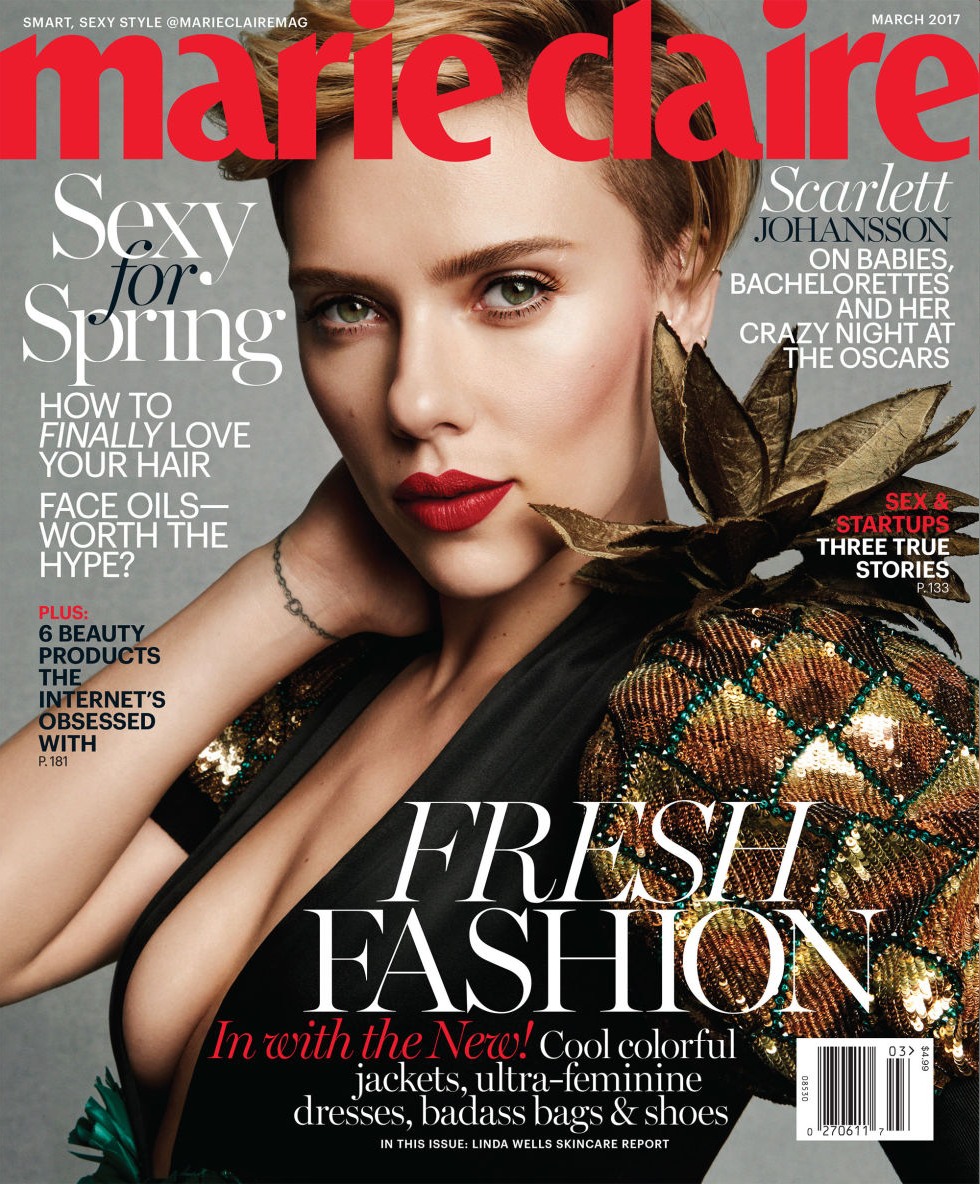 Scarlett Johansson covers the March issue of Marie Claire. I still hate her Kate Gosselin hair, but at this point, I think I'm used to it? Like, if Scarlett came out and suddenly had a lob, I would be floored. Anyway, Scarlett's promoting Ghost in the Shell, the movie where she plays a Japanese character named Major Motoko Kusanagi. That was the character's name in the original source material, but since ScarJo is a white woman playing this character, they changed the name to just "Major." Allegedly, producers were concerned about the whitewashing complaints so much, they might have CGI'd Scarlett a bit to make her look "more Asian," because Hollywood. I bring this up because Scarlett addresses the controversy for the first time in this interview, in between talking about breast pumps and such. Some highlights:
Her appearance at the 2015 Oscars: "I had to bring my breast pump, because I was nursing and every ounce is like liquid gold," says the actress, who had given birth to her daughter, Rose, five months earlier. After the ceremony, she reunited with it in the company of mutual friends Kelly Ripa and her husband, Mark Consuelos, but not for long. "Somehow, Mark got ahold of my breast pump—in a bag with all the milk, ice packs in there, and shit. He grabbed it out of my hand," Johansson recalls. He was just trying to help, she explains, "but our cars got separated. Apparently, Kelly looked over, and she was like, 'Wait a minute—is that Scarlett's breast pump? We've got to get it back!' because she knew how panicked I would be. We finally ended up at the same party three hours later, and Mark was like, 'I'm so sorry.'"

On motherhood: "It's very humbling. How's your boobs? Are they square? That was always my favorite."

On the controversy surrounding her casting as the lead in Ghost in a Shell: "I certainly would never presume to play another race of a person. Diversity is important in Hollywood, and I would never want to feel like I was playing a character that was offensive. Also, having a franchise with a female protagonist driving it is such a rare opportunity. Certainly, I feel the enormous pressure of that—the weight of such a big property on my shoulders."

On being the highest-grossing actress in Hollywood history: "Just because I'm the top-grossing actress of all time does not mean I'm the highest paid. I've had to fight for everything that I have. It's such a fickle and political industry."

On being reluctant to discuss the wage gap: "Some people felt I should talk about my personal struggle in order to shed a spotlight on the greater issue. Maybe I'm being presumptuous, but I assumed it was obvious that women in all positions struggle for equality. It's always an uphill battle and fight. My experience with my close female friends and family is that the struggle is real for everybody. Everyone has been discriminated against or harassed—sexism is real."

On her daughter watching her in movies: "I don't think she's allowed to see any of the movies I've made, other than Sing. I'll be happy when she's old enough to show her movies where I kicked some a**."

On no subject being off-limits with her friends: "I want to talk about what's happening with your vagina. I want to know why it hates you or whatever. I want to compare and contrast notes. I want to talk about sex and all that stuff."

On celebrities being vocal about politics: "[I believe] that it is really important to hear people in various positions of power voice their opinions, their story. Why not? Why can't I have the voice? Why can't I use my platform? What's the point of having it if you don't use it? If you don't want to get involved, please, the noise is loud enough. But if you've got something to say, say it."
I think her answers about the wage gap and sexism are on-point – she shouldn't feel like it's her duty or responsibility to become the face of an issue if she doesn't want to be. Plus, I think it's discouraging when we expect so much from women like Scarlett and Jennifer Lawrence and Amy Adams and yet we don't expect the men to say anything, whether it's the men getting paid more or the men deciding who gets paid more.
As for what Scarlett says about whitewashing… no. Do better, Scarlett. You're going to get a lot of questions about whitewashing in the next few months, and your answer needs to be more than "I would never want to feel like I was playing a character that was offensive." It needs to be more than a deflection to "at least this is female-driven franchise" too. That is white feminism – the belief that if it's good for a white woman, no one should have any complaints. This could have been a franchise for a Japanese woman or a Japanese-American woman too and it wouldn't have been a racial minefield.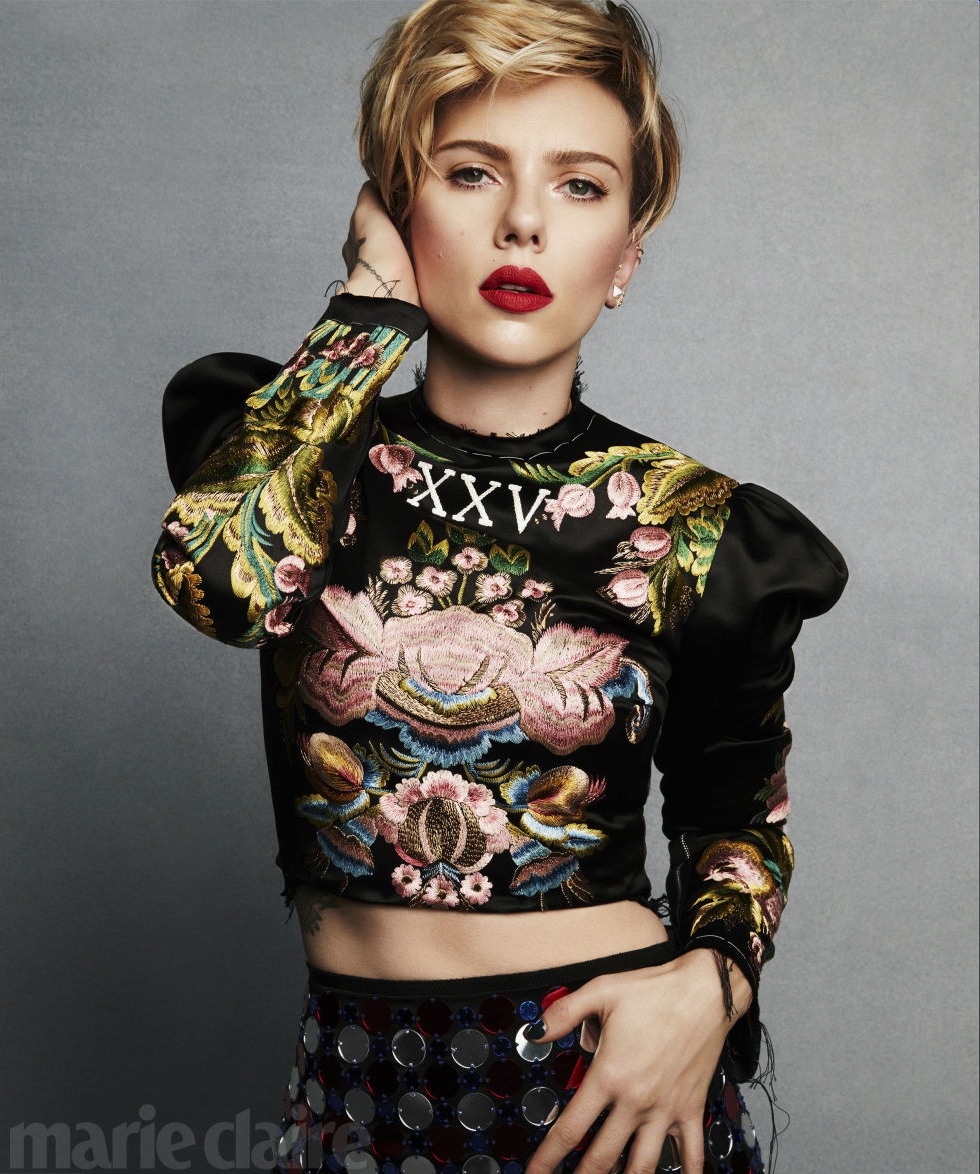 Photos courtesy of Marie Claire.