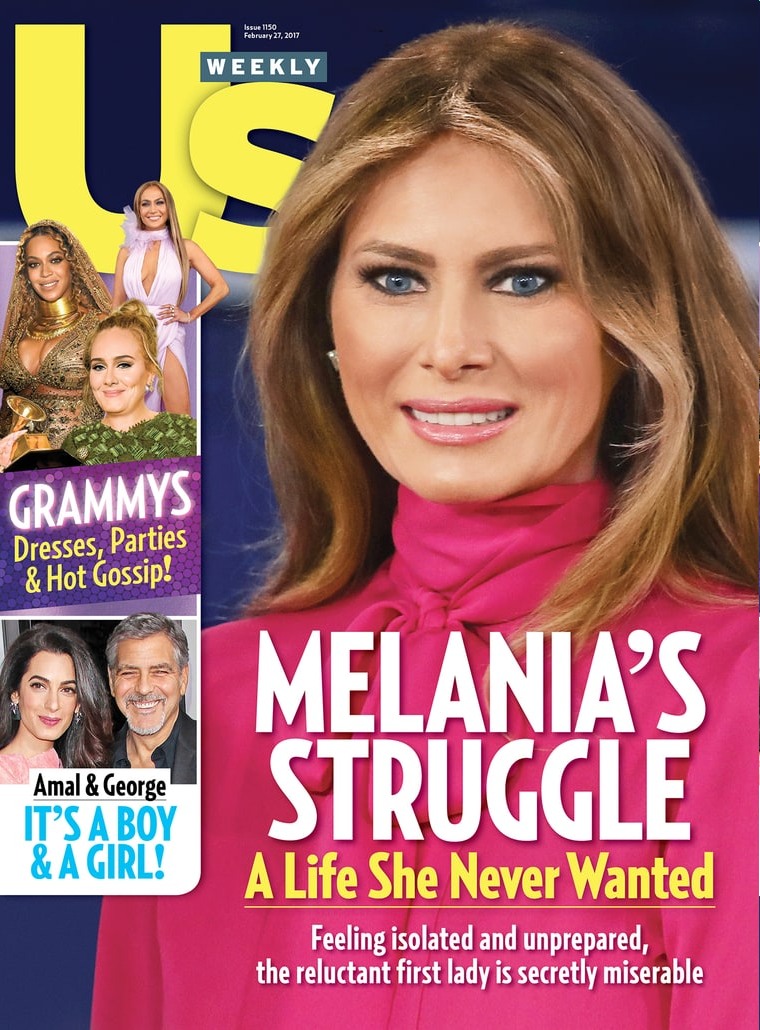 We've talked before about the sympathy we could and possibly should have for Melania Trump. I honestly don't like to think about it too much, because if I really imagine what her life is like being married to Donald Trump, I think I would find her sympathetic. Of course, then I remind myself that Melania – of her own free will – continued to stoke the birtherism issue. As in, she was going on TV and demanding that President Obama reveal his birth certificate. So… yeah. Also remember that Melania's legal argument in one of her recent lawsuits was that suggesting she was an escort hurts her ability to profit from the office of the First Lady. Anyway, Us Weekly has devoted this week's cover story to Poor Melania And Her Penthouse Of Sadness. She's so sad, you guys. She just sits in her penthouse and cries.
While her husband, Donald Trump, wields his power as president, first lady Melania Trump is struggling with the realities of her new role and the scrutiny that comes with it, insiders reveal in the new issue of Us Weekly. "This life wasn't her dream. It was Donald's," Trump family friend and stylist Phillip Bloch tells Us. "Truthfully, it's a lot to cope with."

"Melania is unhappy with how her life ended up," alleges a family source. "She is miserable."

Since inauguration day, Melania has spent most of her time holed up in her lavish apartment. Never a fixture on the NYC social scene, "she is staying hidden more," claims Bloch. (By contrast, Michelle Obama hosted an open house for select members of the public, plus a party for White House staffers during her first week on the job in 2009.) According to a family source, not even Barron can get her out the gold-plated front door. Pre-inauguration, Melania would shuttle her son in a chauffeured SUV to and from his private school. But that was before picketers took up residence outside her building. Now, claims the source, "Melania has the Secret Service take Barron to school and retrieve him."

Melania has left her $100 million apartment a handful of times. But aside from one outing to run errands January 30, she has usually headed to her other (luxurious) home. The first lady joined Donald, 70, at Mar-a-Lago, their $300 million estate in Palm Beach, Florida, the weekend of February 3. She went the following weekend too — with a quick pit stop in Washington, D.C., to catch a ride on Air Force One with Donald and Japanese Prime Minister Shinzo Abe and his wife, Akie.

"Melania says she's most happy at Mar-a-Lago," says a source close to the first lady. "She loves Palm Beach!"

In familiar surroundings, she happily played hostess February 11. It was a conspicuous contrast to the previous day, when the most important woman in Japan was left to tour various spots in the nation's capital minus the traditional first lady escort. (Both Laura Bush and Obama accompanied Akie on previous visits.) While their husbands talked policy over a round of golf February 11, Melania and Akie visited a Bethesda-by-the-Sea church — where the Trumps wed in 2005 — and strolled around the Morikami Museum and Japanese Gardens in Delray Beach. "Don't let her smile in those photos fool you," claims the source. "She hates this."

A Melania source counters that "she is very happy with her life and supporting her husband and family."
It's interesting to me that Melania's entire argument for staying in New York was to keep Barron on his school schedule, and to be a full-time mom and now she's not even doing that – she makes the Secret Service take him to school and she's spending weekends in Palm Beach. Ugh. Anyway, it wouldn't surprise me if Melania is miserable, just like it wouldn't surprise me if she had been miserable for a long time. She's going to be even more miserable when her p-ssygrabber pervert husband is impeached.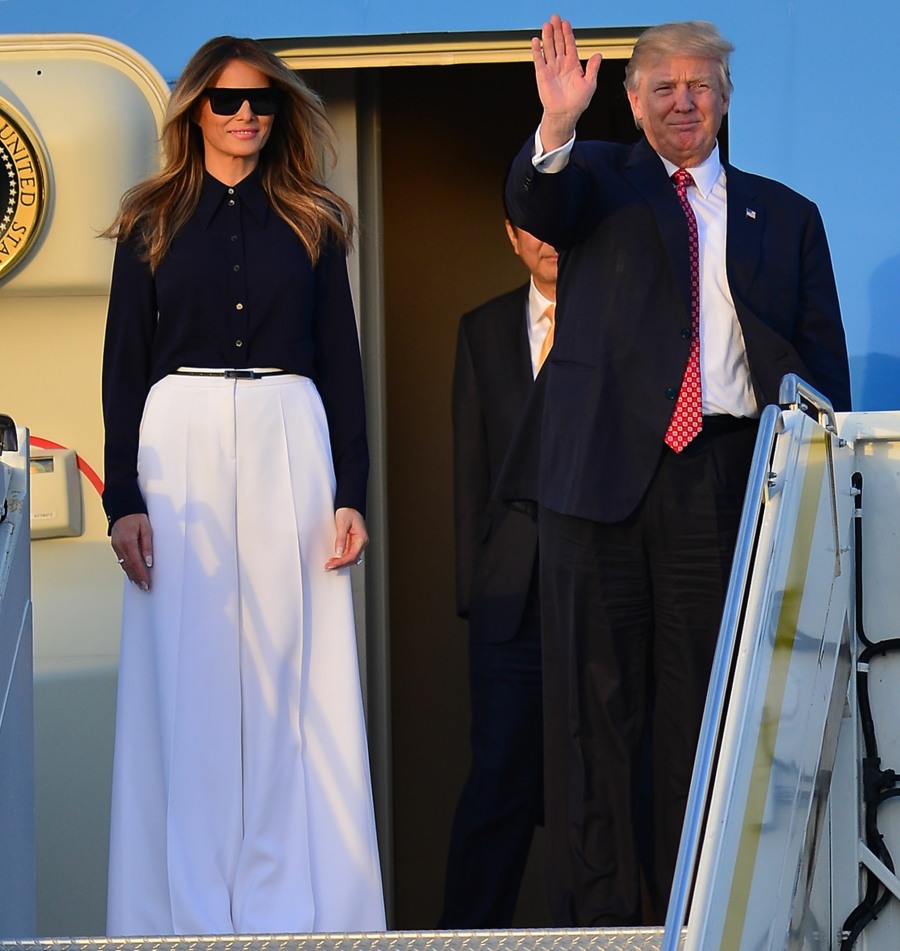 Cover courtesy of Us Weekly, additional photos courtesy of Fame/Flynet.