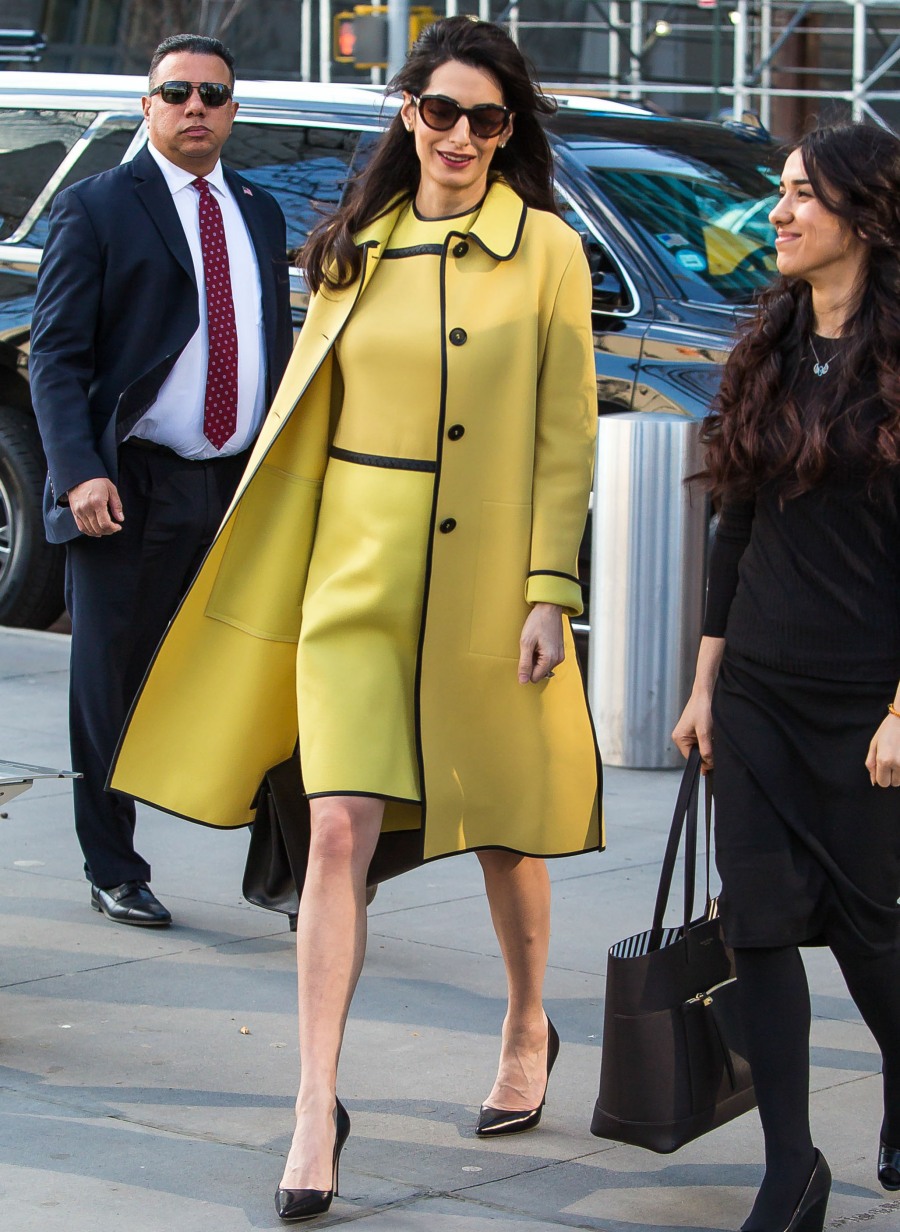 As we discussed last week, Amal Clooney was out in public, giving interviews and making appearances at the United Nations on behalf of her client Nadia Murad, a victim of rape at the hands of ISIS. Most of the headlines about Amal's appearances were about her clothes, her appearance, her pregnancy and her marriage. Which Amal sort of shrugs about because, as she said to the BBC, if you're paying attention to her fashion, maybe you'll also stick around to hear what she has to say about genocide.
I sort of agreed with her perspective, especially since it's clear that she's not going to stop dressing-to-impress. Amal has always had sort of wacky style, but especially over the course of her marriage to George, her wacky style has gone higher-quality. Like, the coat that she's wearing in these photos from her UN visit? It's from Bottega Veneta and the coat alone costs £3,000. Now the Daily Mail says that Amal are already spent something like £168,135 on her "maternity wardrobe."
Six months pregnant and carrying twins, elegant Amal Clooney could be forgiven for choosing comfort over fashion. But it seems that the human rights lawyer is taking impending motherhood in her very stylish stride — not to mention in five-inch heels. Since announcing her pregnancy last month, the 39-year-old wife of Hollywood star George has dressed her growing bump in a series of sophisticated designer ensembles.

Without an elasticated waistband or billowing dress in sight, comfort clearly isn't a huge concern — and neither is price. While most expectant mothers might favour cheap maternity wear (after all, it can only be worn for a few months at most), Mrs Clooney has already stepped out in tens of thousands of pounds worth of designer gear, much of which is unlikely to fit her slender frame after the babies have been born. From an embellished coat by Valentino for £5,000 to a £120,000 Atelier Versace red-carpet gown, style editor DINAH VAN TULLEKEN reveals the secrets of Amal's £168,135 pregnancy wardrobe.
You can go to the Daily Mail to see the breakdown of which outfits cost what. I mean, if it was me, I would just go to The Gap and buy out their maternity section and that would cost, what? Maybe a few thousand dollars. But so many of the pieces that Amal wears are bought, not borrowed, and she's having those pieces tailored for her pregnant body. Plus, she's buying a lot of one-of-a-kind vintage pieces too, and very few of the pieces were even maternity clothes to start with! So it does seem like a waste of money, and all for what? To still be a "fashionista" while pregnant?
PS… I love the Bump Trutherism when it comes to Amal's pregnancy. For whatever record, I think she really is knocked up. It's just her style that makes everything look so pillowy and fake.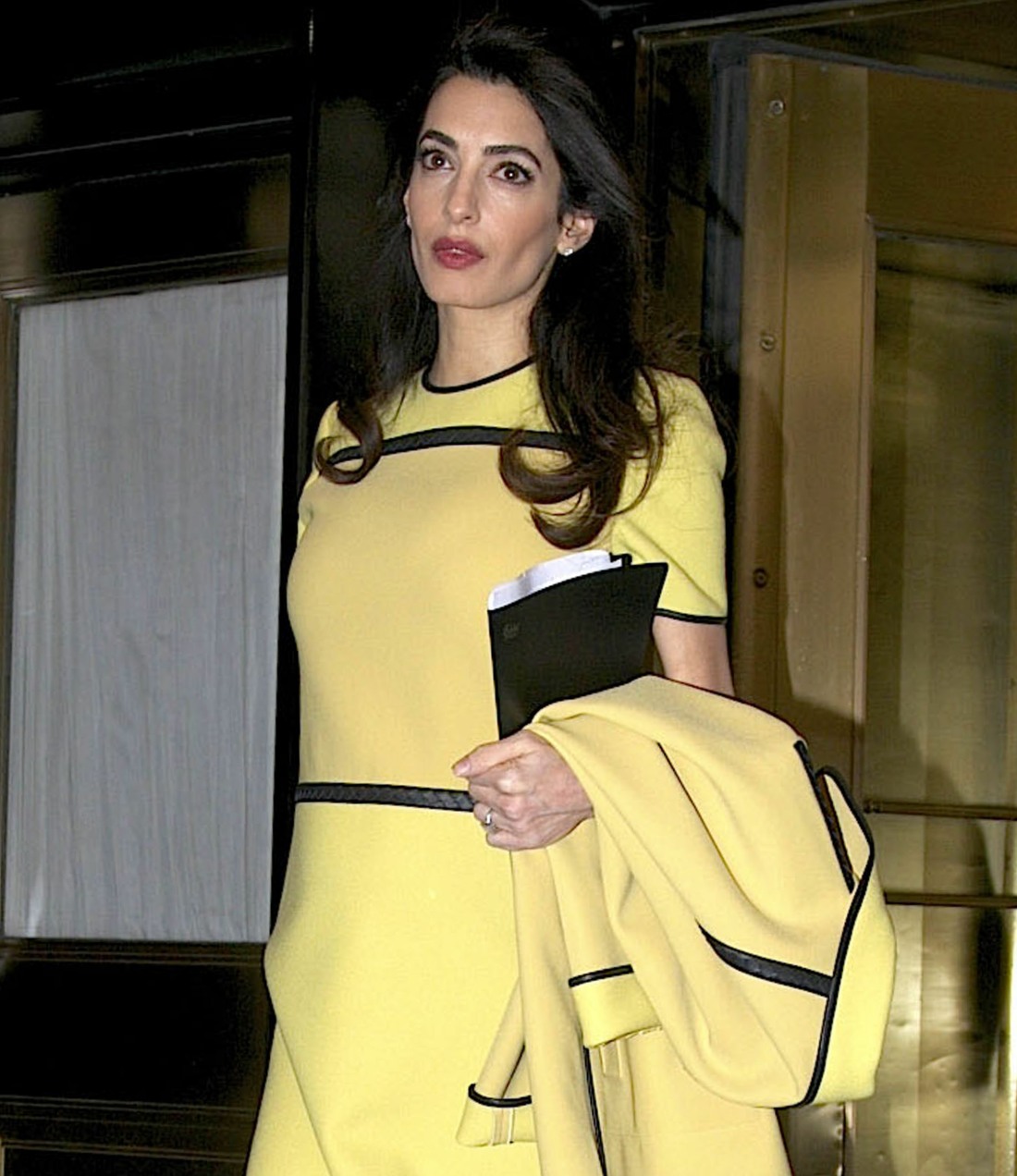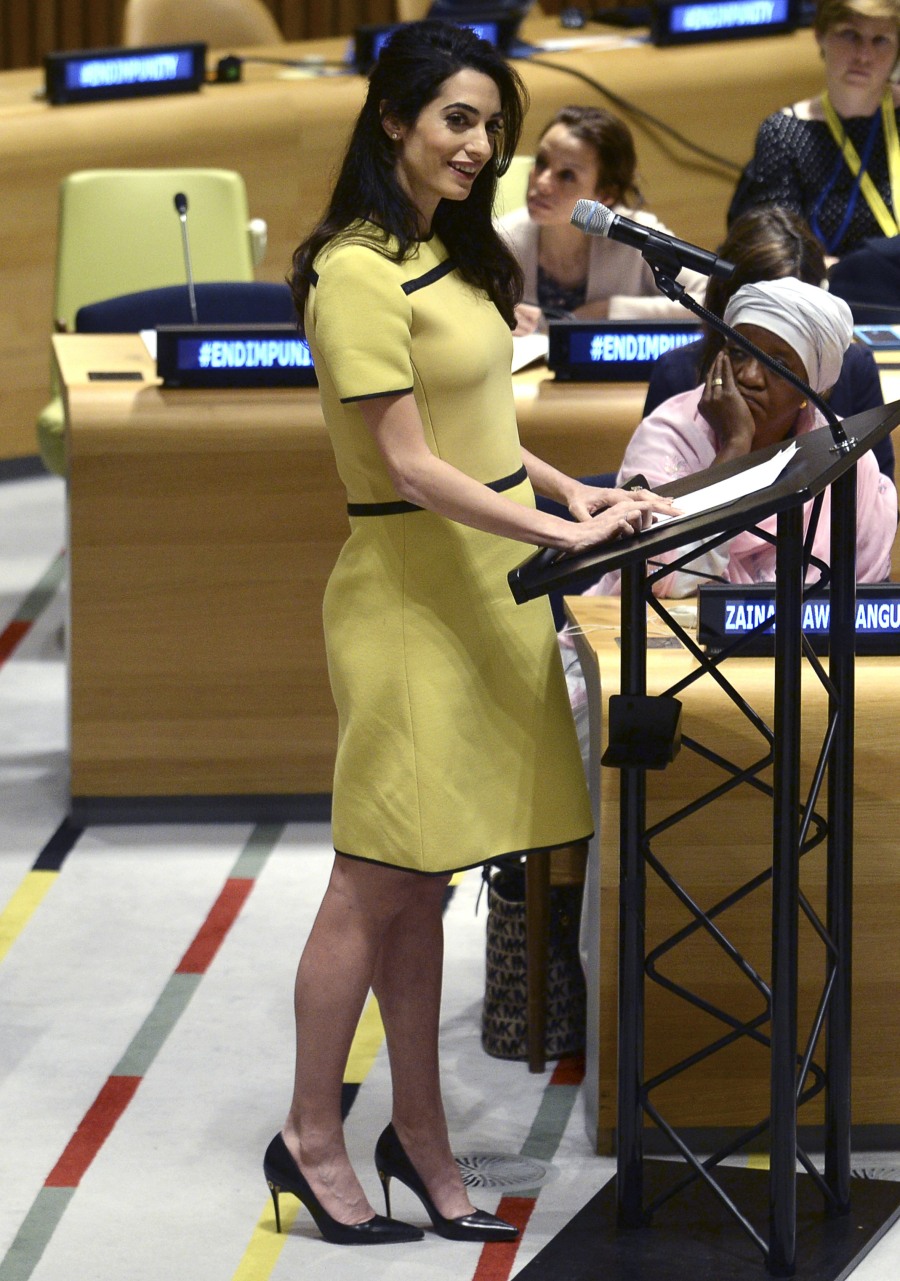 Photos courtesy of Fame/Flynet and WENN.