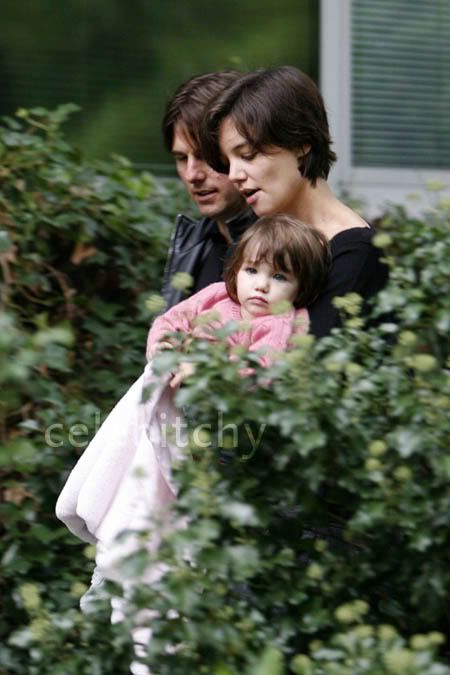 There was a rumor that originated in ever-reliable Life & Style Magazine this week that little maybe 16-month-old Suri Cruise was offered a lucrative modeling gig as the new infant face of Baby Gap. JayBird covered that story here, and Life & Style had Tom and Katie turning down the offer and choosing to stage their own photo ops for the toddler.
The story was repeated, changed and unsourced by ExtraTV, SFGate, and Digital Spy, among others and in the gossip telephone game it became changed to suit the hearers' wishes. Suri was suddenly set to model khakis and romper wear in a national campaign.
Tom Cruise's people say there's no truth to the rumor that Suri will be modeling for Baby Gap, but they fail to mention if they were approached about it. I like to think that part of the story is true:
A rep for Tom Cruise is denying reports that his youngest daughter is going to be the new face of Baby Gap.

The rumor is "totally untrue," according to the actor's publicist.

Reports surfaced on Wednesday that Suri had signed a lucrative contract with the kids clothing company.
[From US Weekly]
US Weekly also points out Suri's eventful summer, mentioning that she's been all over the globe from Louisiana to the South of France, Italy, and Germany. While Brad and Angelina are always getting flap for bringing their four children along with them around the world, no one ever mentions how little jet-setting Suri gets moved around a lot too. Maybe that's because she's younger and doesn't have any siblings yet.