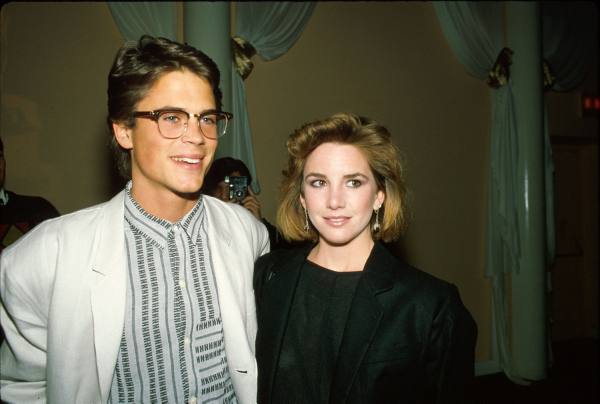 Last week Star Magazine had advance details from Melissa Gilbert's upcoming memoir, Prairie Tale. Gilbert writes that Shannen Doherty, her co-star on "Little House on the Prairie,"slept with her first husband, Bo Brinkman, when they were still married. Star has more juicy findings from the book, including the detail that Melissa cheated on then-fiance Rob Lowe in the 80s with hot commodity John Cusack – who just happened to be Lowe's best friend. Lucky girl! It wasn't a clear cut case of betrayal, though, because Lowe was stepping out on her too:
In her new autobiography, Melissa reveals she even slept with her fiance's best friend – just to get back at him.

Melissa was engaged to Rob Lowe when he went off to make the movie The Hotel New Hampshire in Canada, she writes in Prairie Tale, according to a publishing insider faimliar with the book.

"Rob asked his pal John Cusack to look after Melissa while he was away," says the source. But it wasn't long before Melissa learned that Rob was having a torrid affair with his costar Nastassja Kinski. "So, out of revenge, Melissa had a fling with John!"

Melissa and Rob's whole relationship was on and off. "She writes that she was deeply in love with him and was devastated when they split," says the source. "She started dating a wonderful guy she adored, but then Rob reappeared and proposed to her."

Melissa broke up with her new man, and everything was great with Rob – until she found she was pregnant, says the source. "Rob was young and began freaking out, and he and Melissa broke up for good. Melissa reveals that she ended up having a miscarriage."
[From Star Magazine, print edition, June 8, 2009]
How sad that Lowe dumped Gilbert when he found out she was pregnant! They were obviously having other problems in their relationship, but that must have been heartbreaking to lose the baby afterwards.
Gilbert is a busy Twitterer, and she's very gracious about answering her fans' questions. She said in answer to a question if she was getting nervous about her book release on June 9 that she was "Kind of freaked out. I'm re-reading it and it's just so personal…yikes!" Gilbert also said that she had to clean her house for a People Magazine photo shoot so we can expect to see a nice spread with her ahead of the book release. I would bet this book is a big success for Melissa. She sure put enough dirt in there to earn a lot of headlines when she's promoting it.
Photo below is of Cusack in 2002 thanks to PRPhotos. Photo above is thanks to Life Magazine and is from 1984