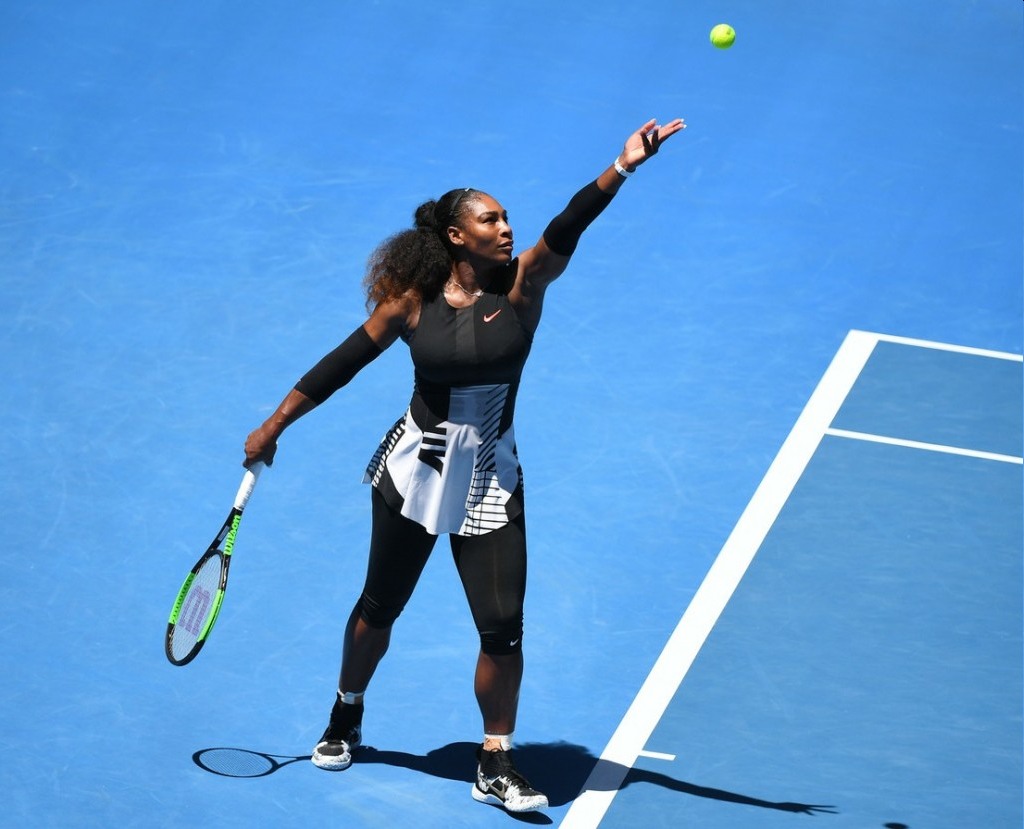 Serena Williams' publicist ended up confirming Serena's pregnancy. She said: "I'm happy to confirm Serena is expecting a baby this fall." Serena's publicist also said that obviously, Serena would be missing the rest of the 2017 season, which… duh. I mean, I have no doubt that Serena could rack up some significant match wins while seven months pregnant, but after she won the Australian Open while preg, she literally has nothing else to prove. Interestingly enough, Serena's publicist also insisted that Serena WILL return to the tour next year. Which has created a bit of stir. I said yesterday that I doubted that Serena would defend her title in Australia next year, but that we might want to pencil in Wimbledon 2018 as Serena's potential comeback. I still feel that way. I think Serena might play next year's Indian Wells and Miami, then maybe play one or two clay tournaments, maybe make it to the QFs of the French, then it will be on to Wimbledon. That's how I see it play out.
Of course, there's always the possibility that Serena will feel differently when the baby is here. But considering her historic achievements, from winning more Slams over the age of 30, to her consecutive-week #1 ranking, to the fact that she's has the most Slam singles titles in the Open Era, why not believe that Serena can come back after a baby, at the age of 36? Plus, there's no small matter of the money. When Maria Sharapova admitted to testing positive for banned substances last year, Sharapova lost millions of dollars as sponsors suspended (mostly temporarily suspended) their contracts with her. Which made Serena the highest-paid female athlete in the world. I worried that some of Serena's sponsors, like Nike, would not be too happy about the pregnancy. But according to sponsorship experts, it's more likely that Serena's pregnancy will mean even more $$$ in the years to come.
A pregnant Serena Williams makes the tennis superstar even more attractive to corporate sponsors, allowing her to extend her reach into maternity wear and motherhood products, sponsorship industry executives said. Williams, 35, is already known around the world for her dominance of women's tennis, but pregnancy would make her even more likable in the eyes of the wider public, experts in the sponsorship industry said.

"You take an iconic name who's now a brand and you add pregnancy to it, you get a happy story," said Gary Fechter, an attorney at McCarter & English who has represented companies in sponsorship deals. "This just makes her even more valuable."

With almost $29 million in salary and sponsorship earnings, including from Nike nke and PepsiCo pep , Williams ranked as the top paid female athlete in the world last year on a list compiled by Forbes magazine. But lower prize money in tennis left her 40th in the overall standings. However, her earnings from sponsorship deals alone, at $20 million, would rank her far higher on the Forbes list-tied at 20th with fellow tennis player Maria Sharapova.

Williams could add to her earnings by appealing to new audiences, the experts said. Existing sponsors could tell new stories with an expecting superstar athlete, and new corporate sponsors might sign up with the mom-to-be as well.

"This just adds another dimension to Serena the person," said Jim Andrews, senior vice president with IEG, a WPP unit that tracks sponsorship spending. Lawyer Fechter said there has not been an athlete of Williams' prominence who stepped away while still dominant, but he pointed out that pregnancy only made non-sports celebrity Kim Kardashian more popular.

"This will enhance her likeability and certainly her marketability," Fechter said of Williams.

Industry officials agreed no existing sponsor would ever drop Williams as a spokeswoman because she remains at the top of her sport and any move by a company to distance itself from a pregnant woman would likely be heavily panned by the public. In addition to Nike and Pepsi, Williams' roster of sponsors includes Wilson Sporting Goods, J.P. Morgan Chase jpm , Apple's headphone company Beats Electronics, International Business Machines ibm and German automaker BMW's Mini brand, according to IEG. Existing clients could tap into new markets with a pregnant superstar athlete, industry experts said. Williams could even expand her clothing line marketed on HSN Inc into maternity wear.

"There are a lot of different products and a lot of different brands that will feature families, motherhood, young kids and here's somebody who would be potentially a great working mom if she continues her career," said Doug Shabelman, president of Burns Entertainment, which matches celebrities with corporate sponsors.
That's a nice way of looking at it, I guess. I didn't even think of the fact that yeah, of course Nike will look terrible if they drop Serena during her pregnancy. And of course pregnancy is a big business nowadays – that's why I call it The Motherhood Industrial Complex. Having babies and talking about those babies is an actual career strategy now. Serena could get a piece of that. Now, all that being said… Serena does NOT have a likeability problem. To act like this pregnancy suddenly "humanizes" her is absurd. You know what humanizes her? The fact that for 20 f–king years, she's had to deal with racists and misogynists devaluing her and her talent and her work and yet she kept on succeeding.
Photos courtesy of WENN, PCN, Getty.