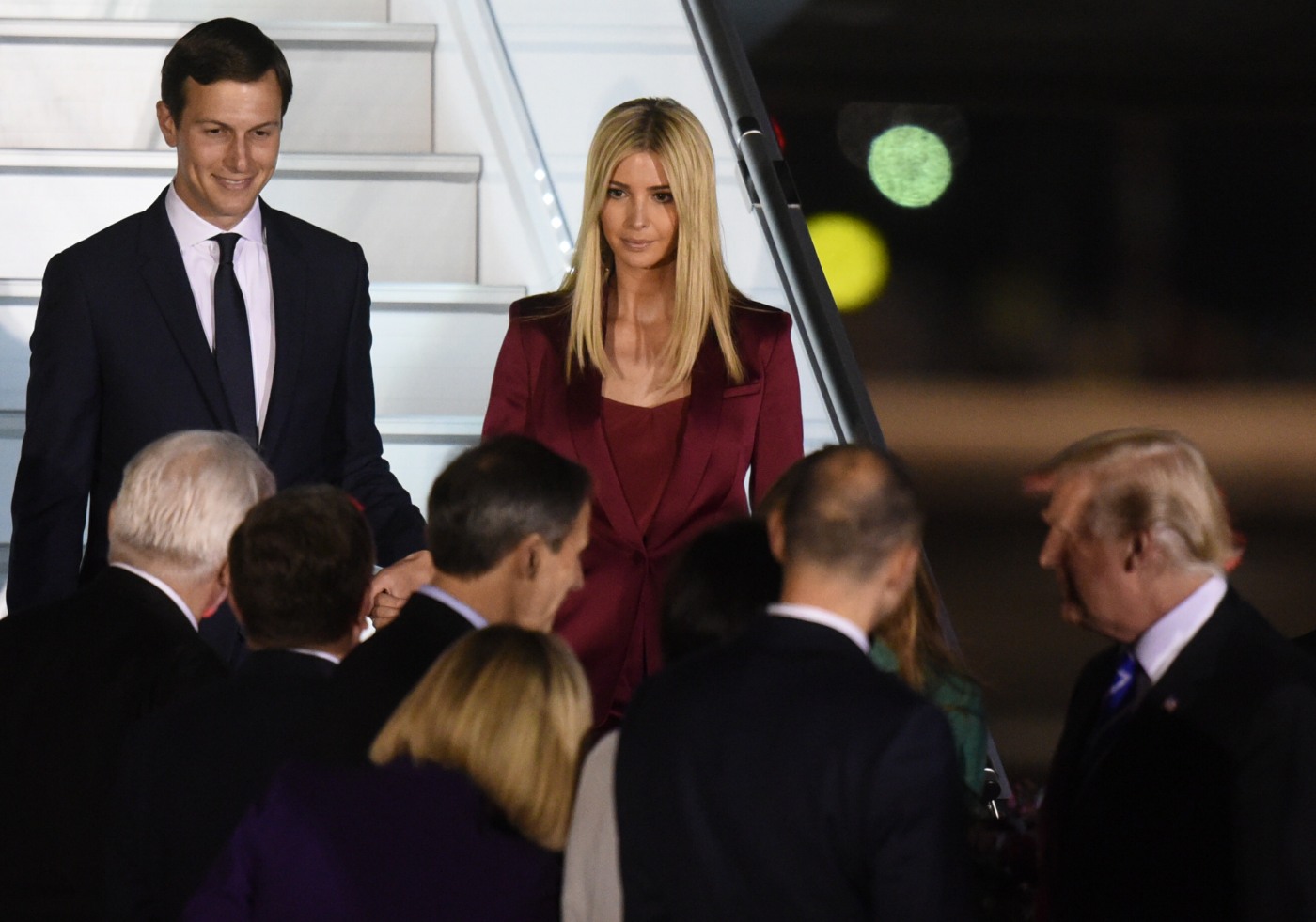 Donald Trump is so stupid. That's a given. But how stupid is he? He honestly believes that Jared Kushner is one of the brightest guys he's ever met. Jared Kushner is so, so precious to Emperor Bigly, almost as precious as Precious Ivanka. Bigly pretty much prefers Precious Jared to his own sons. Bigly believes Precious Jared can solve Middle East peace, reorganize the federal government and run the White House policy shop AND the press room all at once. There's some question, for me, about Precious Jared's intelligence. Is he truly a dolt, or is he just some privileged, average-intelligence guy who used his daddy's connections to carve out a life for himself? I ask because Precious Jared is in the middle of ALL of Bigly's controversies, and he's showing the political and legal instincts of a deer caught in the headlights.
Politico has a new story about how Precious Jared has been trying to organize the "push-back" on the Don Jr.-meeting-with-the-Russian-lawyer story. You know, the "oh right, Donald Trump Jr. was actively looking to collude with a foreign government to find damaging information about Hillary Clinton" story. Jared Kushner went to that meeting. Jared Kushner went to ALL of the sketchiest meetings. All roads lead to Jared. So how is Precious Jared trying to push back? He wants to get more aggressive with the press. He wants an overhaul of the White House communications office. He wants White House people going to Fox News 24-7 to lies their asses off, basically. This is the same guy who encouraged Donald Trump to fire James Comey! I'm just saying, Jared has zero political instincts. You can read the Politico piece here. Some highlights:
What happened after Don Jr. incriminated himself on Twitter: Kushner spoke with Spicer and deputy press secretary Sarah Huckabee Sanders. During the conversation, Spicer and Sanders made the case for crafting a longer-term battle strategy, according two White House officials and an outside adviser familiar with the conversation, but Kushner called for full-on combat, according to a White House official. A source close to Kushner… said that while he doesn't have an exact plan for an overall Russia response, he was angry that there wasn't a more robust effort from the communications team. Kushner wanted them to complain about chyrons on cable news, call reporters to update stories with White House statements, and unleash surrogates immediately. He was angry that there were no talking points offered to surrogates, the source said. One senior administration official suggested that two aides from the communications shop be dedicated to updating chyrons.

Jared is the guy who rushes onto the battlefield (haha): "Jared didn't like the idea [of chyron-dedicated people], he wanted people to get aggressive," said an outside adviser who was briefed on the meeting. "Jared's the guy who is rushing the front lines, and other people are saying, 'See, wait, hold, and let's get a battle strategy.' Jared wanted to get surrogates, he wanted an op-ed in The [Wall Street] Journal and The [New York] Times, and we said, 'Wait, we have to talk through how that will play out. Who is going to say it, who is going to put their name on the op-ed and what baggage do they have?'"

Kushner has been blaming the messengers for months: Kushner, who has his own spokesperson, has been frustrated about the level of pushback on the overall Russia controversy since former FBI director James Comey's firing in May. He's been calling for a reorganization of the communications shop, according to two White House officials, and has directed some of his ire at Priebus, because many of the people in that office were brought into the White House from the Republican National Committee, where he was chairman. "He's been legitimately speaking about that for months, that's why he got his own [PR] person," said the senior administration official about the need for a more forceful approach to tackling the Russia controversy.

White House communications people don't want to get caught in Precious Jared's web of lies: Some White House officials have purposefully taken a step away from the issue, as they don't want to implicate themselves legally. Knowing less is more in the White House, aides have said. "That's the other problem is that some of these staffers can't afford lawyers. You're talking about hundreds of thousands of dollars, how is [deputy press secretary] Lindsay Walters going to pay for that? How could Spicer pay for that?" the outside adviser source said….[One] adviser said Spicer has privately griped about the demands from Kushner.
When you're the senior advisor to the president and you're sitting in a meeting with the press secretary and communications director and you're bitching about the cable news chyrons, you've lost the thread. The problem is not with the communications office, although I'll say this: Sarah Huckabee Sanders and Sean Spicer are not making things easier on themselves or on the White House. But that's a symptom of the larger cancer on this presidency, the original sin of the Trumps' collusion.
Photos courtesy of Getty, WENN.