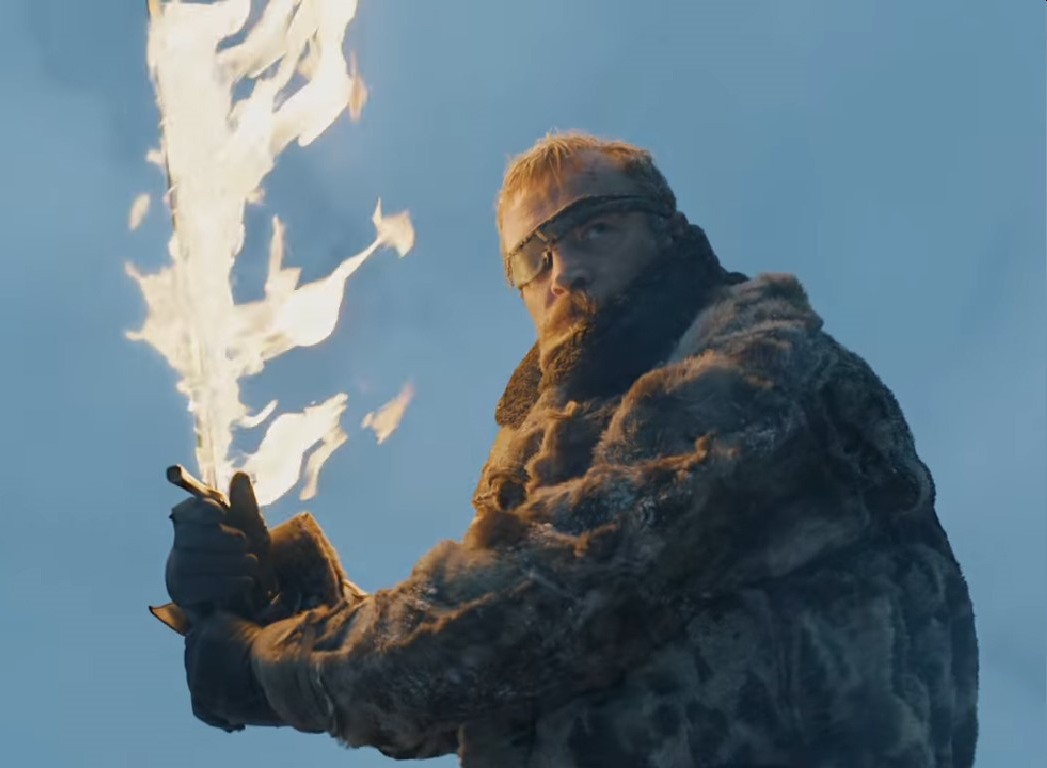 SPOILERS for Game of Thrones, Episode 7.6, "Beyond the Wall."
Some Sundays, I fall into a deep, contemplative sleep after watching Game of Thrones. I have dreams full of Greyjoys and Lannisters, Starks and Snows, direwolves and hot pies. But not last night. Last night I was restless – restless from the bad storytelling, the stupidity of the Sansa-Arya storyline, and mostly restless because of the dragon ex machina, aka the Ice Dragon of Doom. Let's get to it, this penultimate episode of the year. I can't believe there's only one more episode this year! Ugh.
Sansa's Many Faces. I want to believe that GoT is pulling a fast one with the Arya-Sansa story, that they're secretly on the same page and that this is all some elaborate plot to trap Littlefinger. I seriously doubt that's the case, although I do think it's suspicious that Littlefinger was like "maybe Brienne could help" and Sansa promptly sent Brienne away. Anyway, Arya was like "you're a traitor, maybe I'll tell the Northern lords" and Sansa was like "Bish, you don't even know what I've survived" and I was like "will you two just sit down and really talk to each other about everything you've been through, for the love of God?" Arya came close to doing that by telling Sansa about becoming No One/A Girl, but Sansa is still hiding behind her many faces.
Tyrion's Wait-and-See Approach. I think we're supposed to be on Tyrion's side, the side of diplomacy and wisdom and "understanding one's enemy." Dany has little patience for it, which I understand completely – she wants sh-t to get moving and Tyrion IS being too pro-Lannister. I mean, Tyrion makes good points – if Dany conquers Westeros the wrong way, she'll only be queen of the ashes, beloved by none. But Tyrion knows Cersei really well, and I feel like he's giving Dany some sh-tty advice about Cersei.
Beyond the Wall: the chatter. There are more than seven people in the caravan now, right? I think Tormund brought along some extra helpers/Wildlings. As the men set off past Eastwatch, the men break off into separate conversations. Jon Snow offers Jorah his family's sword, Longclaw. Jorah refuses to take it (and I totally forgot why Jorah was disowned, btw). Beric Dondarrion talked about being blackout drunk during one of his bravest moments of Robert's Rebellion. Poor Gendry was still whinging about being sold to Melisandre, and The Hound called him out on it. The best part was when Tormund started telling The Hound about the girl he was in love with, and Tormund starts describing her and the Hound is like "OMG BRIENNE OF TARTH." And Tormund is like, "Yes, I want to make gigantic babies with her." That was A-plus.
The Ice Bear. They see a bear and they're like, "oh, cool, a bear." Gendry is like "are bears supposed to have blue eyes?" ICE BEAR. Ice Bear attack! He got Thoros of Myr, the Brotherhood priest, but Thoros survived. The Ice Bear did not. Also: The Hound's face when the flaming Ice Bear was coming for him: Rory McCann is such an amazing actor.
The Mission Goes Sideways. Here's what I don't understand… the mission was always going to be a disaster. They could have just left a message for Dany at Eastwatch and told the people there, "Wait a day and then send the raven to Dragonstone for help." That's how f–king inevitable it was – they were always going to need Dany's help. The army of the undead were always going to outnumber this small, mostly drunk and half-assed party. They managed to set a trap for a small group of wights, and Jon showed off how killing one of the big White Walkers will kill off the ones he "changed." They capture one wight and he lets off this horrifying scream to alert the rest of the undead, who obviously start marching towards the screaming. The party of the living – the Band of Brotherhood Without Banners – start running and they end up on a frozen lake. The dudes end up on a rock in the middle of the lake while the ice has broken in a circle around them. The undead wait.
Gendry is a fast runner. Gendry was sent back to Eastwatch before the sh-t hit the fan, they told him to send a raven to Dany. Dany – wearing her "beyond the wall" white and grey couture – tells off Tyrion before she leaves. He wants her to stay and do nothing. She's like, "Nope." The three dragons set off to rescue Jon Snow and the Merry Pranksters.
Back on the rock. The men have been waiting for God knows how long. Thoros has died from his wounds (ice bear wounds) plus he probably froze to death too. Jon Snow pours Thoros' wine on his body and sets it on fire. The Hound starts throwing rocks at the undead, and then a rock slides all the way across the now re-frozen lake. Oh sh-t. Game on. The undead start marching towards the rock. The fight commences.
Dragon Telepathy. It's widely believed – perhaps it's even GoT canon – that Dany can "call" her dragons just by thinking about them, or communicating with them telepathically. I wonder if it's Dany-specific, or if it's Targaryen-specific. Because I felt like Jon Snow had a moment where he was calling for the dragons to come telepathically, and like a homing function, they found him. The music recalled the "all is lost" moment from the Battle of the Bastards, where Jon looks around and realizes how bad it's getting. Jorah, The Hound, Tormund and Beric are all amazing warriors though, and they keep saving each other.
RIP Viserion. The dragons start burning wights all over the place. Dany lands Drogon on the lake and calls for the men to ride on his back with her. Jon Snow is the last one fighting, trying to ensure that everyone gets on safely. The Night King and the White Walkers are fascinated by the dragons, and they throw an ice javelin to Viserion. Viserion goes down, breaking the ice and crying as he falls into his icy grave. Jon is still fighting and he yells to Dany that she should go. He plunges into the lake as Dany and the men ride off on Drogon.
Jon Snow survives. He gets out of the lake, half-dead and mostly freezing. The wights are like "well, sh-t, I guess we should try to kill him." Suddenly, Uncle Benjen rides up, puts Jon on his horse and BenJen stays behind to kill wights. Jon rides off, watching his uncle die.
Dany mourns Viserion. She is really sad that one of her dragon babies died, and she waits at Eastwatch. Jon Snow comes riding up, almost catatonic. They get him warmed up and Dany sees Jon's scars, from where he was stabbed in the chest. When he wakes up, she tells him that they will fight the wights together, side by side, that she's with him until the very end. She tells him that the dragons are her children – her only children. Jon is mourning Viserion too – he feels so bad that Viserion died. He tells Dany that she is his queen, that he will bend the knee when he's feeling better. They hold hands and it's a really lovely moment between these two characters.
The Ice Dragon. The final images from the episode… the Night King has gotten the wights to drag Viserion's body out of the lake. The Night King touches the dead, frozen dragon. Viserion's eyes open. And they are ice blue.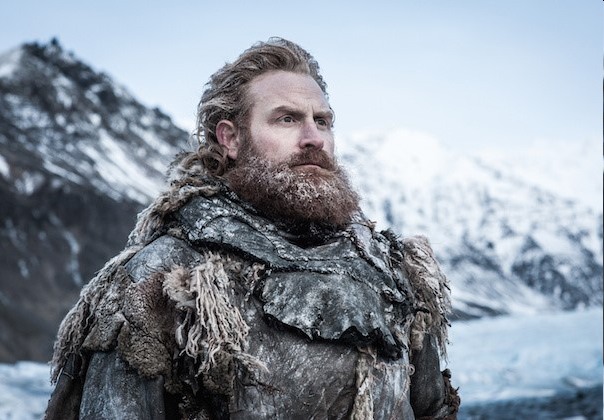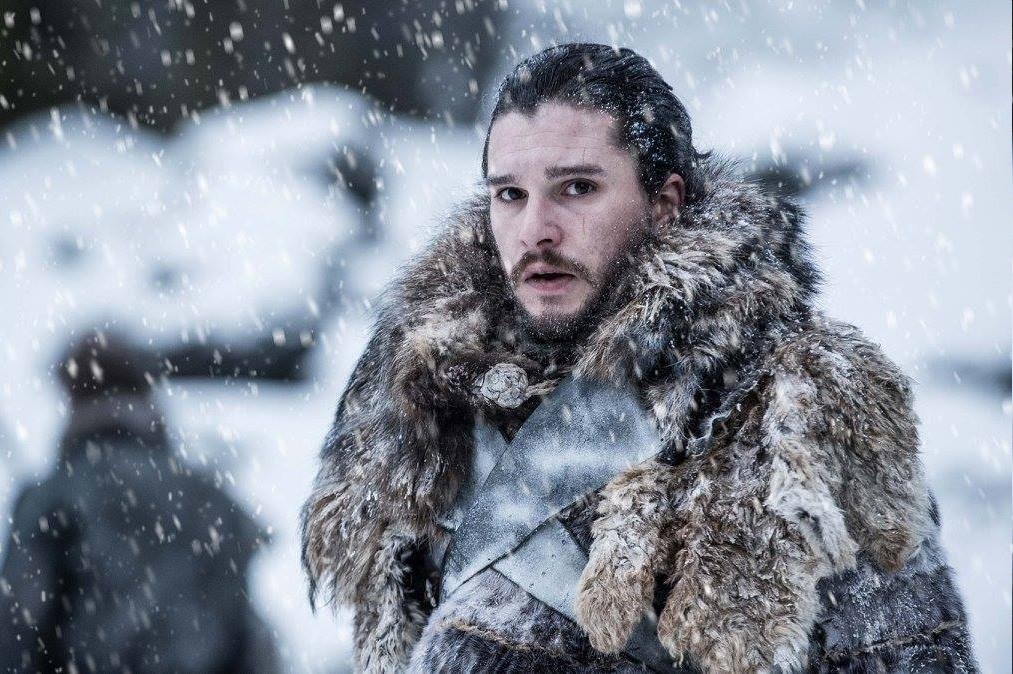 Photos courtesy of HBO.