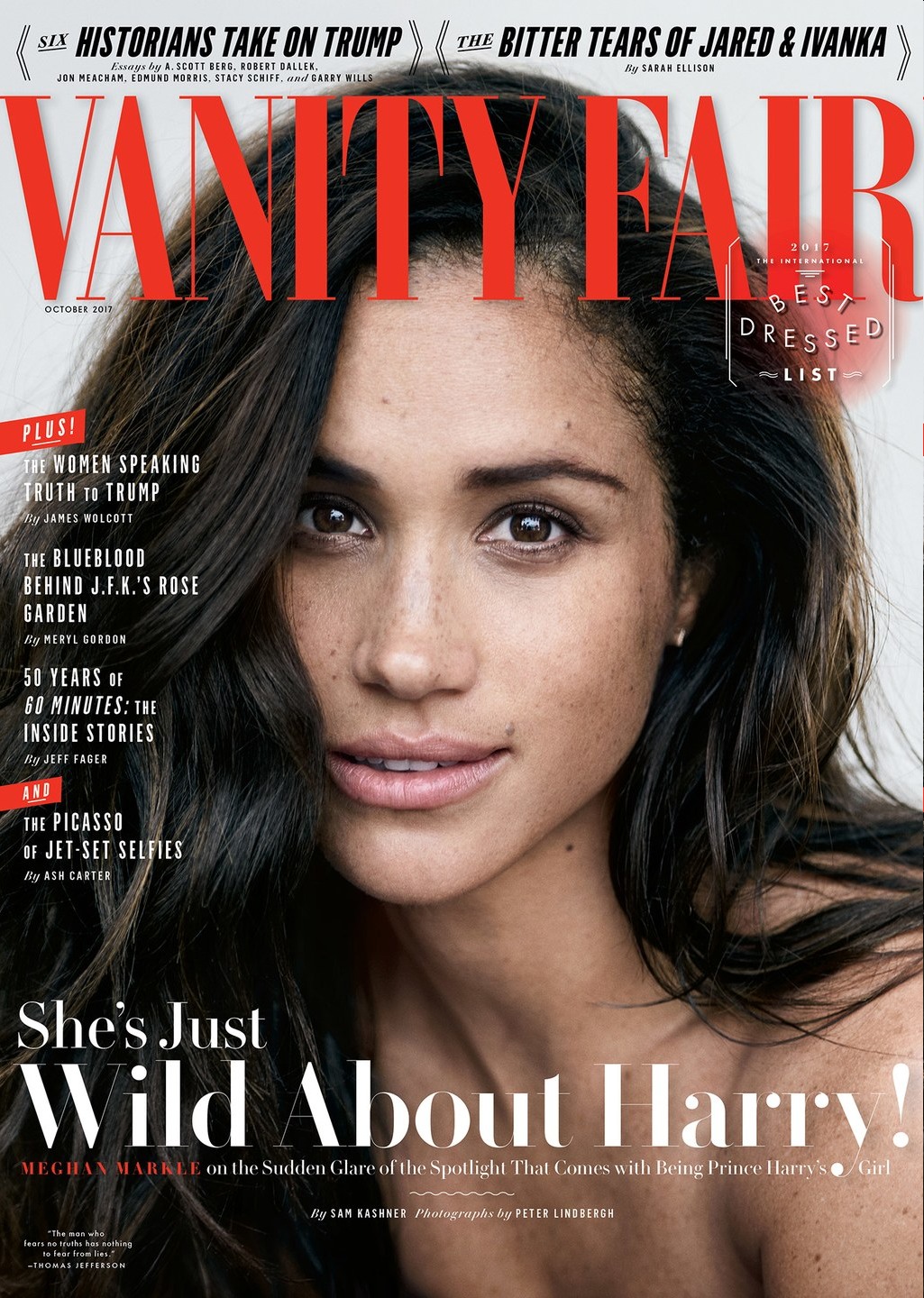 We're still talking about Meghan Markle, her Vanity Fair cover and what it all means. I read the VF piece yesterday in a rush, because I was looking for all of the Harry-specific quotes. Now that I'm 24 hours past the initial shock of a "royal girlfriend" covering Vanity Fair, my take is much the same actually: that this cover story was approved of by Prince Harry, his publicity team and likely Buckingham Palace too. Meghan has been "in the fold" for the better part of a year, and she's been very conscious of the "rules" of dating a prince. While she might be the first royal girlfriend to actually give a cover interview to a major magazine before anything was official, that doesn't mean that things aren't very "official" behind the scenes. As the Daily Express's royal correspondent Richard Palmer explained on Twitter:
Make no mistake, Meghan's interview declaring their love is a significant point in this royal romance signalling an approaching engagement.

— Richard Palmer (@RoyalReporter) September 6, 2017
Undertaken with palace approval, it looks like a PR exercise to prepare the public for an engagement in a glossy mag given access.

— Richard Palmer (@RoyalReporter) September 6, 2017
Royal sources have claimed it's part of her work as an actress but she has carefully avoided discussing Harry in promotional work before.

— Richard Palmer (@RoyalReporter) September 6, 2017
Clearly, Meghan's interview will weaken her case to complain that media coverage has breached her privacy in future.

— Richard Palmer (@RoyalReporter) September 6, 2017
I agree with all of this, but I think Palmer is assuming that Meghan will end up as some kind of "I'm so normal, just an average, privacy-obsessed bloke" like William, Kate and Harry. She won't end up that way, at least I hope not. She's actually been normal this whole time. She's actually been middle class, and a struggling university student and a regular, jobbing actress. She understands – more than Will, Kate and Harry – the privilege that comes with being a public figure and what can be done with that kind of platform. In my opinion, that's why Harry chose her – because he knows she'll be "good" at the public part of the job.
Despite being one half of a royal power couple, Meghan Markle notes, "nothing about me changed" https://t.co/TRelFR1m7X pic.twitter.com/99QUlUQoaF

— VANITY FAIR (@VanityFair) September 6, 2017
Photos courtesy of Vanity Fair.