Colin Farrell has paired again with director Yorgos Lanthimos for The Killing of a Sacred Deer (their first film was The Lobster.) The movie is a thriller with dark comedic undertones, it sounds like. It's getting pretty good reviews. Colin along with co-star Nicole Kidman and Yorgos are at TIFF to show the film. While being interviewed by PEOPLE, they were asked to share joyful stories of their lives as parents, which is kind of funny considering their film is about a possibly demonic child. Anyway, Colin is father to two boys, Henry (seven) and James (13). James has Angelman Syndrome, a developmental delay that is often mistaken for cerebral palsy or autism. Since Colin and his ex, James' mother Kim Bordenave, decided to start speaking about James' disorder, Colin has spoken of it often and responsibly. Having a son with special needs propelled him to become a huge advocate for not only Anglelman Syndrome but special needs children and sick kids in general. So when it came time for Colin to share his 'joyous' story, he spoke in more detail about watching James' first steps.
Colin Farrell is opening up about one of the most special moments of his life.

Farrell, who plays a father given a terrible choice in the movie, shared a joyful story from his real life as a dad. "When James took his first steps a couple weeks short of his fourth birthday, it was pretty amazing and humbling to see," Farrell says.

Farrell says that while any child taking their first steps is a momentous occasion, it meant even to him knowing his son worked hard to reach that milestone.

"People talk about the children taking the first step, it's obviously a monumental moment and it's been represented in film," Farrell says. "But to be told your child may never take the first step and then see those first steps is just kind of a different sport all together."
I didn't realize that Colin had been told James would never walk. My son is also classified as special needs. I say "classified" only to acknowledge that his issues are nowhere near the challenges of Angelman Syndrome. However, I understand what Colin is talking about. Eventually, as Colin has said before, you forget your child has special needs until he/she is around other children. But there are times I remind myself that for certain tasks or milestones, it was harder for him to get there. I've always liked how Colin discusses James' challenges. He obviously loves and is proud of both his sons but he always contends that the Angelman's is a part of who James is, an in, if he didn't have Angelman's, he wouldn't be the same kid. I really appreciate the notion that a person's disorder is a part of who they are, not the totality of who they are.
However, Colin is still a puckish Irishman at heart. Following his heartfelt story about James and overcoming his diagnosis to take those first steps, he turned to Nicole and said, "beat that." Fortunately for Nicole, her children have forbidden her from telling stories about them publicly so she was able to take the fifth.
This is a photo of Nicole and Colin at the film's premier in Toronto. I didn't devote much space to it because I thought Nicole looked amazing at the Cannes premiere so this is kind of a let down for me.
Oh – oh my *fans self*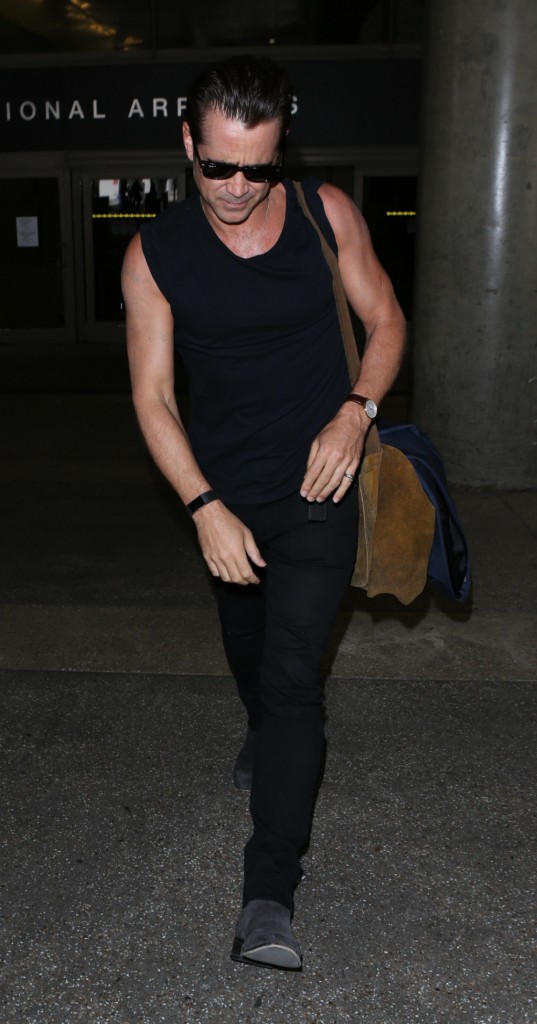 Photo credit: WENN Photos and Getty Images