Robert Downey Jr. wants to set Guy Ritchie up with Aniston or Cameron Diaz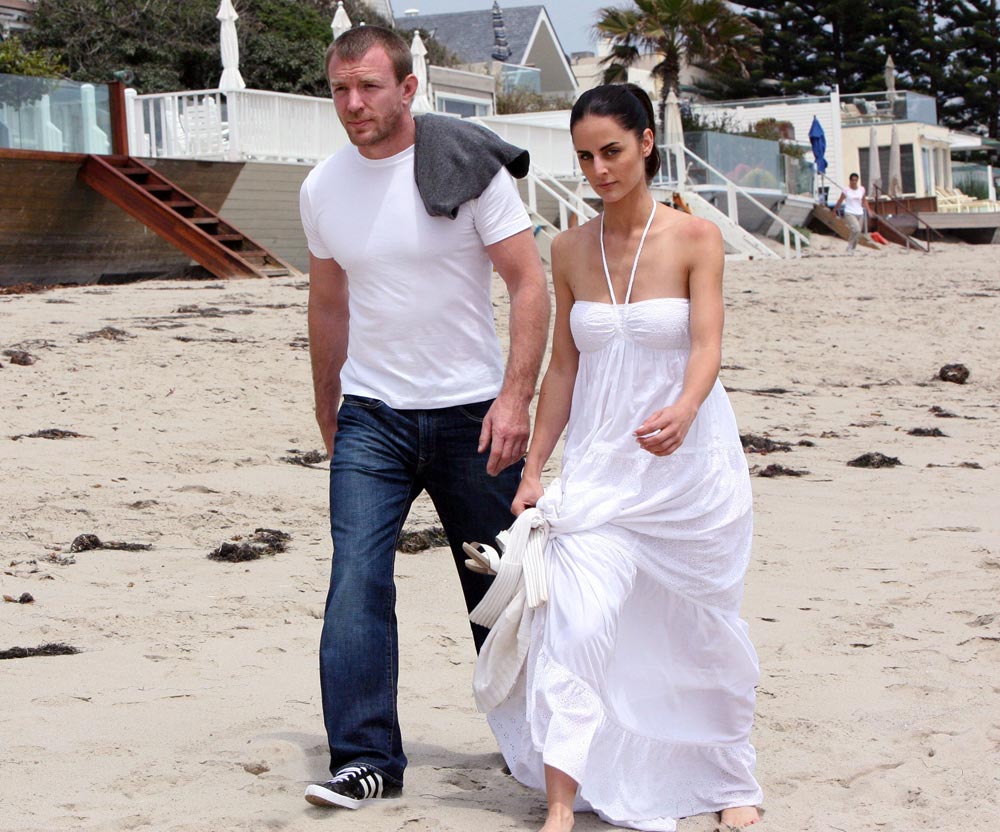 It seems director Guy Ritchie and actor Robert Downey Jr. have become best buds ever since working together on Sherlock Holmes. While working together, Guy was apparently taking his divorce from Madonna pretty hard – and Robert took notice, "telling Guy that what he needed was a new girlfriend to help him forget his troubles." Guy wasn't ready though – because that's the power of the Madge Vadge. The Vadge clings to a man for months, even years. The Vadge haunts men.
Now that Guy and Madonna's divorce drama is over, and they're both moving on with their lives, The National Enquirer reports that Robert has made it his mission to set Guy up with any and all eligible Hollywood women. The top of Robert's list? Jennifer Aniston and Cameron Diaz:
"Guy's best friend Robert Downey Jr. determined to find 'worthy woman' for Madonna's ex-hubby"

Robert Downey Jr. is playing matchmaker for Madonna's ex-husband, director Guy Ritchie.

Robert, with help from his wife Susan Levin, put together a list of "worthy women" for the newly divorced 40-year-old to pursue – and topping it off are Hollywood beauties Jennifer Aniston and Cameron Diaz!

"Robert is determined to find Guy his dream girl," disclosed an insider.

Robert and Guy became close friends during the filming of "Sherlock Holmes" last year, while Guy was going through his painful divorce from Madonna.

"Robert kept telling Guy that what he needed was a new girlfriend to help him forget his troubles," said the insider. "But Guy wasn't ready."

But since [Guy] took up residence at the famed Chateau Marmont in LA earlier this spring, he's become a regular on LA's A-list party circuit.

On May 25, Guy, along with Robert and a host of other celebs, kicked back at a star-studded Memorial Day BBQ at power producer Joel Silver's Malibu compound.

"When Guy and Robert came upon an attractive woman, Robert would introduce himself and follow up with, "Have you met my friend, Guy? He's wonderful!"

It looks like Robert's efforts have been successful. On May 31, guy was spotted dining with an attractive brunette at a Malibu restaurant. Afterward, the pair went for a romantic stroll on the beach.
[From The National Enquirer, print edition, June 22 2009]
If I was setting Guy up, I wouldn't try to hook him up with an American girl. I fear Madonna has given us all a bad name, and Cameron and Jennifer wouldn't do much to improve our collective image. I'd set Guy up with a nice, aristocratic British girl. Someone with some class and elegance, with a real accent, rather than "Faux London by way of Detroit". I'm rooting for Jemima Khan, the heiress who dated Hugh Grant for so many years. Guy and Jemima already know each other – they allegedly might have gone on a date right after he and Madge split up. Maybe now that the ghostly Vadge presence has been exorcized, Guy is ready to date Jemima for real.
Note by Celebitchy: Richie was seen out in Malibu with a lovely dark-haired "mystery woman" on 5/31/09. He had lunch with her and then took a stroll on the beach. The paparazzi documented the whole thing, so maybe it was all orchestrated or maybe he got caught out on a date.
Photo Credit: Mike/Fame Pictures
Written by Kaiser

Posted in Cameron Diaz, Guy Ritchie, Jennifer Aniston, Robert Downey Jr.

- Zach Galifianakis is awesome [Buzzfeed]
- Prince at the Billboard Music Awards [D-Listed]
- Bieber's Billboard look [Go Fug Yourself]
- Married to Medicine recap [Reality Tea]
- Celebrity first marriages [Pajiba]
- The last Mad Men baffled a lot of people [Lainey]
- Karolina Kurkova's crazy hot dress [Moe Jackson]
- Jennifer Garner on set [Popsugar]
- Kitten vs. Lizard [CDAN]
- Doetzen Kroes' great butt [Celebslam]
- Shameless star Jeremy Allen White [OMG Blog]
- RIP Ray Manzarek [Bossip]
13 Responses to "Robert Downey Jr. wants to set Guy Ritchie up with Aniston or Cameron Diaz"