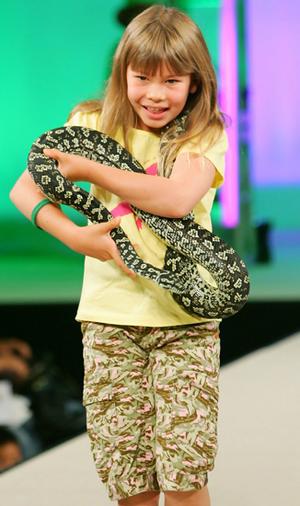 It's almost a year since the Crocodile Hunter Steve Irwin died, and his little girl is wasting no time growing up without him. Now she's a model for her own range of clothing, Bindi International.
The nine-year-old wildlife warrior was joined on the runway by other young models.

The fashion line is dubbed clothing with a conscience and is designed for newborns to 10-year-olds.

Bindi, whose TV show Bindi the Jungle Girl has been a success in the US, is hoping to help spread her environmental message with the clothes.

The spring/summer 2008 line promotes koala conservation and also features crocodile camouflage prints.
Bindi isn't the one designing the clothes, and it is nice to see the kid in something that isn't khaki!
Meanwhile, Bindi is also presenting a documentary on Steve Irwin a year after the death, which is described as an uncomfortable trip through home videos and highlights of the croc-hunter's life.
Terri Irwin is also rumoured to have found new love in the US tabloids, but this is being denied in Australian tabloids by close family friends.
Here's what might be the scariest premonition of the future –
Bindi turning into Britney.