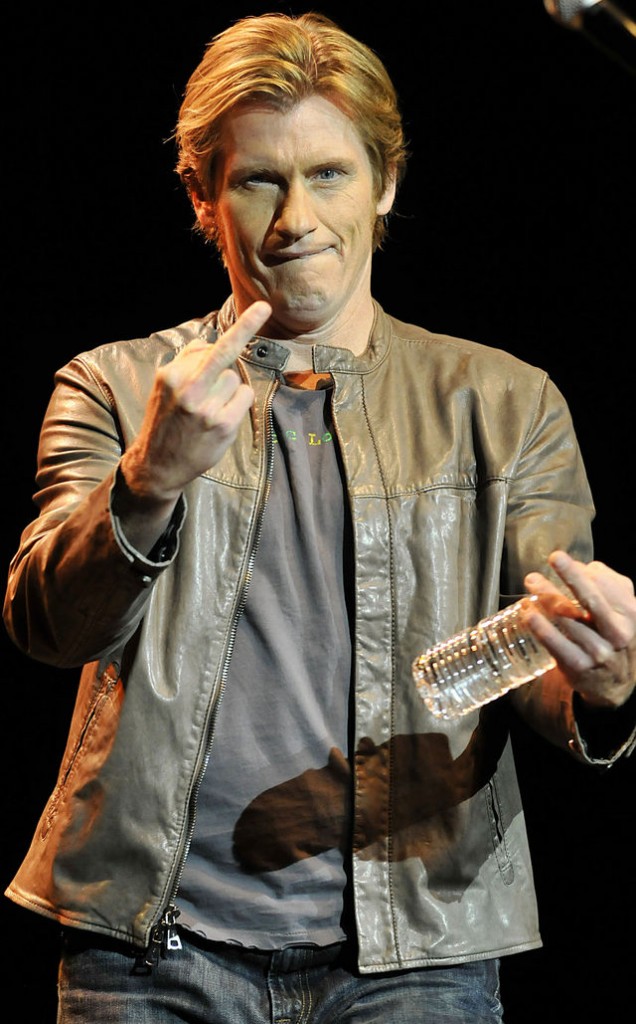 I realize he's not everybody's cup of tea, but I adore Denis Leary. I think he's hysterical, and one of the most underrated actors working today. I'm not full-on obsessed with his show Rescue Me, but I watch it when I can. It's one the smartest shows on cable television today – and I think Denis Leary is a large part of that. He's the co-creator, a writer, producer and he plays the lead character, a not-so recovering alcoholic New York fireman with a really, really screwed up personal life. The character and the show started out as an extension of Denis Leary's own charitable heart – he has been one of the leading fundraisers for under-funded Massachusetts and New York firehouses, as well as New Orleans firehouses that were left devastated after Hurricane Katrina. He is currently president of both the Leary Firefighters Foundation and the Fund For New York's Bravest.
So, Denis sat down The TV Squad for a pretty good interview. Most of it was about the sixth season of Rescue Me, and what what's going to happen. Maura Tierney is coming on for a few episodes, and there will be more stuff about how September 11th affected the NYFD in the longterm. Also, FX has ads running that make it seems like Denis's character isn't going to stop drinking any time soon. After Denis talks about the show, the guy just names a bunch of pop culture people, and lets Denis riff on them. I'm still giggling about it:
Is there going to be a follow-up [to the book Why We Suck]?
Well, I have a contract for it, and now that the first one has been so successful, they're gonna want the same thing [laughs]. I'm gonna want to do something different and they'll want Why We Still Suck. I had a lot of fun doing it though, and I tried to avoid using any of the book material on the Rescue Me Comedy Tour, so it forced me to keep being creative on stage.

Susan Boyle. Go.
I think she's a hobbit. The no expectations aspect was fantastic. I kind of wanted her to be the person who not only could sing, but was gonna tell everyone to f off and would become the new sex symbol. I hope she comes back f'ing crazy like Judy Garland on acid. I'd like to feed her a lot of booze and pills and just let her sing beautiful songs and threaten people from the stage.

What about Jon and Kate and the infidelity scandal?
I don't watch the show, but Kate and Octomom are definitely having a battle of the bulge. The first thing I always think about is the kids, because they don't have any choice in this whole being famous thing. You've got eight monsters, man. Eight potential Susan Boyles coming up. Plus there's Kate's haircut – it's extraordinary. If it were a movie, you would have to convince an actress so hard to wear her hair like that. It's like an old hockey haircut.

What about Heidi and Spencer? You hear how they up and quit I'm a Celebrity, Get Me Out of Here? Practically screwed their charity out of any money. [Author's note: at the time of this interview, Speidi had yet to apologize and return to the show.]
That is awesome. I'm so proud of them. Why are these people famous? That's fantastic. Not only do we not care about the charity, but we're not even going to pretend to care! Man, they're such morons. There's already a Baldwin. They should fly in all the Baldwins and just have them beat the crap out of Heidi and Spencer.

What would you call it?
I'm a Baldwin, We're Here to Kill You.
[From The TV Squad]
You know there's a reality-show producer out there pitching I'm a Baldwin, we're Here To Kill You right now. So funny. Last year, Denis got into a lot of trouble with a lot of different groups when some say he mocked autistic children, and families dealing with autism, in his book Why We Suck. Leary claimed that he was not mocking autism, but what he saw as the over-diagnosis of autism in kids, and he apologized to parents of autistic children. As his fan, I could see his point, and I could also understand how his original statements were taken negatively. I hope he does write another book – and perhaps this time he'll just stick to criticizing celebrity culture.
Denis Leary is shown at the White House Correspondents Dinner on 5/9/09 and performing at the Seminole Hard Rock Hotel in Florida on 4/26/09. Credit: WENN.com