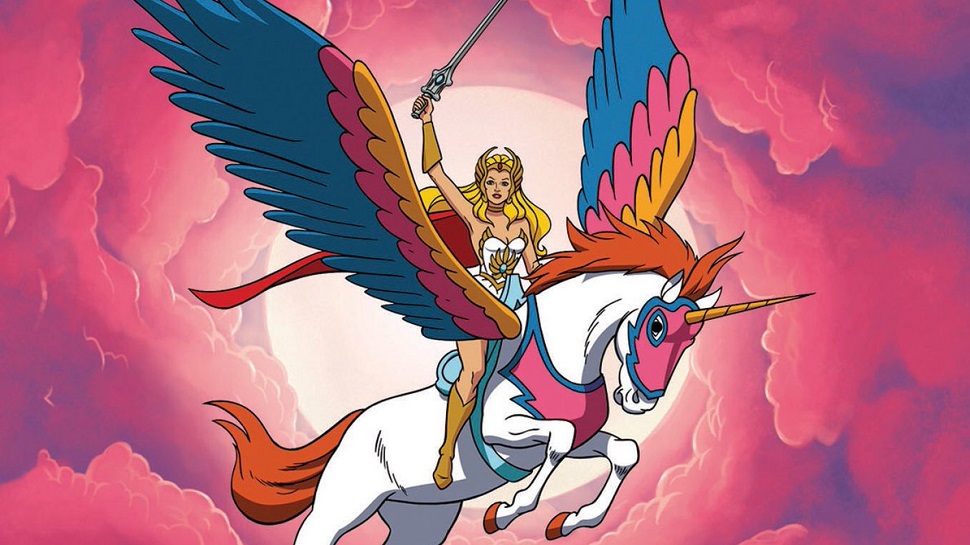 Another day, another reboot. At least today's news is a little more welcome than yesterday's talk of the possible return of Blossom. She-Ra, Princess of Power is returning with a new animated series coming to Netflix next year. In a release announcing the new project, the streaming service said the new She-Ra is "a modern take on the '80s girl power icon for a new generation of young fans" and will celebrate "female friendship and empowerment, led by a warrior princess tailor-made for today".
She-Ra 2018 is coming to you courtesy of DreamWorks Animation and showrunner Noelle Stevenson, an award-winning cartoonist and writer, whose previous work includes the fantasy comic Nimona and the comics series Lumberjanes, centering on a group of campers fighting supernatural forces at a "Camp for Hardcore Lady Types." Noelle also worked on Marvel Comics' Runaways, featuring a lesbian heroine, and was on the writing team for Disney's animated TV series Wander Over Yonder. On Tuesday, Noelle shared the news of her project on Twitter:
The news is out: I'm showrunning a new She-Ra reboot for Dreamworks TV and Netflix! https://t.co/v7IJhYxXi1 pic.twitter.com/gtLn2yLQLZ

— Noelle Stevenson (@Gingerhazing) December 12, 2017
In case you're too old (or young) to remember, She-Ra was a spin-off of He-Man and the Masters of the Universe. The original animated series, which ran for 93 episodes from 1985 to 1986, introduced She-Ra as the alter ego of Princess Adora, the sister of He-Man. Along with sidekicks Swift Wind, her pegasus/unicorn hybrid companion, and Kowl, a Dr. Moreau-esqe fever dream creation mixing an owl and a koala bear, She-Ra led the Great Rebellion, fighting against the Evil Horde, who took over the planet Etheria. She-Ra has super strength and the ability to telepathically communicate with people and animals. Yes kids, drugs were a hell of a thing in the 80s. The series was quite popular and sold a lot of toys.
Needless to say, fans of the original series were ecstatic to hear the news of the reboot.
Netflix is bringing out a She-Ra remake next year? pic.twitter.com/O3ZktmERxG

— Allison Danger (@allisondanger) December 12, 2017
#GrowingUpGay was pretending to care about He-Man but actually totally only stanning for She-Ra. This fills me with nostalgic glee. https://t.co/GkNdayfXAI

— Raf (@rafayagha) December 12, 2017
Omg I love She-Ra. The 5 year old in me is jumping for joy now. https://t.co/l1BdQc0xKj

— John (@IceMan81X) December 12, 2017
Initially, the thought of this reboot left me feeling very "meh," but with Noelle's credentials, this is sure to be a radical, but welcome update of the original series, which, if you want to catch up on (or take a walk down childhood memory lane), is now streaming on Netflix. Heck, I might even tune in. And, in keeping with the spirit of the holidays, if you have 45 minutes to spare, check out the He-Man and She-Ra Christmas Special. It's a whole lot of holiday-themed WTF, and I kind of love it.