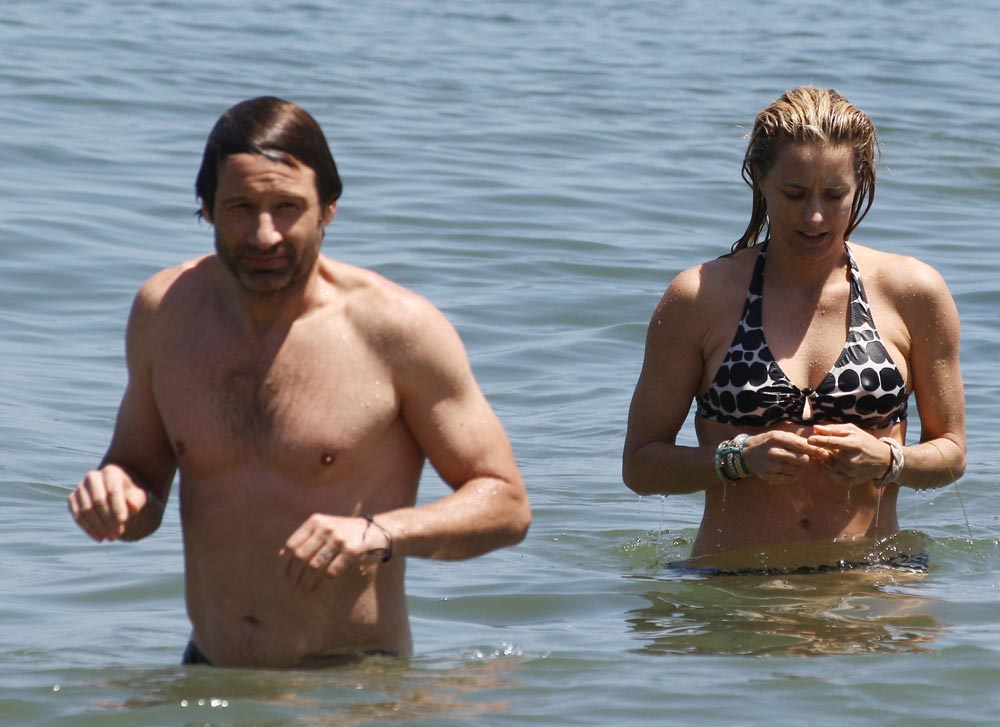 David Duchovny, Tea Leoni and their two children, Madelaine, 10, and Kid, 7, were spotted having fun on the beach in Malibu on Saturday. Tea, 43, looks amazing and fit and David, 48, is much buffer and more filled out than the super skinny look he sported late last year. Tea and David announced in October that they were separated for several months, after David went to rehab for a sex addiction. David and Tea have been married for 12 years. David denied cheating on his wife with his female tennis instructor, as was rumored at the time. There were stories that his issue was with an online sex addiction, not that he was unfaithful – depending on how you define it.
Since they went through that rough patch last year, David and Tea have been seen out together quite a few times and seem to have worked things out. They went on a romantic family vacation to the Caribbean earlier this year, and there are even rumors that they're hoping for another child. Judging from Leoni's super flat stomach, they probably don't have a biological child on the way. People Magazine has a kind of sweet story to accompany these photos that "they're still in love":
David Duchovny and Téa Leoni looked like the picture perfect family on June 14 as they frolicked on the Malibu beach with their two kids, smiling and playing in the water.

The couple has shown a united front – and no discord – since they announced their separation last fall after Duchovny voluntarily entered rehab for sex addiction. Sources tell PEOPLE the couple remains close for the sake of their children Madeline, 10, and Kyd, 7.

"Their relationship has really improved," says a pal of Duchnovny, who stars in the Showtime series Californication. "They're still in love. They very much care for each other and whatever happens they are working it out for the kids."

Duchovny's willingness to enter rehab was always in the spirit of saving his marriage, a source tells PEOPLE. "He's doing his best to move forward with his life and career," the source says.

The couple, married in 1997, have been spotted together more frequently in the past few months. From courtside seats with the kids at New York Knicks basketball games to family vacations, all signs point to making their relationship work.

"Their first priority through everything was staying close for their kids and making life as great as it can be for them," says a source of the couple. "They'll always be a family."
[From People]
This is one of those happy-ending stories that I like to hear. It's likely that these photos were planned and that a PR person called People Magazine, but the pictures do seem to represent reality and we've seen them out together quite a few times in the past few months. Congratulations to Tea and David on their reconcilation.
Credit: RIV/Fame Pictures