Ryan O'Neal & Farrah Fawcett are engaged, Ryan confirms wedding plans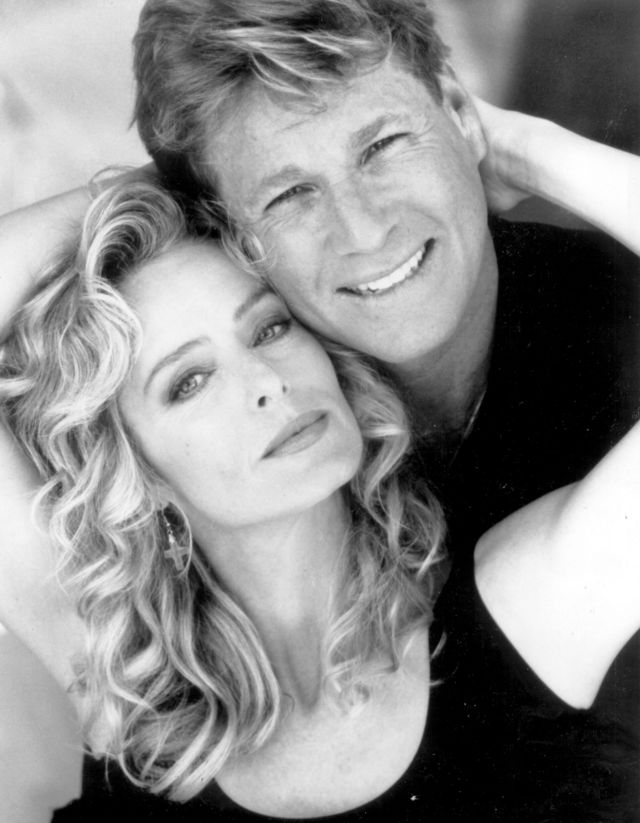 It's unknown just how well or how badly Farrah Fawcett is doing in her battle with cancer. Last we heard, she was still in good spirits, but from what I understand her pain and lucidity comes and goes rapidly. By her side in the cancer fight is long-time love Ryan O'Neal. I've never been a huge fan on Ryan, but his devotion to Farrah has won my respect. He seems to be that fantasy many of us have of the kind of love the vows signify – "In sickness and in health…"
I'd always thought of Ryan and Farrah as ex-husband and ex-wife, but as it turns out, they never got married in the first place. They were engaged, and lived together on-and-off through the years, but they never made it official. Ryan is determined to change that – he has proposed once more to Farrah, and she has accepted. Ryan told Barbara Walters the happy news for 20/20, in an interview that will air on Friday (story via US Weekly):
Ryan O'Neal says he and longtime love Farrah Fawcett are tying the knot.

"I've asked her to marry me, again, and she's agreed," O'Neal, 68, tells Barbara Walters in an exclusive interview on ABC's 20/20, airing Friday, June 26.

O'Neal says the 62-year-old Fawcett – who was diagnosed with anal cancer in 2006 – is now "fighting for her life."

But he says they "will" wed "as soon as she can, say yes. … Maybe we can just nod her head."

"I promise you, we will," he told Walters. "Absolutely."

The actor says he and Fawcett have even joked about what he'll wear for the ceremony, kidding that he'll dress "like a gigolo. You know? And a little thin mustache and slicked-back hair. I don't know. We have fun, we tease about that."

The two — who have a 24-year-old son Redmond (who is now in rehab following previous drug convictions) — began dating in 1980 and have lived together.

"I used to ask her to marry me all the time," O'Neal tells Walters. "But … it just got to be a joke, you know. We just joked about it."

In May, O'Neal told NBC News that he has fallen more in love with Fawcett as he watches her bravely battle cancer.

"I know this, that in the last two years I loved her more than I've ever loved her – ever," he told Meredith Vieira. "She's so much more of a woman … powerful, courageous, fearless and all those adjectives. And I look at her with awe."
[From US Weekly]
I'd be lying if I said this didn't choke me up – and I'm a pretty hard egg to crack. I hope they do get married, and Ryan gets the wedding memories of the woman he loves. That being said, they're complicated people who've led complicated lives – but they've found each other, and they're giving each other so much peace. And I can't snark about that.
Here's Farrah and Ryan in a PR photo from 1991. Images thanks to WENN.com .
Written by Kaiser

Posted in Engagements, Farrah Fawcett, Ryan O'Neal

- Friends reunion on Ellen [Popsugar]
- Lindsey Vonn watches Tigers kids [Lainey Gossip]
- George Michael fell out of a car going 70mph [D-Listed]
- Real Housewives of Orange County recap [Reality Tea]
- New Man of Steel trailer [Pajiba]
- Jared Padalecki's hot bod [Buzzfeed]
- Doctors confirm Taylor Swift's new boobs [Evil Beet]
- Catherine Zeta-Jones finished treatment [CDAN]
- Anna Paquin hates the paps [Celebslam]
- Lance Armstrong is gross [The Blemish]
- What is Barbara Palvin wearing? [Moe Jackson]
- This is Petra Nemcova? [SVC]
12 Responses to "Ryan O'Neal & Farrah Fawcett are engaged, Ryan confirms wedding plans"