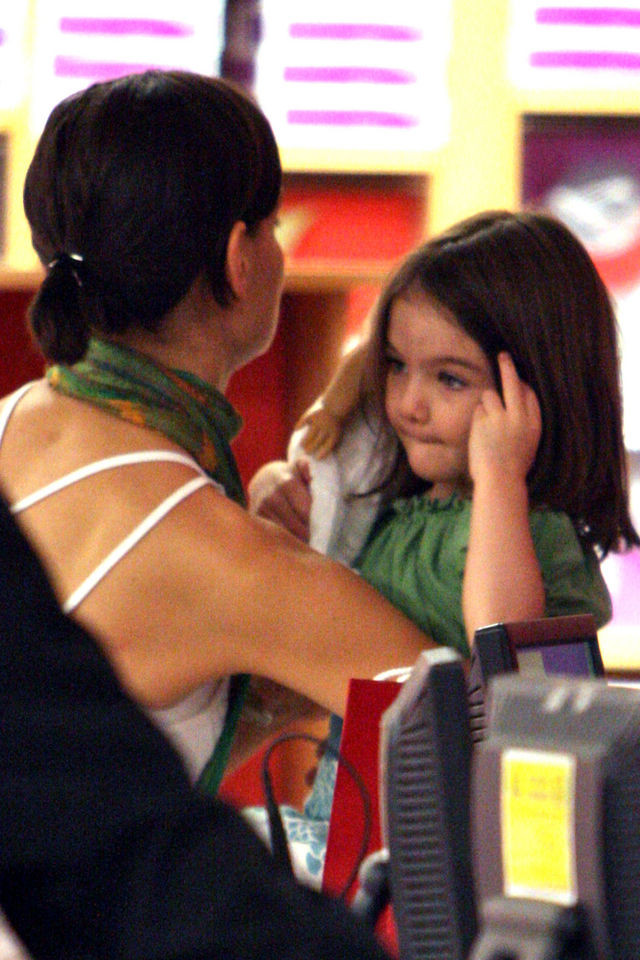 Even though this week's photo evidence showed a pregnant-looking Katie Holmes, we still got a formal denial from Katie's rep. Her person said, "Katie is not in a family way. In fact she and Tom and daughter Suri, 3, will all be heading to Australia in mid-July for Katie's next film, Don't Be Afraid of the Dark." I don't really understand why the rep threw in that part about Katie filming a movie – it's not like pregnant women can't act on camera just because they're gestating. This isn't the Middle Ages, you know? Back then, pregnant women did have to pull out of films because of pregnancy. Chuckle.
This little report from Star seems to indicate the same thing, however – that Katie is not knocked up, and that she has no interest in being knocked up any time soon. This bothers Princess Suri, who demands to be brought a little princess sister. It seems Katie placates Suri with dolls whenever Suri asks about babies. Great message, Katie:
Suri Cruise has everything except what she wants most – a sister. But mom Katie Holmes thinks she can buy that for her too!

"Every time Suri asks, Katie explains that it's not the right time," an insider tells Star. "And then she buys her another doll to distract her!"

So they've been making a lot trips to LA's American Girl Place, most recently on June 12. At $100 a pop, it's almost be cheaper to have another kid!
[From Star Magazine, print edition, July 6 2009]
They do go to the American Girl store a lot – they've been photographed there like a half-dozen times. Suri must ask a lot of questions about babies. Or Suri is a friggin' genius, and knows that whenever she guilts her mom about "a little sister", Katie grabs her purse and they go shopping. Clever girl, that Suri. It must be the barley water.
Katie and Suri are shown outside American Girl Place on 6/12/09. Credit: WENN.com