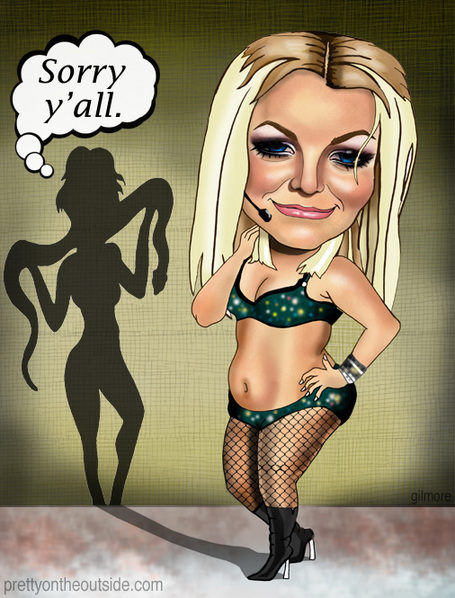 Illustration from prettyontheoutside.com
Everyone is talking about Britney's shitty performance at the VMAs, in which she sort of danced a little but mostly walked around, poorly mouthing the lyrics to her latest aptly named single "Gimme More" with a vacant look on her face. Now that Britney bombed as expected, her fan sites are coming up with all sorts of excuses for why she phoned it in.
While some or all of these might be true, it's little consolation for Britney's career, which will stall quite a bit now that it's known around the world that she's unable to bring it for her performances or even look like she cares. Compare Britney's performance with Rihanna's. It's not about who is the most physically fit or who jumps around more. Rihanna just strutted, probably because she's still recovering from that ankle injury, but she actually sang too. It's about working on your performance and looking like you're into it. Britney did neither. At least she didn't fall down.
Here are possible reasons Britney failed so miserably.
The illusions Criss Angel planned for her performance were scrapped at the last minute due to insurance reasons
Someone on the BreatheHeavy.com message boards says that the skit was changed at the last minute due to insurance concerns. Britney was set to do an illusion-type set with help from her boyfriend of the week Criss Angel, but the Palms Hotel where the event was held said it was too much of a liability for them at the last moment.
You guys I just got some leaked information from someone close to the MTV Studios.

Britney Spears was to perform under the magic of Chris Angel… but MTV freaked out at the last minute finding out what Britney was actually going to do.

Supposidly, what Britney and Chris were planning was to do a set of mirrors and flotation. But when told to the Palms Hotel/Casino… the hotel flipped.

Insurance was the main problem, and the stage couldn't support the performance. MTV also freaked at the last minute because of their fear of being "too controversial" during the performance. Britney and Chris were infact furious with MTV's sad excuse and told Britney to change the performance at the last minute.

Britney's original performance was to infact appear and disappear. To float through the air… and for much mature dancing.
[From BreatheHeavy.com forums via ONTD]
This could be true, but I read in the NY Post that Angel wasn't really setting up Britney's act for the VMAs despite his claims that he was. Plus if you look at Britney's rehearsal video for the VMAs taken the day before, it looks like exactly what she ended up doing. Also, you think that MTV would have taken care of these details well ahead of time with the venue.
She heard Sarah Silverman's monologue ahead of time
Paparazzi agency X17, which is always up Britney's ass, says she found out that Silverman was about to call her boys the "cutest mistakes" and was very upset about it. Silverman agreed to cut it from her monologue, but of course didn't do so in the end. She also said that the kids were cuter than the hairless v*gina they came out of, I particularly liked that line:
A source tells X17 Brit found out about Sarah Silverman's crappy line about Britney's babies just moments before she took the stage to perform "Gimme More." Needless to say, Britney was PISSED! … as any mom would be. Britney was so upset she walked through her performance just to get it over with (despite encouragement from her friends, including Sam who was apparently yelling at Sarah backstage) to skip out on it all together). She held up her end of the bargain and got a major slap in the face from Sarah.
[From X17]
This makes a lot of sense, and sounds more likely than the scrapped magic act at the last moment. Britney can't take a joke, and she can't put aside her feelings to pull herself together for a career-changing performance, either.
Criss Angel dumped her right before her performance
On Saturday, Britney was out with Criss Angel in LA in the morning and was seen wearing his big 'ol cross necklace. He was said to be out with another woman that same night, though, and he was not seen with Britney the night of the VMAs, where he attended Christina Aguilera's party alone, wearing that same necklace Britney was sporting the day before. He knows when to jump off a sinking ship.
She was too tired/not into it
Britney partied until 4 a.m. on Sunday morning with her assistant, Alli Sims, meeting up with Diddy at Treasure Island. I wouldn't got out that late the night before a job interview, why would Britney sabotage herself like that before such an important performance? This is after MTV was said to warn her not to party before her performance.
Does Britney want her career to be over? Is she so delusional she thinks she can pull it off? She seems to think she looks good wearing shirts as dresses, so I wouldn't be surprised if that were the case.