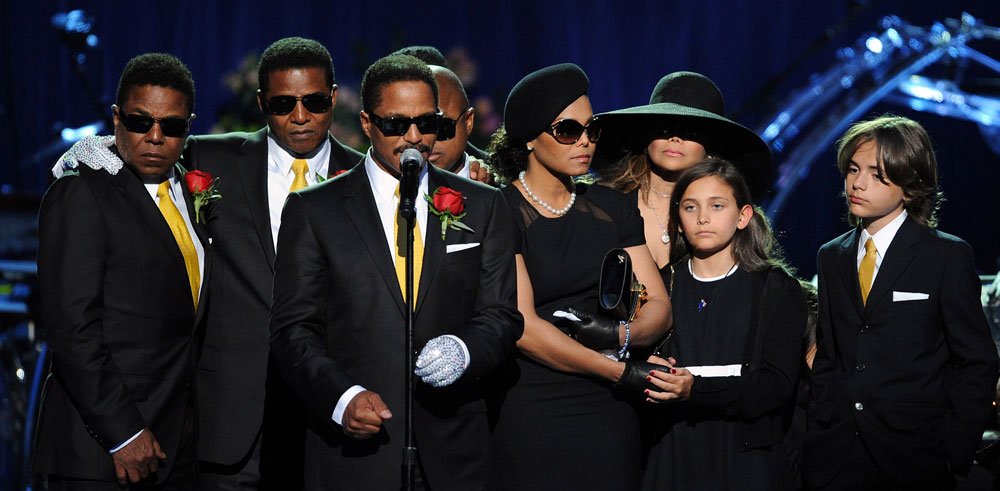 I've been thinking about Michael Jackson's memorial and about the controversial and complicated life he led. It really seemed like his memorial paid tribute to his childhood, career, and the massive impact he had on the world instead of honoring the gentle, somewhat strange man behind the phenomenon. It's like after he turned 30 Michael became some unknown character and the people who spoke at his memorial ignored that. Maybe that's fitting as it was meant for the public and that's really all we knew of him. Everything else was rumor and conjecture as the media tried to fill in the blanks about his private life.
I don't want to focus the whole story on this, but the crux of my question is – if he did abuse kids, should we mourn him less? I do think he was manipulated by families out for large sums of money, and there are just two cases where he was accused and only one that went to trial. As Rep Sheila Jackson Lee said during his memorial "We understand the Constitution, we understand law, and we know that people are innocent until proven guilty."
There will always be gossip and innuendo surrounding this man – it persisted after he was acquitted and will remain after his death. Was that gossip warranted and/or did it somehow contribute to the drug addiction that killed him? We may never know. Maybe that's part of the reason that we're focusing on the Michael the public knew, the young hugely talented guy who we grew up with and loved. It's just too hard to reconcile the moonwalking legend with the caricature he became at the end. We might have had a chance to do that if he would have been able to perform next Monday. As it is, we were given memories from his youth and the deep sadness from his family. Paris loved her daddy, and that strange morphed man who meant everything to his kids was about to take to the stage again and help show his fans that we could still celebrate him as a changed man. Instead he died, and our love for who he used to be poured over and had nowhere to go.
Here are the videos from Jackson's memorial, in order.
Smokey Robinson reads statement from Diana Ross:


Smokey Robinson reads statement from Nelson Mandela:


Gospel choir sings "We are Going To See The King" as Jackson's coffin is brought in and placed in the center in front of the stage.


Pastor Lucious Smith gives introduction:


Mariah Carey and Trey Lorenz sing "I'll Be There."


Queen Latifah represents the fans and reads a poem from Maya Angelou written specifically for Jackson titled "We Had You."


Motown founder Berry Gordy talks about Michael Jackson's career and talent:

A montage of moments from Jackson's career played:

Stevie Wonder sings "Never Dreamed You'd Leave in Summer"


Magic Johnson and Kobe Bryant gave remembrances


Jennifer Hudson sings "Will You Be There"


Rev Al Sharpton talked about Michael's family and how he broke barriers for African Americans


Sharpton offers some powerful words to Michael's kids "Wasn't nothing strange about your daddy, it was strange what your daddy had to deal with, but he dealt with it anyway."


John Mayer plays "Human Nature" poignantly while a choir sings behind him


Brooke Shields talks about her friendship with Michael from a young age, reads a passage from The Little Prince and says his favorite song was "Smile Though Your Heart is Aching" from the Charlie Chaplin film Modern Times.


Jermaine Jackson then comes on to sing that song, "Smile Though Your Heart is Aching"


Martin Luther King III, MLK's son, and Bernice A. King, his sister and MLK's daughter, offer condolences:

US congresswoman Sheila Jackson Lee gives a rousing speech.

Usher sings "Gone Too Soon" and goes off stage to touch Michael's casket. It's too much for him and he starts to cry:

Smokey Robinson comes on and says "I wrote that song, I thought I sang it… Two later, here comes this little kid, who's ten years old…. I could not believe that someone that young could have that much feeling and soul."


Shaheen Jafargholi from Britain's Got Talent sang "Who's Loving You"


Kenny Ortega, Michael's partner in the creation of the tour, talks about his planned final concerts

Michael's backup singers and dancers sing "We Are The World" and all the speakers come on stage


They go into "Heal The World"


The family speaks and it's heartbreaking. Paris says "I just want to say, ever since I was born, daddy has been the best father you could every imagine. I just wanted to say I love him so much."


Photos thanks to WENN.com