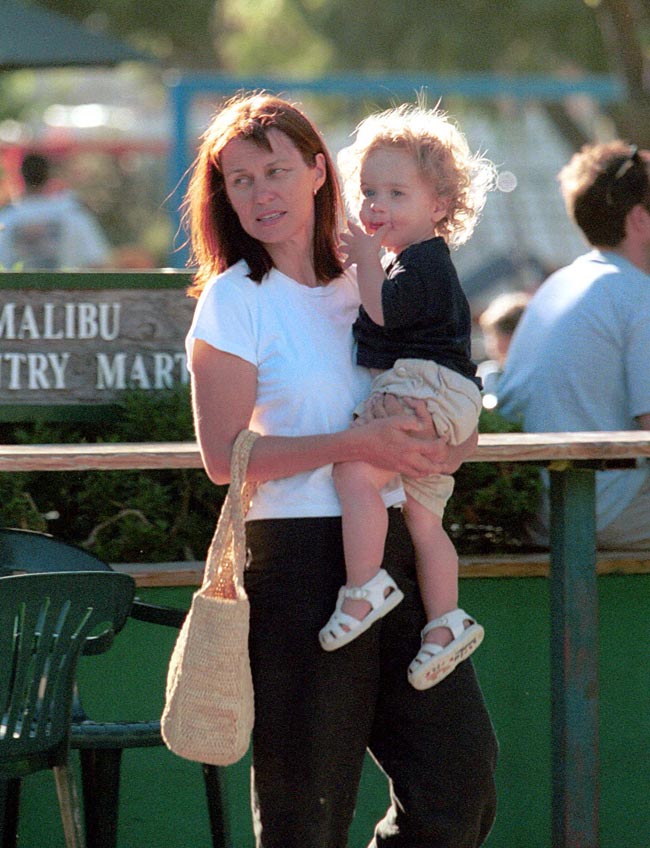 Mel Gibson is the process of divorcing his wife of 29 years and has a pregnant girlfriend who comes with him to his ultra conservative Catholic church every Sunday. Mel's girlfriend, 39 year-old singer Oksana Grigorieva, accompanied him to a premiere in April and Mel confirmed the relationship, and Oksana's pregnancy, to the press. He also said that his marriage "ended three years ago," around the time of his anti-semitic rant, implying that he wasn't technically cheating. In the eyes of the Traditionalist Catholic Church Mel built, which doesn't even grant annulments, he was definitely committing adultery though.
Meanwhile Mel's estranged wife of 28 years and the mother of his seven children, Robyn, 53, is finding a little happiness of her own. She has a new boyfriend and unlike Mel she's trying to keep the relationship under wraps. That doesn't matter to her estranged husband, though. Cheater Mel is reportedly livid that Robyn is moving on and doesn't think she should have a boyfriend:
After being married to the serial cheater for 29 years, Robyn Gibson has finally found a man who makes her happy, and Mel is outraged, a family friend told The Enquirer.

"Robyn is in love and having the time of her life with a new guy from northern California," the friend divulged.

"She's introduced him to her children, and they think he's great. But hypocrite Mel has made it clear he feels mothers should NOT have boyfriends!"

The "Passion of the Christ" star – whose mistress is pregnant with his eighth child – freaked out after he learned his 53-year-old estranged wife was dating.

"Mel had the nerve to call Robyn and actually proclaim that mothers shouldn't date. All Robyn could do was laugh!" the source confided.
The Enquirer adds that "Robyn has been very discreet," that she wears a blonde wig when she's out to avoid being recognized, and that she's only introduced her boyfriend to her kids as a "friend."
Compare how considerate and classy Robyn is acting in her new relationship to Mel, who issued statements and went on "The Tonight Show" to announce Oksana's pregnancy. He's even using his fame to help Oksana's career, and her singles and music video are getting play on People's website.
Robyn needs to pull some kind of stunt to rub it in Mel's face, like being photographed out at an outdoor restaurant having a great time with her boyfriend. Shania Twain basically arranged for the paparazzi to catch her out with her new boyfriend after her husband betrayed her. In Shania's case she was hooking up with the hot estranged husband of her husband's mistress. Now that's revenge.
Robyn Gibson is shown out in 2000. Credit: Fame Pictures