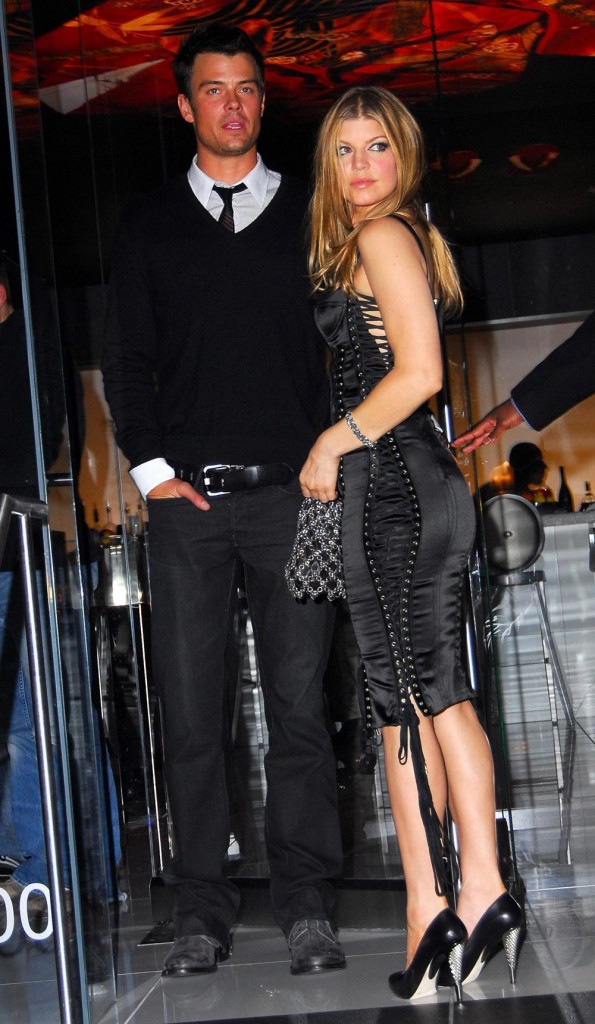 Back in July, we reported on an interesting little piece in the National Enquirer. They claimed that Josh Duhamel and Fergie were on the rocks after only six months of marriage. The reason? It seems that Josh really wanted to settle down and start their family, while Fergie was happy to go out every night and get smashed. A source told the Enquirer, ""He's a traditional guy, and he wants a family… but she doesn't seem capable of slowing down long enough to really consider children… She's the toast of the music world… and has an incredibly hectic schedule touring, recording and performing. There aren't enough hours in the day for everything she wants to do. Plus, she's a major partier." The gist was that even though Josh was "madly in love" with Fergie, if she didn't "grow up" Josh would be out the door.
Now the Enquirer is reporting that Fergie has decided to try to get pregnant. No mention of whether she and Josh were really fighting, or if he was badgering her, they only say that Fergie has got it into her head that a baby would be cool or whatever. A source tells the Enquirer, "She says pregnancy will be a crash course in cleaning up her act." That really bothers me, actually. I believe you should clean up your act before your pregnancy, not during.
Desperate to get her marriage to Josh Duhamel back on track, Fergie has agreed to get pregnant – and she announced her change of heart in the middle of a Los Angeles Dodgers baseball game!

As The ENQUIRER previously reported, the Black Eyed Peas thrush and her hunky thesp hubby were fighting just six months into their marriage.

Josh, 36, was ready to start a family, while Fergie, 34, continued to party. But after some soul-searching, she agreed to chill and promised Josh they could start trying for a baby after her tour ends in the fall, say sources.

"Fergie turned to Josh right in the middle of the baseball game and told him she wanted a baby to make their lives complete," revealed a close friend.

"She says pregnancy will be a crash course in cleaning up her act."

While Fergie had always planned to have kids, she wanted to put it off for a while.

Josh is thrilled by her change of heart, said the friend. "He adores Fergie, and he can't wait for her to be pregnant."
[From National Enquirer]
I'm still at a loss with this couple. I just don't get it. Whenever I read or see an interview with Josh, he seems like a nice enough guy, though bland. How in the world did he end up with a girl like Fergie? And why does he think that she'll ever be able to settle down and be this little wife and mother that he seems to want? In any case, even though I don't get it, I wish them the best. They seem relatively harmless, and I do hope Fergie cleans up her act and gets pregnant, if that's what she wants.
Here's Josh and Fergie in 2008. Images thanks to WENN.com .