LeAnn Rimes forgets how to spell "Dean" & goes love-nest-hunting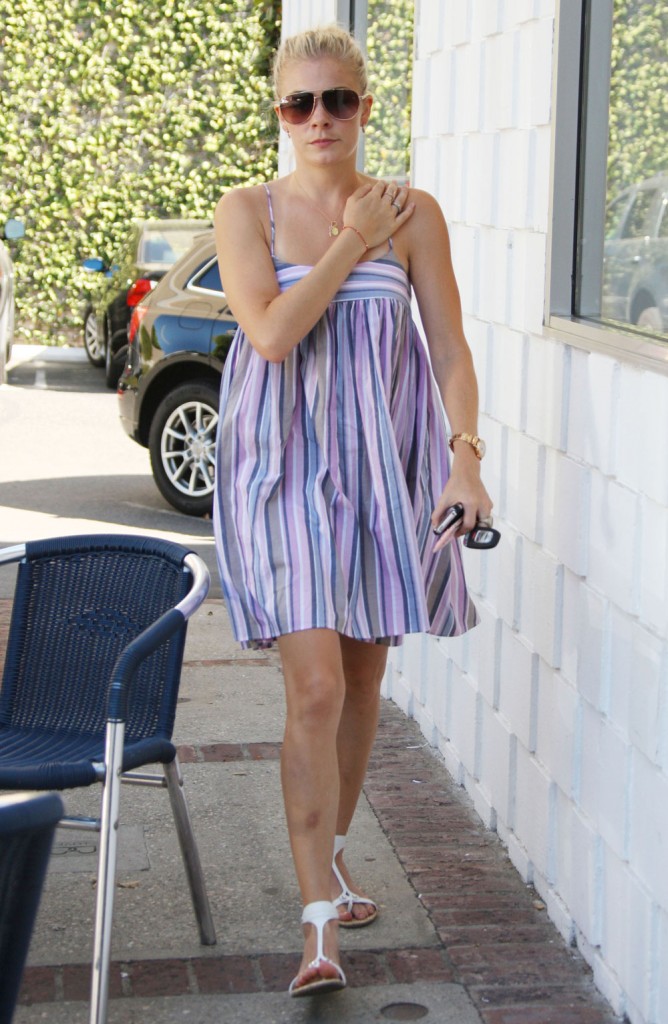 I couldn't resist. Page Six had this funny little piece about LeAnn Rimes – apparently, in her official announcement that she has filed for divorce from Dean Sheremet, she misspelled Dean's name. LeAnn made the announcement on her website, and although I noticed that his name was spelled "Deane" in the coverage, I thought it was just People Magazine's mistake. I didn't realize LeAnn was actually married to a man for seven years and she never realized he spelled his name with only one "e". Out of sight, out of mind, I suppose.
In other LeAnn Rimes news, she went house hunting this weekend in Los Angeles. She already has a home there, but I guess she's not happy with Eddie Cibrian moving into the home she shared with Dean(e). So onto a new love nest!
LeAnn Rimes is literally moving on. Now that she's officially split from husband Dean Sheremet and openly dating boyfriend Eddie Cibrian, the singer/actress needs a new place to call home in Los Angeles. She is spending Saturday out looking at houses – no doubt to share with Eddie — RadarOnline.com can exclusively report.

"She seems to be in great spirits, smiling and very upbeat," an eyewitness told us.

LeAnn's first stop today was at a two story contemporary, perfect for a young couple in love. It's in the hills of Beverly Hills, tucked away in a grove of mature trees. It is fairly open to the street but would be easy to gate.

Then it was on to something entirely different. LeAnn also looked at a sprawling ranch within a gated community in suburban Caabassas, and there are several other properties lined up for her to look over.

LeAnn and Eddie began their affair after costarring last fall in the Lifetime TV movie Northern Lights. For months they insisted they were "just friends" but finally went public as a couple this summer when they were spotted golfing and attending a concert. They've just returned from a romantic getaway to Cabo San Lucas, Mexico where they opened cuddled on the beach.

Eddie filed for divorce from his wife Brandi Glanville on August 24. A week later, LeAnn wrote on her official website that the decision to split from her husband of seven years was "amicable."

Now comes the dirty work of dividing up their respective assets but at least LeAnn and Eddie can do it from the comfort of their new love nest.
[From Radar]
Interesting that LeAnn is doing the house hunting solo – and she'll probably do the buying solo too. I guess Eddie didn't want to come? Or Eddie figures that if LeAnn is going to pay for the lifestyle, she can pick out their house solo? Or, perhaps, Eddie was just "working" – with a new mistress, perchance? That's what his estranged wife thinks – a source close to Brandi Glanville told Us Weekly that Eddie is "too busy juggling his women to be a proper parent." Not one mistress, but several, methinks.
LeAnn is shown out with a drink and shopping for groceries at Whole Foods on 9/6/09. (yellow shorts outfit. Credit: WENN.com) She is also shown out shopping at Fred Segal on 9/5/09. (striped dress. Credit: Fame Pictures)
Written by Kaiser

Posted in Brandi Glanville, Dean Sheremet, Eddie Cibrian, LeAnn Rimes

- Mariah Carey lip synced on American Idol [CDAN]
- Colin Firth is looking good [Lainey Gossip]
- Internet celebrity charged with murder! [D-Listed]
- What is Paz Vega wearing? [Go Fug Yourself]
- New bachelors on The Bachelorette [Reality Tea]
- Goodbye to The Office [Pajiba]
- Bachelor Sean's fiance cheats on him [Evil Beet]
- Britney Spears out with her man [Popsugar]
- Nina Dobrev works it [Popoholic]
- Cindy Crawford needs to lay off the 'tox [Celebslam]
- Who said it: Carrie Bradshaw or The Dalai Lama? [Buzzfeed]
25 Responses to "LeAnn Rimes forgets how to spell "Dean" & goes love-nest-hunting"