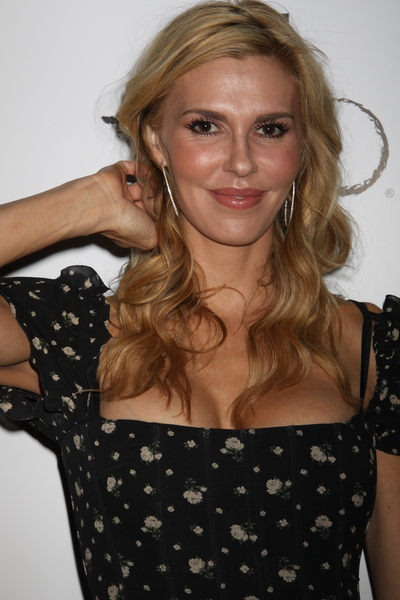 So much for that "amicable divorce". Eddie Cibrian's estranged wife Brandi Glanville was in Las Vegas over the weekend celebrating her "divorce celebration-slash-get-away-from-your-life party" (her words) with some girlfriends. Of course, somehow, People Magazine managed to get another interview with Brandi about the whole Eddie-LeAnn Rimes situation. Brandi keeps going back and forth on how classy versus how bitchy she is about the situation. She's given a couple of interviews where she seems like a really cool person – in other interviews, she seems hellbent on destroying both Eddie and LeAnn in the press. While I appreciate how much news Brandi provides, I'm starting to wonder what the deal is.
Anyway, Brandi's new interview isn't as hardcore as last week's interview in the National Enquirer, where Brandi talked about how "shallow" and "toxic" Eddie is, and how he's only after LeAnn's money. Brandi admits that she had a "not pleasant" run-in with LeAnn, but fails to go into further detail about the incident. She also reiterates her basic point that LeAnn will spend time with Brandi's two sons over Brandi's dead body, basically:
In the midst of her divorce from actor Eddie Cibrian, Brandi Glanville is taking the opportunity to speak out against her rival, country singer LeAnn Rimes.

At the TAO/LAVO anniversary party in Las Vegas Saturday night, Glanville, 36, acknowledged that she has had a neighborhood run-in with Cibrian's current girlfriend that was "not pleasant."

Rimes, 27, and Cibrian, 36, took their romance public in August and have recently been staying at a house near the home Glanville used to share with Cibrian.

Still, the estranged couple – who are parents to sons Mason, 6, and Jake, 2 – "definitely save face for the kids – absolutely, they are the most important things in both our lives," Glanville said. In fact, Cibrian was watching the kids during Glanville's weekend in Sin City.

Glanville added that she was in Las Vegas with girlfriends for a "divorce celebration-slash-get-away-from-your-life party. I'm just here to enjoy myself and relax."

As for Rimes, who filed for divorce from Dean Sheremet on Sept. 1, "she can have most of everything," said Glanville, "just not my children and my family."

A friend of Rimes says of Glanville's comments, "This is absurd. It just sounds like someone's desperately trying to extend their 15 min here. Everyone else has moved on."
[From People]
Yikes. That comment from LeAnn's "friend" was extreme, nasty and false. In my mind, you can't really say someone has "moved on" when the divorce proceedings have literally just begun. I mean, the paperwork just got started less than two weeks ago! If Brandi, Eddie and LeAnn are still involved with ripping each other apart in the press four years from now – like, say, Mary Jo Eustace - then I'd say that LeAnn's "friend" had a point. Oh, and LeAnn's "friends" shouldn't be making fun of anyone's relevancy or fame, for goodness sake. It's not like LeAnn is any kind of pop culture phenomenon. She's just some squinty, irrelevant country singer that stalked the hell out of her costar on a Lifetime movie. Paging Andy Warhol.
UPDATE: Us Weekly just put up more extensive comments from Brandi, and it looks like she's on the motherf-ckin' warpath. Some of it is the same stuff that People reported, but then Brandi also says: "I have a new neighbor and her name is LeAnn Rimes. She's moved in a half a mile from my house and a block from my son's school. So she is completely space invading me at the moment so things are not cool… There is a point where she needs to have a sensitive side and back the F up… Honestly, she's Single White Female-ing me. She wants my life. She wants my kids. She wants my husband. She can have most of everything but just not my children or my family." Dude… I love the Single White Female reference, and my guess is that Brandi is right-on about LeAnn. She totally gives off the stalker vibe to me, and it's interesting to see that verified by Brandi.
Brandi Glanville is shown at Tao on 10/3/09. Credit: PRPhotos