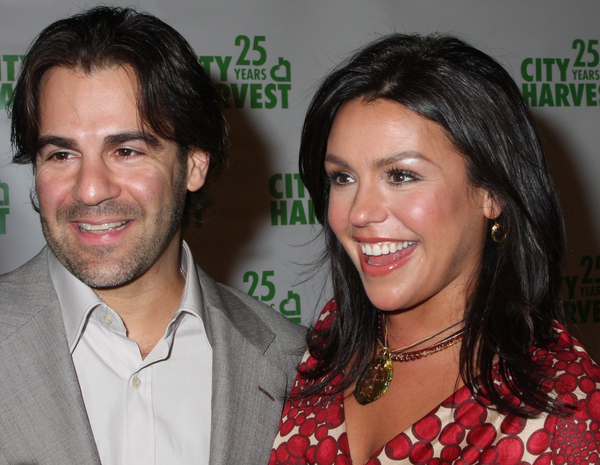 I really can't stand Rachael Ray, so I'm going to be upfront and let you know that this entire article will be tinged with my bias. It's not like she's a bad person or anything – in fact she seems genuinely nice. But she takes perky beyond the point of self-control and gets all-out annoying with her peppiness. A friend of mine pointed out what a freakishly large head she has in proportion to her body. And that wouldn't be so bothersome, except that you see the freakishly large head plastered onto every bus and subway station from New York to San Francisco. I'm surprised they could even fit her it on the side of a bus – I doubt the real thing could fit in there.
Rachael Ray's marriage has been plagued by rumors of trouble pretty much since day one. Unsettling, no? Well generally you'd think "Oh, The National Enquirer just picks on her." But it turns out they had some pretty good evidence – Rachael's husband, John Cusimano, reportedly has a major foot fetish. Just click the link; I don't want to write about that stuff again. I'm not judging, I swear. Just don't make me think about it. Apparently Ray freaked out a bit during a taping of her show and started telling the audience that her marriage was fine, and she was sick of people gossiping about it.
During a taping of her talk show Wednesday, the normally bubbly cook said that constant reports about the state of her marriage to John Cusimano are starting to upset her, an observer tells PEOPLE. "Everybody gossips … but this stuff is hurting people's feelings who are in our families and friends of ours," Ray told the audience on the show, set to air Friday. "They worry about us… there's always someone that's going to be telling stories behind your back, but this is too much… the tabloids won't stop printing this junk until people stop buying it."

A spokesperson for Ray confirms to PEOPLE that she spoke about the tabloid rumors, and adds, "Rachael and John have never been happier." According to another source, during a recent appearance in New York to promote her newly released cookbook Just in Time, Ray was asked multiple times by fans if her marriage was in trouble. "John actually showed up at the book signing and they looked very much in love," says the source. "I bet she finally decided she needed to let her fans know she was alright and that the lies being written about her were just that, lies."
[From People]
You know I hate to point this out, but just because John has a foot fetish doesn't mean there's trouble in their marriage. Rachael could be totally fine with it. For all we know, she could be into it too. Ew. There's something about her that's just so wholesome that it feels really inappropriate to talk about that. But it seems like all of the rumors of trouble are based on the foot love, and if that's all there is, they could be totally fine. A little disgusting, but fine.
Picture note by Jaybird: Here's Rachael and John at City Harvest's 'Bid Against Hunger' in New York on October 23, 2007 Images thanks to PR Photos.