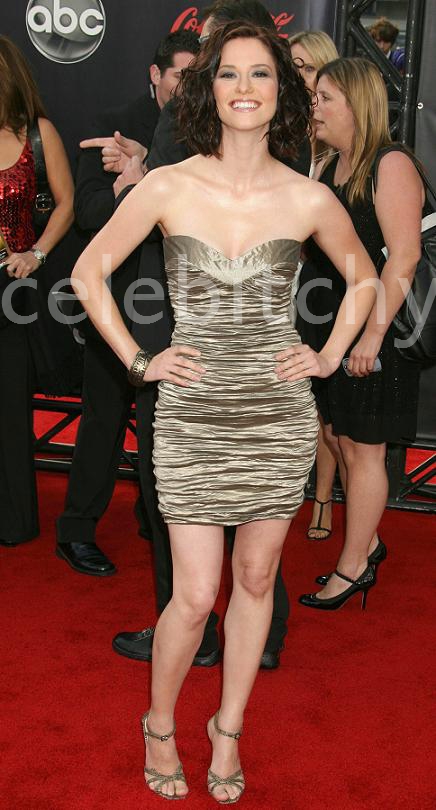 Hungry actors have been known to do some desperate things to break into the business. Taking terrible roles in "Anaconda 3," jumping on the casting couch, or kissing your brother. What? Yeah. Kissing your own brother. I'm fortunate enough not to have a brother, so I can write this without getting the willies that the rest of you are experiencing right now. Can you imagine wanting to be in a movie so badly that you agreed to kiss your brother not once, but twice? And we're not talking a cheek peck. We're talking a real kiss. "Grey's Anatomy's" Chyler Leigh's first movie was a pretty cheesy looking family film called "Kickboxing Academy" which costarred her real-life brother as her love interest. Can we say disgusting and unnecessary? How many seventeen-year-old male actors are out there? The casting people really couldn't find anyone else?
A video has hit the Web showing Grey's Anatomy newcomer Chyler Leigh, who plays Meredith's neurotic half-sister Lexie, kissing her older brother. No, don't worry. Not in the Angelina Jolie-James Haven kind of way. Rather, Leigh, 25, performed her intra-familial liplock in the interest of her craft!

Internet-savvy Grey's fans have discovered footage of the then 15-year-old star's inaugural movie role in 1997′s Kickboxing Academy. In an odd choice of casting, the film's producers cast her brother, Christopher Khayman Lee, as her love interest.

And that's not all. The siblings have not just one – but a handful – of kissing scenes. Let's all channel our inner Meredith Grey and ask: "Seriously?!?!?"
[From Us Weekly]
Those casting agents must be the laziest people in Hollywood. They probably said, "Well we have this girl, we like her for the role. And we could go outside the door and look at the next five guys in line, or we could just take the guy that came in with her, make them kiss, and call it an early day. Yep, let's go with that." From the snippets shown of the movie, it seems that Leigh's brother isn't just some random guy she kisses, but actually plays her love interest. I don't want to be totally puritanical, but where were their parents? Why in the world didn't they object to something so creepy?
Here's a few snippets of the kiss, if you can stomach it. And I mean "if you can stomach it" not because the quasi-incest is so gross, but because the guys who made the "mocumentary" YouTube video of it are beyond annoying.