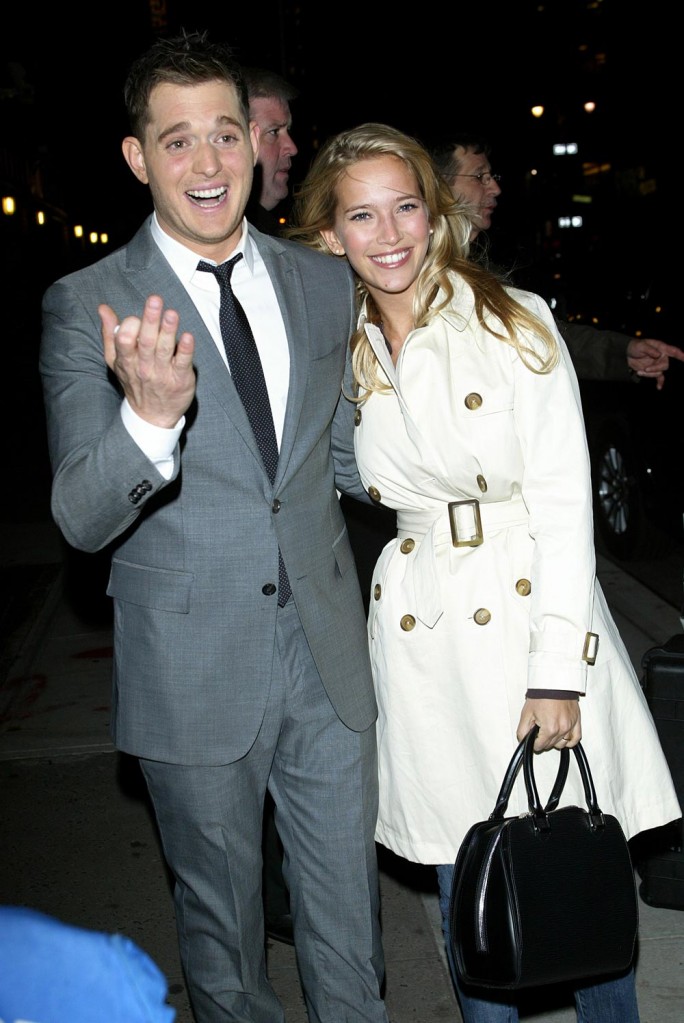 Speaking as someone who is actually a fan of Michael Buble, I can't say this report in Star Magazine came as a galloping shock to me. While Michael has a voice as smooth as silk, from what I've read about him previously, he has a reputation as a skeeze, a womanizer, and a guy who can't commit. But still, that voice! And when he's on a stage, or talking to Oprah or something, he comes off as very charming, very self-deprecating, very boy-next-door.
The story of how and why Michael and actress Emily Blunt broke off their relationship/engagement has been going around for a while. And most of the rumors came from the same person, a girl named Tiffany Bromley, who continues to claim that she and Michael were sleeping together while he and Emily were together. She began telling her story back in 2007- with some incriminating photo evidence. Now Star is revisiting her story – I can't tell if she gave Star a new interview, or if the tabloid is simply regurgitating old 2007 reports, but here you go:
Michael Buble claims he's found the real deal with South American superstar Luisana Lopilato but his ex has a warning for the Argentine actress. "He's a cheater and a rat," says Tiffany Bromley. "He once told me, 'I can't commit to one person."

Tiffany says Michael, 34, regularly went back to her during his three-year relationship with Emily Blunt, even when Michael and Emily were planning to marry. A few months into his romance with Emily, Michael called Tiffany one night and invited her to his room at Le Parc Suite Hotel in West Hollywood.

"Before I knew it, Michael started kissing me passionately and undressing me," she says. "He said he didn't want to go all the way because he never cheated on Emily – but we did."

Six months after that, while both Michael and Tiffany were in Canada, he called her at 4 a.m. saying, "I want to see you." She went straight to the Vancouver apartment he shared with Emily… and Michael greeted her at the door in his briefs.

"On a scale of 1 to 10, he was an 11 that night… The only thing that bothered me was, right before we got into bed, Michael said 'Let's take some naked pictures. It will be fun.' Then, he asked me if I'd like to take part in a threesome – me, him, and another woman. I told him, 'No way!' He said, 'Don't knock it till you tried it. You don't know what you're missing.'"
[From Star Magazine, print edition, November 16 2009]
The story goes on and on. Tiffany and Michael had sex a bunch of times, she took the infamous photos of Michael sleeping naked, and that was the last she saw of him. Although, they did fight over the phone about him "coming clean" to Emily Blunt. Emily and Michael later split up, and now she's engaged to John Krasinski.
The point of the story seems to be that Tiffany doesn't think Michael will be able to commit to Luisana. Tiffany says: "Michael was never going to marry Emily. He was just leading her on. And I don't see him settling down now anytime soon, if ever. That's just Michael. He's just not that kind of person. He's too married to his career."
Personally, I don't see Michael getting really serious with any girl for a little while either, but I don't think the guy should be strung up just because of that. His career is booming. Let him do his thing. Here's Michael's new video, "Haven't Met You Yet":

Michael Buble and Luisana Lopilato are shown outside The Late Show on 11/3/09. Credit: WENN.com