Robert Downey Jr. features his moose-knuckle in Esquire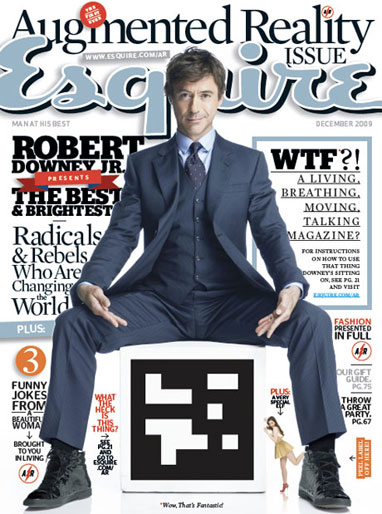 Jesus, could Robert Downey Jr. look any dorkier on the cover of December's Esquire? Something about his hair… and his expression. And his body… good Lord, is it just me or is this cover rather testicle-tastic? Now that I noticed that, my eyes only go his crotch and his very prominent… what's the word for it?… moose-knuckle? Yikes. Robert, you're too cool for that. Let the boys have some baggy pants.
I haven't really sat down and read the entire Esquire interview, but I did skim it. Now, I love Robert Downey Jr., and I love reading about him, but in interviews he can come across as a bit… manic. All over the place, or "spastic" if you prefer. Just judging from my skimming, Robert is talking a lot of bullsh-t about this and that, but not really saying much about anything important. He bought a new house, and he's showing it off to the guy. He's starting to live a more lush life (the "lush life" conversation goes on for a while). Oh, and he and his wife Susan are planning to have a baby at some point. Here are some of the highlights:
On making money: "I love being a part of something that makes other people a bunch of dough. And I don't need to make nothing but big movies. In fact, if anything I'm probably in danger of wearing out my welcome."

On being A-List: "Suffice to say, dude, I'm not paranoid anymore. I'm not fearful. It's interesting to be surfing this tremendous crisis of capitalism – and I know there's a coral reef under me and I don't want to hang ten, but I do think that when you're in the pole position, that's when you try to beat your best personal time."

On starting fresh: "I hit my stride later than most folks. A couple years ago, it really was a big old hip-hip-hooray and let's get somethin' shakin' here. Then pfffffff – it reorganized at this higher level, and now there's more to manage, and more opportunity. And then there's nothing except the question of pacing – because I can go fast like this for a little while or I can start pacing it down and get where I'm actually supposed to be heading – and it's really, really elusive."

On managing his anxiety: "I hand it to any and everyone who has made it past their late thirties and has any sense of contentment, because you know so much, and the anxiety can be so overwhelming — and managing the anxiety is a skill set that seems like a menu that changes every day. My insanity is thinking that somehow or another I was responsible — personally, directly responsible — for altering the course of things that have us sitting here on this deck. There's so many other factors in this — so many other people and past relationships, my kid and my folks, and the centerpiece of it all, Susan. It's like I know what happened, and I know that I got the ball and ran with it, and hip-hip-hip, and then like they're saying, 'Look — before you blow out a knee, we'd like to give you a bunch of endorsements,' and I go, 'Great.' The truth of the matter is, it's always been like this. It hasn't gone up from down; it's just that it's finally got wide enough that I can be contained."

On his former financial situation: "I've been homeless for so long," he says, without a morsel of self-pity. "I always had a place, and Susan and I have taken great care of each other, but I haven't had two nickels to rub together for a long, long, long, long time."

On having children: "The big unspoken thing here is that we intend to have a family… Hell, yeah. Speaking of artifacts. The ultimate artifact of our love. In a onesie."
[From Esquire Magazine and PopEater]
Oh, Robert is on Esquire because he's promoting Sherlock Holmes, which comes out on Christmas Day. Did you miss that? Yeah, Robert barely spoke about it. I wonder what the press tour will be like? I'd imagine it will be a lot of Robert yapping away while Jude Law sits morosely, thinking about his child army. So, I watched the new trailer for Sherlock Holmes, and I'm less excited now that I see that Guy Ritchie (who directed) basically doesn't keep anything of the Sir Conan Doyle stories of Sherlock Holmes. Guy Ritchie has basically made Sherlock Holmes like Bruce Willis in Die Hard, if Die Hard was set in 19th century England. With Jude Law. Here's the new trailer:
Written by Kaiser

Posted in Robert Downey Jr.

- Mariah Carey lip synced on American Idol [CDAN]
- Colin Firth is looking good [Lainey Gossip]
- Internet celebrity charged with murder! [D-Listed]
- What is Paz Vega wearing? [Go Fug Yourself]
- New bachelors on The Bachelorette [Reality Tea]
- Goodbye to The Office [Pajiba]
- Bachelor Sean's fiance cheats on him [Evil Beet]
- Britney Spears out with her man [Popsugar]
- Nina Dobrev works it [Popoholic]
- Cindy Crawford needs to lay off the 'tox [Celebslam]
- Who said it: Carrie Bradshaw or The Dalai Lama? [Buzzfeed]
37 Responses to "Robert Downey Jr. features his moose-knuckle in Esquire"