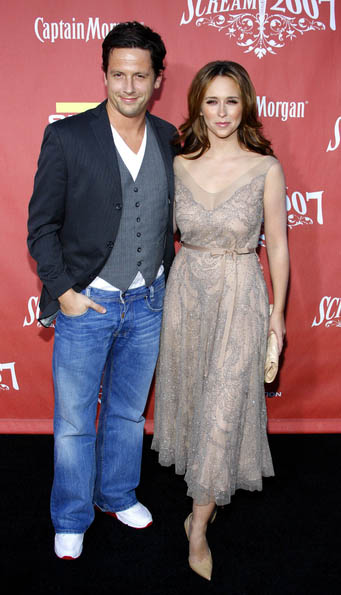 Jennifer Love Hewitt may have had a pressing reason to get engaged to her boyfriend of nearly two years, Scottish actor Ross McCall. Star Magazine is claiming that the well-liked Ghost Whisperer star is pregnant. The story is pretty scant on details, so it could be mere speculation, but they say that Ross and Jennifer went to Hawaii in part to celebrate her pregnancy. The article doesn't make it clear whether the engagement was prompted by Jennifer's maybe-pregnancy, and just says she found out she was expecting "around the same time" that she got engaged.
Ross, 31,… surprised Jennifer when he popped the question with an engagement ring that has been in his family for 100 years. Around the same time, the Texas beauty learned that she was pregnant!

While a rep for Jen denies she's expecting, the source says that to celebrate the terrific news, the couple jetted off to Hawaii.
[From Star Magazine, print edition, December 17, 2007]
I'm not holding my breath on this one, but it could be true. Jennifer had normal-sized women around the world cheering when she blogged that she was sick of the constant scrunity of women's bodies in the media and that she was happy with her body as it is. She was responding to criticism over her average-sized body after she was photographed in a bikini in Hawaii with Ross. While she said that she was dealing with "photographers taking invasive pictures from bad angles," it seemed to me like she was overstating her case, because I assumed the entire photo series was pre-arranged and staged by Hewitt. The pictures were way too posed and close up to be random photos taken by a paparrazo that trailed them all the way to Hawaii, but I guess it could have happened that way. Still, it doesn't seem like Jennifer Love Hewitt is the level of celebrity that a photo agency would follow on vacation.
She may have been poised to tell the press that she's annoyed that people criticize normal-sized women and I suspect that she set up the photos intending to do just that. She made an excellent point, though, and one that's long overdue.
We'll have to wait and see if she's pregnant. If so, congratulations to one of the most down to earth and kind celebrities out there. I see Jennifer, Ross and the baby getting photographed as much as one of my other favorite celebrity couples, the Garner-Afflecks.
Jennifer Love Hewitt and Ross McCall are shown at the Scream Awards on 10/19/07, thanks to PRPhotos. Egotastic has the bikini photos, and she doesn't look pregnant there, but it could be early on.