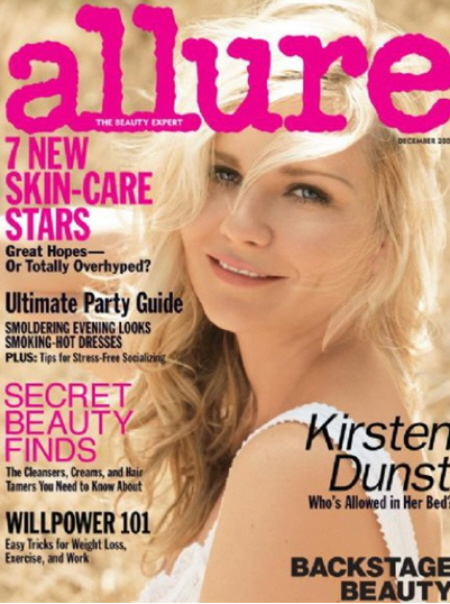 Here's Kiki Dunst on the cover of Allure's December issue. The cover shot is a pretty picture of her, and Allure has a behind-the-scenes slideshow of the shoot. Maybe I'm biased, but I think she looks slightly drunk on the cover. Maybe it's just the way she looks, though. Or maybe it's all of those reports that she's constantly getting hammered on straight vodka all the time. Maybe it's because she acts like a vapid, drunk teenager, even when she's testifying in a court of law. In any case, the pictures are pretty enough, but her interview is rough. Most people are making a big deal about Kiki saying that she and her ex Jake Gyllenhaal are "not good friends" and how they don't keep in touch. Personally, I don't find that very scandalous. What did interest me was Kiki's musings on America. Oh, yes. It is epic.
So much for hanging with your exes.

In the December issue of Allure, Kirsten Dunst admits that she and ex-boyfriend Jake Gyllenhaal don't exactly keep in touch.

"It would be nice to see him," she says. "But we're not good friends."

The couple — who had shared an L.A. home and a dog named Atticus — split in 2004 after about two years together.

Now 28, Gyllenhaal has been in a relationship with Reese Witherspoon since early 2007.

The 27 year-old Dunst tells Allure that she's single and living in New York City. Any notable guests at her apartment? "My girlfriends will sleep in bed with me, but no guests, not long-term, anyway."

The actress, who describes her life as "totally regular," recently took an eye-opening cross-country road trip with a pal, visiting Graceland, New Orleans and the Grand Canyon.

"After we were done, I was like, 'Wow, America is so poor,'" she tells the magazine. "Just the towns you come across — all that's there are restaurants and gas stations. There are beautiful stretches of pasture, but for the most part, people live simply. The East and West Coast are so different from the rest of America."
[From Us Weekly]
Now, first, just so I don't go to hell, let me explain in a nice way what I think Kiki was trying to say. I think she was speaking to the larger financial diversity between the extreme, superfluous wealth she's seen for years in Los Angeles and New York, and she's trying to voice her genuine surprise and admiration for how "everybody else" lives.
Now, to bash Kiki – just because "everybody else" in America doesn't have the latest purebred teacup poodle in the latest Louis Vuitton handbag, driving the latest Bentley, wearing the latest Christian Dior sack, doesn't mean we're "poor". And Kiki's inane, drunk "wow, you guyz is so poor!" mouth-fart doesn't do much to help the image many of the "everybody else" has of the New York and Los Angeles. Plus, I dislike how Kiki says "the East and West Coast are so different from the rest of America." As if "East Coast" is synonymous with "New York and maybe Boston but nothing else" and "West coast" is synonymous with "Malibu". There are a lot of "poor" people living on both coasts, as well as in the rest of America. But, we're all "poor" compared to Kiki.
Allure cover shot and additional photo courtesy of CoverAwards.