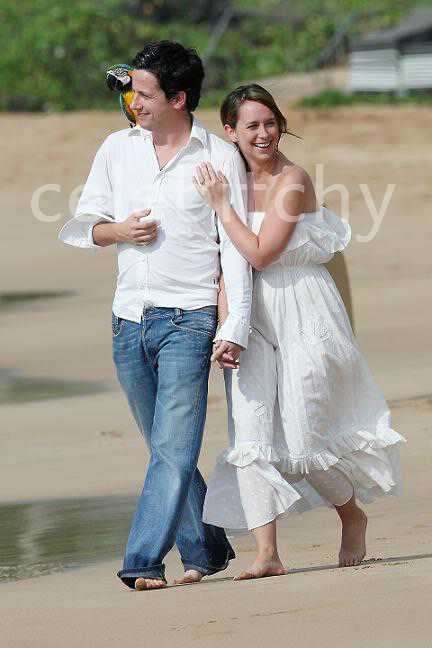 What week is complete without at least two good pregnancy rumors floating around? Angelina gets knocked up at least three times a month, and I'd guess that Jennifer Aniston trails behind her at once a fortnight. Yeah pregnancy rumors are tracked in fortnights – gossip websites are very old fashioned that way. A lot of sites were abuzz with the gossip that Jennifer Love Hewitt was pregnant. Celebitchy noted:
Jennifer Love Hewitt may have had a pressing reason to get engaged to her boyfriend of nearly two years, Scottish actor Ross McCall. Star Magazine is claiming that the well-liked Ghost Whisperer star is pregnant. The story is pretty scant on details, so it could be mere speculation, but they say that Ross and Jennifer went to Hawaii in part to celebrate her pregnancy. The article doesn't make it clear whether the engagement was prompted by Jennifer's maybe-pregnancy, and just says she found out she was expecting "around the same time" that she got engaged.
Well according to Hewitt's PR rep, she's not pregnant. It sounds like people just jumped on the idea because she was called chunky and got engaged at the same time. Just coincidental timing, folks, she's not knocked up.
Following her recent bikini scandal, Jennifer Love Hewitt is making headlines again in the blogosphere.

Sites were buzzing today that Hewitt, 28, and her fiancé, Scottish actor Ross McCall, 32, are expecting their first child in June.

But her rep tells Usmagazine.com: "Jennifer is not pregnant."

Still, all seems well for Hewitt and McCall, who recently gave her an antique engagement ring. They were all smiles as they headed to a holiday party at Morton's Steak House in Burbank, California, on Sunday.
[From Us Weekly]
I can't say why, but JLH (that's what I'm calling her from now on – her name is just too long and too ridiculous) strikes me as someone who'd be a good mom, whenever the time comes. She handled the whole "fat" scandal with a lot of grace. I wouldn't want to be her PR rep right now – that must be one busy woman, constantly fielding "how fat is your client?" and "how pregnant is your client?" calls. Hopefully the drama is near an end, and Jennifer can just celebrate getting engaged.
Picture note by Jaybird: Header image of a newly-engaged Jennifer Love Hewitt and Ross McCall vacationing in Hawaii with a parrot. Images thanks to Splash Photos.