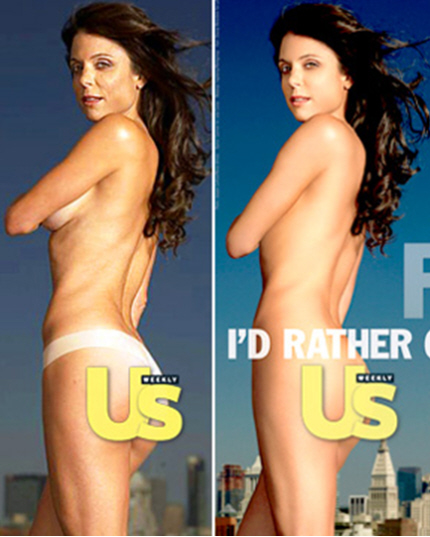 Sometimes I wish I was a Catholic, just because Catholics get to have the best reactions when seeing something this sketchy for the first time. I would imagine it would involving crossing oneself, and yelling "Santa Maria!" like in the movies. Anyway, Santa Maria! Us Weekly got their hands on Bethenny Frankel's unaltered, un-Photoshopped PETA ad, and it is heinous. Granted, I'm not a huge fan of Bethenny, but does Photoshop have to do all the work? Couldn't they slap some makeup on her so her "before" photo wouldn't look so jacked? Oh, and Bethenny was the one to release the unaltered photo because she's all about being "honest and upfront". Well… I can respect that, actually. But the unaltered photo still make me want to cross myself.
Bethenny Frankel is no shrinking violet. The pregnant Real Housewives of New York star posed nude for a PETA billboard that was unveiled Dec. 15 in Manhattan's Times Square. Now, she's talking back to the housewives and other haters who have suggested that the butt-baring photo was heavily airbrushed — and she's shared the photo evidence (the original, untouched image) exclusively with UsMagazine.com.

"Everything I'm about is being honest and being upfront," Frankel, 39, tells UsMagazine.com. "So if people are talking and saying [the photo] was airbrushed…then, you know what? Here's the picture. Have it your way."

The author of new cookbook The Skinnygirl Dish adds that she would "never, ever allow them to put up a billboard that was really far from the truth."

Now four months pregnant with her first child, Frankel disrobed for the shots on a Manhattan rooftop in September. Although she's never posed nude before, she says "I wasn't that freaked out about it. I don't know why. PETA has no interest in making me look sleazy. It was such an honor."

As for the pregnancy? "It's been great. I haven't been particularly nauseous, and I get a decent night's sleep, which is refreshing. My boobs are big, but other than that, nothing's crazy."

Still, she confides that expecting a baby is a "weird" experience, "To be honest, being pregnant is weird. Whoever says any different is probably lying. It's a strange, strange thing."

The dad-to-be is Frankel's fiance, Jason Hoppy. Although the couple announced their engagement in October, they have put off planning their nuptials until after Frankel gets through her pregnancy, a book tour, the third season of Housewives (which just wrapped shooting) and her new untitled solo reality show. "There's no plan whatsoever!" Frankel says.
[From Us Weekly]
Can you imagine if this had happened to Demi Moore? The tweets would have been neverending. Demi would have spent the next month bitching and moaning about how she just naturally looks perfect and her lawyers would be suing everyone in sight. So I'm actually giving Bethenny credit for this, and she gets a temporary pass in my book, just for being honest enough to release a God-awful photo of herself. I will give her a word of advice though – sunscreen, night cream and lots of water will help with how damaged your skin is. Seriously. Just try a little Oil of Olay. It works really well!
Unaltered PETA ad courtesy of Us Weekly. Original PETA ad courtesy of Huffington Post.