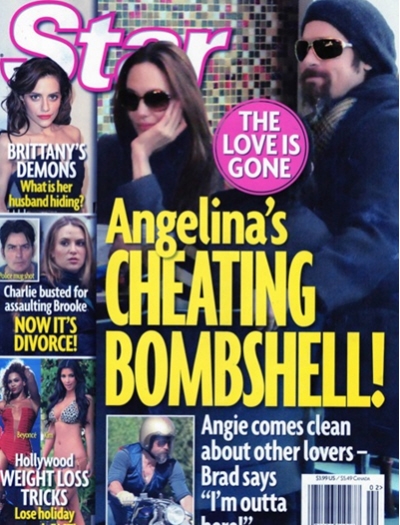 For goodness sake. Star Magazine decided to put Angelina Jolie's "cheating bombshell" on the cover this week. Guess what the "bombshell" is? That dumb, fake interview that Angelina didn't participate in from a German tabloid. Allegedly, Angelina said "I doubt that fidelity is absolutely essential for a relationship. It's worse to leave your partner and talk badly about him afterwards. Neither Brad nor I have ever claimed that living together means to be chained together. We make sure that we never restrict each other. The sparks fly at home if the nice Brad fails to see that he's wrong and reacts in a defiant way. Then I can get so angry that I tear his shirt." So, the "cheating bombshell" is that a German tabloid published fake quotes from Angelina in which she claimed in broken, nonsensical English that fidelity is not "absolutely essential". Whatever:
Just when things seemed to be back on track for Brad Pitt and Angelina Jolie, she dropped another bombshell — she told him she sees no need to be faithful!

In the January 11 issue of Star — on sale today — we report that just days after a rare public display of snuggling and smooching at the UNICEF Snowflake Ball in Los Angeles, Angelina suggested to her partner of five years that they try an open relationship — and he hit the roof.

"Angie's been hinting that she's interested in seeing other people for a while, but Brad has resisted," a friend tells Star. And it's not just men that Angie wants to cheat with. She wants to give women another try too! "When she openly said that's what she wanted, Brad flipped out!"

Angie's suggestion hit Brad so hard that he stormed out of their L.A. home and took off on a motorcycle — knocking over trash cans in the garage in his hurry to leave, and not returning home until the following morning.

In a recent interview, Angelina opened up about how they've clashed when Brad's "off on his motorcycle for too long and forgets to bring the kids back their favorite sandwiches." She also noted that their fights get nasty: "When lovely Brad doesn't want to admit that he's wrong and gets sullen, sparks fly in our house. Then it can reach the point that I get so mad I rip his shirt."

Pickup the new Star today for the complete story about their battle — and learn why Brad howled like a wolf after Angie revealed her wild plan.
[From Star Magazine]
The last sentence kills me – "learn why Brad howled like a wolf…" Why am I now hearing Duran Duran's "Hungry Like The Wolf"? I can just imagine Brad singing along with Simon Le Bon. Sigh… I love Duran Duran.
In one last piece of Brangelina news, now that Sherlock Holmes is a certified hit film, Guy Ritchie is apparently making plans for the sequel, and he's trying to lock Brad up for the role of Prof. Moriarty. This has been mentioned before – and there was even a rumor that Brad had a cameo in the current film. The new twist on the rumor is that Brad will sign on for the sequel only if Guy Ritchie does not hire Angelina. I guess they were considering Angelina for a femme fatale role or something, I don't know. It sounded like bullsh-t to me.
Star Magazine cover courtesy of CoverAwards. Additional photos of Angelina Jolie doing reshoots for 'Salt' on December 29, 2009. Credit: WENN.