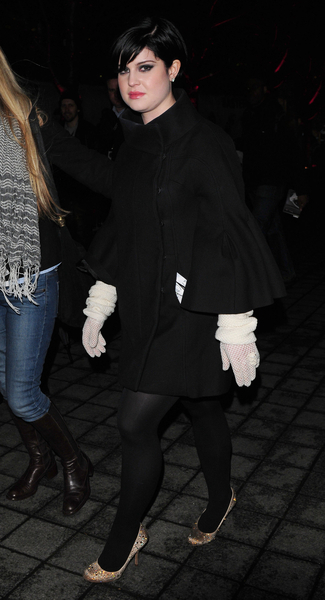 The Osbourne family seems to have a real problem with thinking they're better than everyone else. Considering patriarch Ozzy Osbourne once bit the head off a live bat, the whole clan should show a bit more humility. Or at least keep their respective mouths shut. In the last month alone, Kelly Osbourne has bragged that "Paris gave me my first alcohol poisoning!" and said that she's going to save Amy Winehouse from herself. Brother Jack Osbourne has claimed that DUIs are "no big deal" and Ozzy has admitted he can't remember the bulk of his own life.
Kelly Osbourne is supposedly good friends with Paris Hilton (enough to be given alcohol poisoning by her) and Jack has supposedly slept with Paris (though that's nothing noteworthy, a recent Reuters poll showed that 78% of the population has slept with Paris Hilton). But apparently that's not enough to keep Kelly from badmouthing her to the San Francisco Gate.
She says, "I think for a lot of famous people press attention is an addiction. Those girls — Britney, Lindsay (Lohan), Paris and so on — are competing for the attention. It's like, 'Who's going to get arrested next, get pregnant, go out without knickers and get on this week's cover of Us Weekly?'

"It's like a contest of self-loathing and I just don't understand it. How has this turned into the fashionable thing to do? I would be absolutely mortified if I got arrested — I would be terrified of phoning my parents and telling them, and it would completely change me for the rest of my life."
[From the San Francisco Gate]
I'm not sure if Kelly could possibly open her big mouth any wider. Hopefully she has relatively small feet to shove in there. Kelly is most famous for her family being famous. Kinda like Paris. She did garner a bit of her own fame during the family's reality TV run, but only because she was so loud and whiney. Nothing to be proud of. Given all that, it shames me to say that what Kelly says actually makes sense. I just think it's classless to say it about your own friend, especially to the press. And it kind of negates her point, since it makes it look like she's trying to get press attention. Nonetheless, considering how all those girls – Britney especially – behave, one could easily make the argument that they're almost trying to embarrass themselves. I never thought I'd say this, but maybe you three should listen to that nice little Osbourne girl.
Picture note by Jaybird: Kelly Osbourne at the Fiat 500 Launch Party at the London Eye on January 21st. Images thanks to PR Photos.