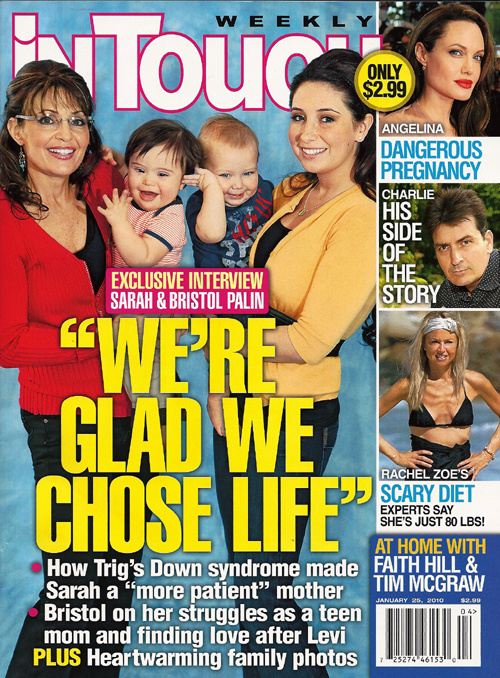 Sarah and Bristol Palin appeared on the cover of In Touch last week with their adorable babies and the title "We're Glad We Chose Life." It was strange that In Touch chose a pro-life message for the cover instead of the standard "Exclusive photos inside our home" angle. Now that the numbers are back, In Touch might be rethinking their strategy of featuring the mother-daughter team on the cover. Sarah Palin may have had a top selling book this holiday season, but she doesn't sell gossip rags. The NY Post reports that the issue was a low seller for In Touch. What's more is that the magazine paid the Palins $100,000 for the photos and interview:
In Touch Weekly's gamble on Sarah Palin didn't pay off. The magazine paid $100,000 for a cover story on the former Alaska governor and her daughter, Bristol, for the current issue. But, despite Palin's huge book sales and TV ratings, sources said In Touch sold about 500,000 copies on newsstands, about half the number it sold a few weeks ago with the late Brittany Murphy on the cover. Insiders said political covers don't usually sell well for supermarket weeklies. In Touch will return to Hollywood this week with Angelina Jolie on the front page.
[From The NY Post]
I hope Sarah gave her daughter at least half of that $100,000, which would be enough to move out on her own. Let's also hope that this news means that we're going to see less of Palin's wide-eyed brand of homespun, half-assed conservatism. Palin may have earned a spot on Fox News, but until some more dysfunction comes out from her family she won't be gracing our gossip magazine covers anytime soon. Her feud with man-boy Levi only goes so far.
In related news, Popeater reports that Palin has Fox pundit Glenn Beck worried that she's going to take his 5pm news spot on the "Fair and Balanced" network. They quote a source that says "Sarah is the new flavor of the month at Fox. All the bosses love her. She's an incredibly strong woman who finds a way of getting what she wants,. And Glenn has convinced himself that it's his 5 p.m. slot that Sarah has her eye on." We'll see what happens and if Sarah is a force to be reckoned with. Given her employment record, I have a feeling that she'll quit her job at Fox once she faces inevitable conflicts.