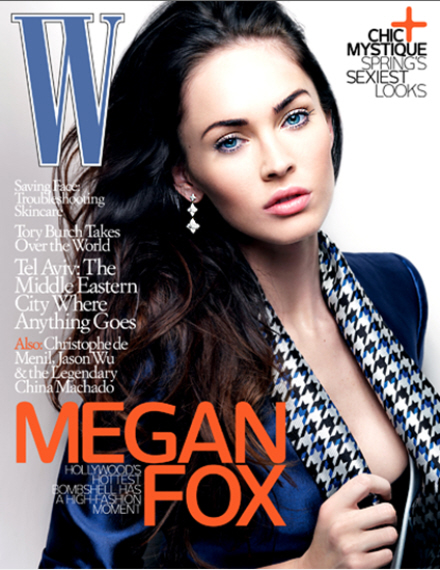 This is the cover shot for the March issue of W Magazine. Megan Fox! What the…? If you remember, right after the Golden Globes, a report came out that Gerard Butler and Jennifer Aniston were supposedly doing a "racy" photo spread for the magazine. I just double-checked, and it looks like I just assumed it was going to be for the March issue, but could totally be for the April issue. That's what I'm going with now, especially since I get to enjoy another Megan Fox film promotional cycle.
I can't hate on this cover. It's kind of cute, she doesn't have her tongue sticking out, and they covered her up and didn't Photoshop her into oblivion. Yes, my standards are that low. W Mag hasn't put the full interview up, so here are some of the highlights from other sources:
Megan on looking good in underwear: "There are some women you could put in underwear and photograph them, and it looks really classy and it doesn't necessarily provoke a pinup image. But with me, it does, immediately. As soon as I'm in underwear, I'm a Vargas girl."

On being a "model": "I feel intimidated by fashion. I hate doing photo shoots."

On self-confidence: "My main weakness is nerves…I have no confidence, and because of that, I'm always second-guessing myself."

On female relationships: "I especially don't trust girls in this industry, because it's incredibly competitive, and I'm just not interested."

On being "maternal": "No one believes me when I talk about this, but I'm really maternal… I worry that because I've always wanted [kids] so much, as the world goes sometimes, I won't be able to have them, even though I would be able to provide them with such an amazing environment."
[Assorted quotes via People, Us Weekly]
Well, it's not as ridiculous as some of her past interviews. Once again, my standards are pretty low. There's no mention of her "schizophrenia" or her constant verbal tick of mentioning Angelina Jolie's name. She's still ringing that "I have no confidence" thing, which is weak, considering she plays both sides of that. In some interviews she's all "I'm a powerful, righteous feminist" and in others, she's all "I'm such a weak little girl." Blah, blah, blah. I also think it's interesting that she's "just not interested" in having female relationships. Do you think that's really the case, or do you think Megan has just alienated every possible girlfriend she ever had be the sheer quantity of inane bullsh-t that comes pouring out of her mouth? Yeah.
W Magazine cover courtesy of Megan's A Fox fansite.