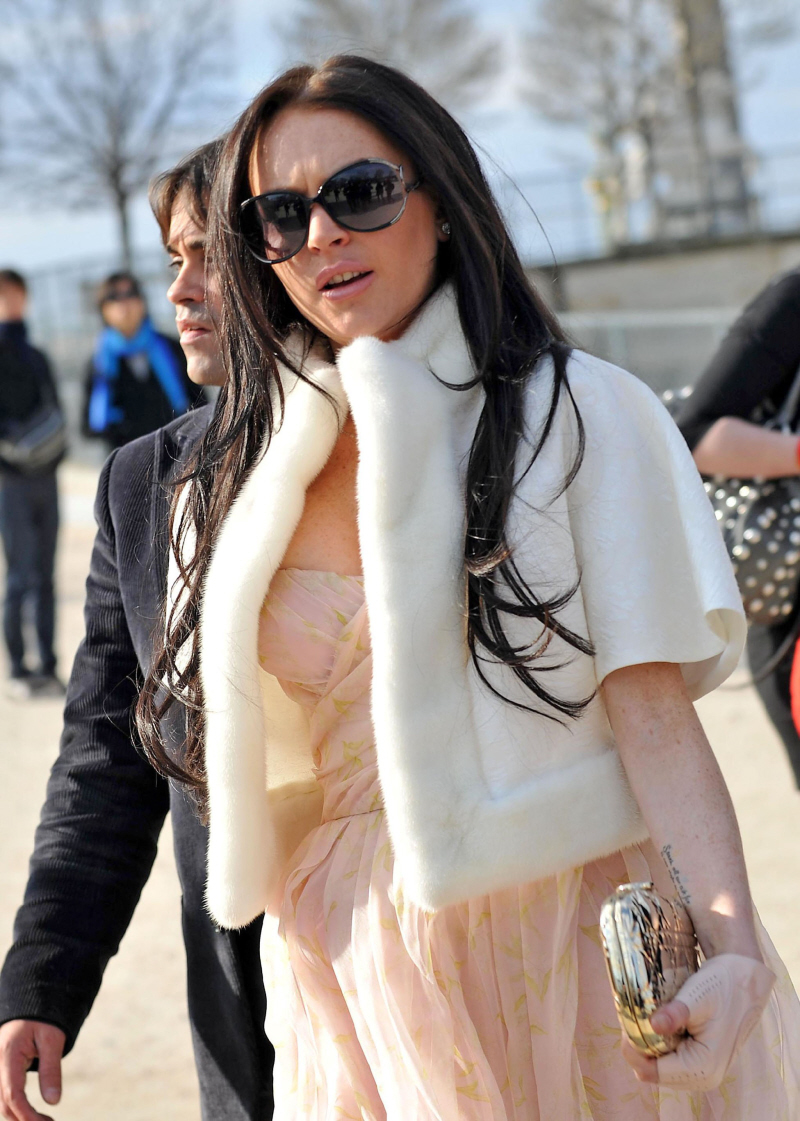 I know we've already done one "Lindsay Lohan, Crackhead, Part —" story today, but I was honestly shocked when I saw these photos. Not that Lindsay's face looks any more or less crack'd than any other time, but because of where she is. This is Lindsay going into John Galliano's Dior Fall-Winter 2010 fashion show today in Paris. John Friggin' Galliano has Lindsay at his shows! Dior! This is the label Cate Blanchett wears. This is the label Charlize Theron wears. This is the label Marion Cotillard wears. Get it? This is the label Oscar winners wear. This label is not for crackheads. They should stamp that on all the Dior clothing.
*Update: Sorry, I just saw this two seconds after I published: Lindsay was denied entrance to Dior! Hurray for a fashion house that denies crackheads! These photos are of Lindsay walking away from the Dior show after being denied. That's why her crackface looks so mad!
Meanwhile, regarding Lindsay's crack shenanigans last night when she was pretending to be a deejay, apparently the British tabloids put her together romantically with the dude, Gareth, who was trying to cover for her drunk ass. Lindsay, of course, had to crack tweet about it. I swear to God, this girl creates crack drama out of thin air.
Lindsay Lohan is standing up against rumors regarding her romantic life. The starlet is denying a report from a British tabloid claiming she has been dating a DJ — and no, it's not her ex, Samantha Ronson.

The British tabloid reported Lilo was spotted with British DJ Gareth Morgan – aka DJ Geno, Access Hollywood reports.

The pair were allegedly getting cozy and apparently "canoodling" at a London nightclub.
Now, Lindsay is taking action! She Tweeted early this morning, "I'm NOT dating him. lies lies lies."

However, Linds isn't standing too firm on this one. She has since deleted the Tweet!

Lindsay's message had been re-Tweeted, but it seems strange that she deleted it.
Makes you wonder! But most likely there is only one DJ that can claim the starlet's heart, Sam.

"We love each other," Lindsay recently told Britain's The Sun. "We might reconcile the relationship, maybe. I don't know."
[From OK! Magazine]
Yeah, I doubt she's dating him. She probably offered to suck his d-ck, but that's not the same as "dating". Especially since most men are now at the point of saying "Thanks but no thanks" to that offer from Lindsay.
So how is she at Dior again? Haha, she's not!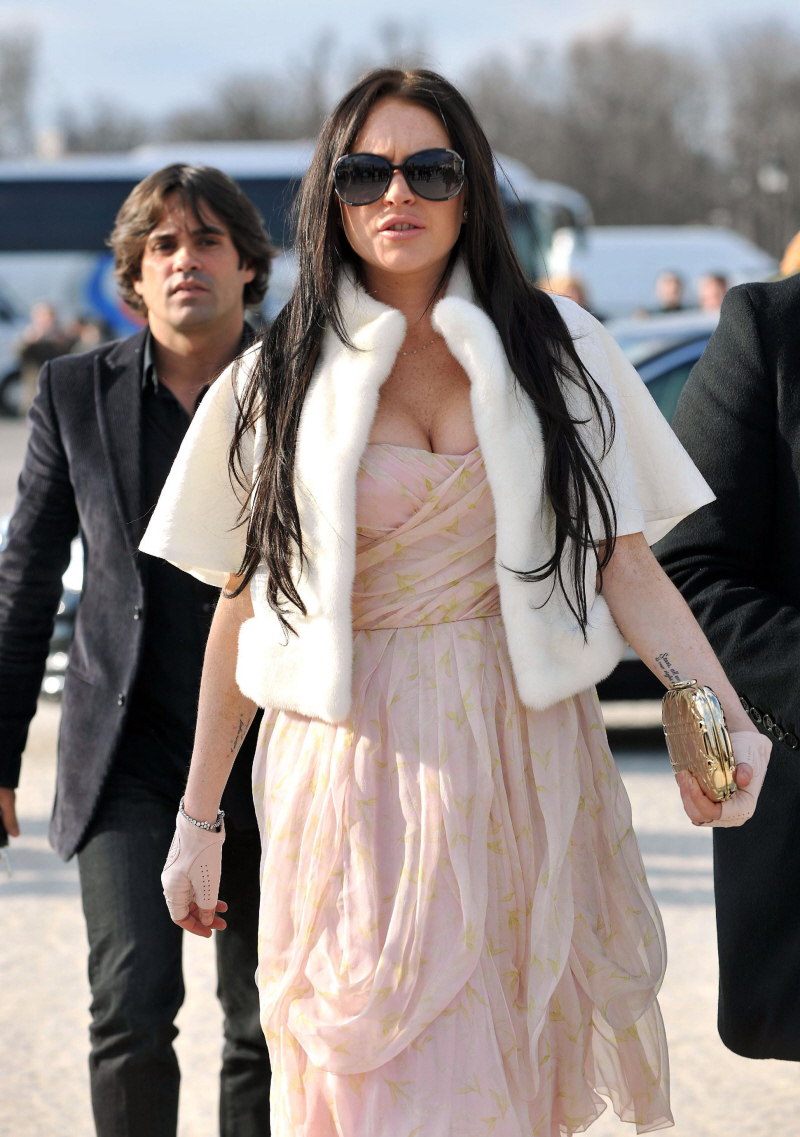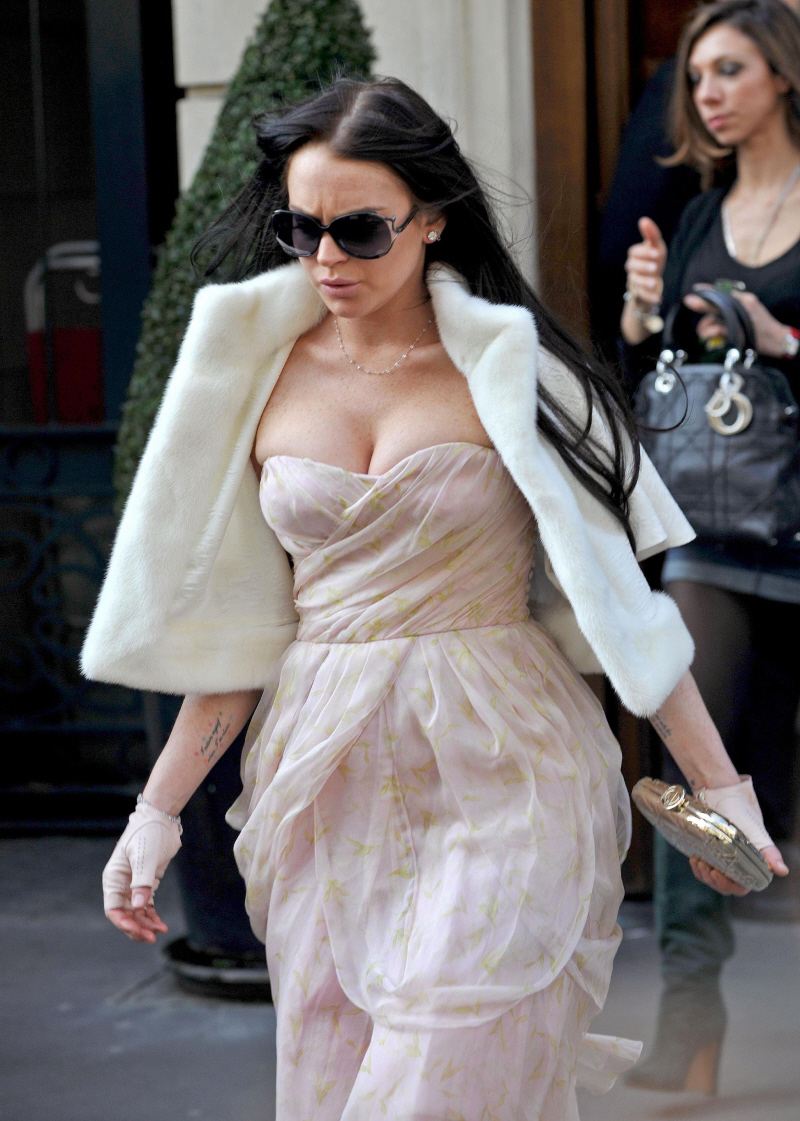 Lindsay Lohan in Paris on March 5, 2010. Credit: Bauer-Griffin.