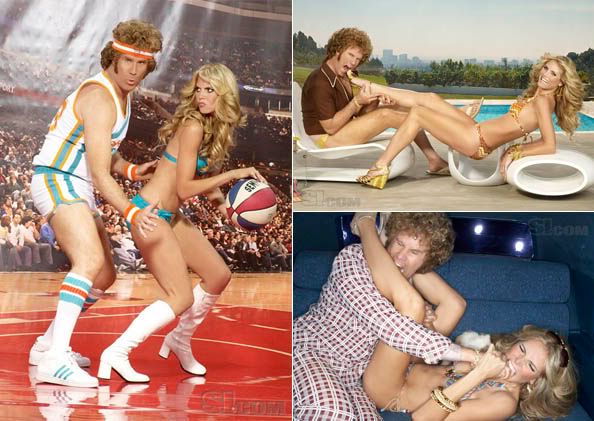 Will Ferrell is promoting his new 70s basketball film Semi-Pro, which also stars Woody Harrelson and is out in US Theaters on February 29. Ferrel has an awesome retro photo shoot with a scantily-clad Heidi Klum and accompanying interview on SportsIllustrated.com, and he says he had a lot of fun doing the shoot with Heidi and didn't even get in trouble with his wife for horsing around on set with the gorgeous model and mother of three. Unlike Klum, Ferrell was reluctant to get his kit off for the shoot, and says that people are getting sick of seeing him in his underwear and he has to be conscious of it. As for how he got along with Klum, he says "she's a wildcat," and if you look at the photos it shows:
When you and Heidi got together for the Swimsuit shoot, the atmosphere seemed …
Hot! Yeah, she's a wildcat. Pretty much every shot came down to one of us trying to get the other's pants off. The one where I'm biting her — can I say A-S-S? — that was one of the craziest moments. She told me, 'You need to just bite my ass.' I was kind of mimicking, half-doing it, so she stopped and said, 'No! Really bite it!' It was one of the most surreal moments in my entertainment life.

How did Mrs. Ferrell feel about that?
My wife is incredibly accepting of all these things. She just rolled with it. She came by the shoot and walked in right at the moment when I was biting Heidi's butt. Heidi felt slightly self-conscious for a second — and then she went right back into it. [Will stops to tend to his 3-year-old son, Magnus.]

I bet he's going to appreciate these photos some day.
Yeah. He'll either be incredibly proud or incredibly embarrassed by it. One or the other. Probably the latter.

Do you have any Swimsuit memories from, well, not Magnus' age, but after that?
I wasn't exactly a Playboy-under-the-bed kind of kid, but I do remember — I think — a Christie Brinkley shoot down in the Seychelles Islands. I remember thinking, 'Wait. This is Sports Illustrated? WHAT is going on here. Mooom?' It threw me for a loop, but I remember being extremely excited about it after that.

You were one of the rare models who had issues about disrobing for SI. Why?
Well, Heidi kept trying to get me in my underwear. Begging, really. I had to say, 'Believe me, I don't have a problem [disrobing]; I do it a lot in my movies. But I'm riding the line of people who celebrate that and the people who are getting sick of it.' There isn't a moratorium on pants removal; I'm just trying to be a little more judicious about it. It put me in the unimaginable position of turning Heidi Klum down when she asked me to take my pants off.
[From SportsIllustrated.com via The Huffington Post]
There's also a video clip from the photoshoot, but as of press time I could not get it to play. (It just plays a commercial and then stops for me.) I'll keep checking and let you know, because I definitely want to see it.
Here's the trailer for Semi-Pro, it looks goofy and fun.
There's also a Semi-Pro music video contest currently on YouTube, with the chance to win prizes when you submit a clip.
Thanks to SI.com for these photos.