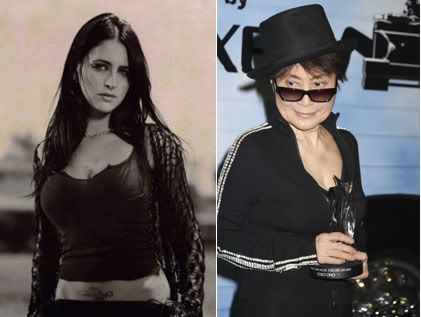 On Tuesday Msat wrote a story that's gotten a lot of press attention lately, in which a singer named Lennon Murphy said Yoko Ono had sued her to prevent her from using the name Lennon for her band. Many people were disappointed in Yoko, especially considering that she has done a lot of work to promote the arts. While the issue is complicated, Yoko has not in fact filed a lawsuit or anything close to it. Yoko has asked Lennon Murphy to withdraw her claim of exclusivity to the Lennon name with the United States trademark Office. You can see how Lennon Murphy have exclusive rights to the name Lennon would be a problem. Yoko Ono was kind enough to email Celebitchy and explain her side of the story.
Dear Friends

A musician named Lennon Murphy is claiming that Yoko Ono has sued her and that Yoko is seeking to stop Lennon Murphy from performing under her name, Lennon Murphy. Both of these claims are untrue.

Several years ago, Lennon Murphy sought Yoko's permission to do her performances under her name, Lennon Murphy. Yoko, of course, did not object to her request. Subsequently, without Yoko's knowledge, Lennon Murphy filed an application in the United States trademark Office requesting the exclusive right to utilize the name "Lennon" for musical performances. Yoko's attorneys asked Lennon Murphy's attorneys and manager to withdraw her registration of exclusivity to the name LENNON for the trademark. Yoko also offered to cover all costs Lennon Murphy had incurred in filing for the trademark. But Lennon Murphy went ahead to register.

Yoko did not sue Lennon Murphy, but sought to stop her from getting the exclusive right to the name Lennon for performance purposes. For that, Yoko's attorneys, simply notified the Trademark office that Yoko did not believe it was fair that Ms. Murphy be granted the exclusive right to the "Lennon" trademark in relation to musical and entertainment services. As you can see, this is a very important issue for Yoko and the Lennon family.

Yoko says: "I am really hurt if people thought that I told a young artist to not use her own name in her performances and had sought to sue her. I did no such thing. I hope this allegation will be cleared."

Thank you for your kind attention,
Yoko
[From e-mail to Celebitchy]
There's very much two sides to every story. Having heard both, it seems that the issue is that Lennon Murphy wants sole rights to the name Lennon, which would obviously be problematic for John Lennon's widow. Both Celebitchy and I thought Yoko's letter was carefully written and generous, and she didn't come across as snotty, belligerent, or angry like a lot of people would. Whatever people say about Yoko Ono, most everyone agrees that she has worked tirelessly protecting John Lennon's memory and his estate. As writers, we really appreciate when celebrities or their publicists respond to our stories and let us know their side. We want to be fair and publish accurate information, and give both sides of a story whenever possible. It's so much more helpful than a bunch of PR reps who constantly give us "no comment." Yoko was kind enough to take a bit of time to respond, and now we're able to tell you her side of what's going on. Hopefully both sides will be able to reach an amicable resolution.
Here's Yoko Ono at the John Lennon Education Bus Dedication at the 2008 Consumer Electronics Show in Las Vegas on 1/7/08, thanks to PRPhotos. Musician Lennon Murphy is shown in promotional photos.