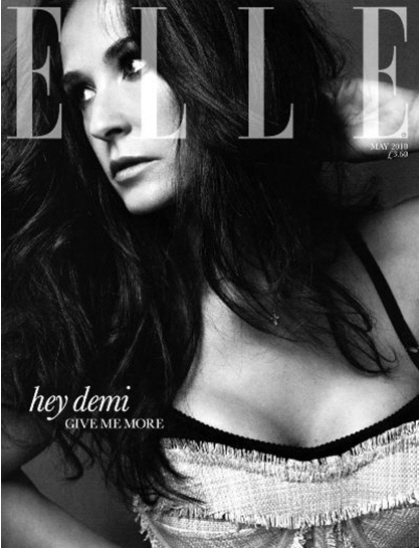 Demi Moore is the cover girl for the May issue of Elle UK. I think it's a lovely black-and-white image, and I love when Demi does loose waves with her hair. I can't stand when she does the flat-ironed, super-straight hair. The soft waves look more natural, and they make her look younger too. Can you tell I'm obsessed? My hair is Demi's length right now, and I'm debating whether to cut it. I'm also debating whether I should dye it – for the first time ever! I've got silver coming in, and it's starting to piss me off.
Anyway, I can only find this little excerpt from the Elle interview, but it's a pretty decent one. From the way Demi talks, you'd think that she was the first actress to ever have a family. Granted, I know things were different in the olden days, but Demi isn't solely responsible for the whole "working Hollywood moms" thing. Sidenote: Meryl Streep managed to raise four children while having a career that has earned her 14 Oscar nominations. Just sayin', Demi. She also admits: "I don't think that I am the most talented person." Ya think?
The actress is renowned for making some daring decisions throughout her career. In 1991, she appeared naked and heavily pregnant on the cover of Vanity Fair magazine, and she shaved off all her hair for 1997 movie G.I. Jane.

She insists she had no idea of the impact the Vanity Fair cover would have, explaining she just wanted to "push the boundaries". Demi, who has three daughters with her ex-husband Bruce Willis, explained she felt she had to do something about the way women were viewed at the time, as she felt it was unfair they had to choose between having a family and career.

"I didn't have a lot of role models in Hollywood and I probably pushed a little hard. But I'm hard-headed. I look at women like Jennifer Garner and Reese Witherspoon, actresses who are also young mothers, and I realise it's not even a question now," she explained. "Risk taking scares the s**t out of me. I always feel that I'm going to fail, which is a terrible thing. I can be my own worst enemy."

Demi, 47, still worries her career could come tumbling down around her. She doesn't think she is a particularly talented actress, and just tries to use her fame to help other people.

"I don't think that I am the most talented person," she told the British edition of Elle magazine. "I've been given a window into a life, and I may not know why but it's not for me to question. It's more important for me to just shut up and listen and give. Even if I don't know what it is that I've got to give."
[From Music Rooms]
If I get passed the whole plastic surgery thing, and the whole lying-about-plastic-surgery thing, and the whole Twitter-idiot crap, I don't really dislike Demi. I think she usually sounds very grounded. But I have another question – this is the second major publication she's appeared in on a month's time – she was the April cover girl for the American Harper's Bazaar. And now she's on Elle UK. What is she promoting? The only film she's got out this year is still in post-production, and it doesn't even have a release date. Why do magazines keep letting Demi have a cover when all she does is reminisce about the good old days when she was breaking barriers? Why doesn't she actually "shut up and listen and give"?