Amy Winehouse has mark on face; spokesman claims it's a skin infection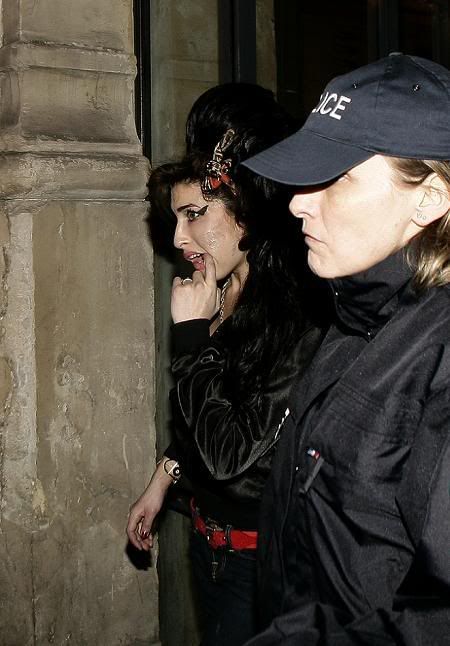 I love Celebrityville. It's a little town I made up where all the stars live, and the laws of logic, normal behavior, and common decency do not apply. In Celebrityville, going to the E.R. to get your stomach pumped is checking in "for exhaustion." Time spent at rehab for mainlining heroin is actually checking in to deal with some "personal issues." And in Amy Winehouse's case, getting hit in the face is actually some unknown exotic "skin infection." At least according to her spokesman, who must by the mayor of Celebrityville by now. On Friday Amy was photographed with a bizarre… something… on her face. I don't think there's really a word to describe it. Rumors started flying that it's a bruise and Amy must have gotten punched in a fight. While I've heard of people getting "a shiner" I didn't think it was supposed to be so literal. Amy's spokesman says it's some kind of unknown skin infection. There are pictures of Amy from the day before, and her face looks completely normal. If it is an infection, it came on really, really fast.
Amy Winehouse has quashed rumors she was involved in a fight – putting her bruised and swollen face down to a mystery skin infection. The star fueled speculation she may have suffered a blow to the cheek after she was photographed on Friday (29Feb08) with a painful-looking swelling on the side of her face. But Winehouse's official spokesman insists the singer has come down with a mystery illness and is seeking medical help. He tells British newspaper the Daily Star, "Amy has a skin infection which is why her face looks the way it does. At this stage she has no idea what it is but she's getting to a doctor to try and identify the problem. "She's not in any pain but, obviously, she wants to get it sorted as soon as possible.
[From Contact Music]
It could legitimately be a skin infection. Whatever is on her face is definitely very odd looking, and certainly doesn't resemble a classic bruise. However the odd appearance could be due to Amy's attempt to cover it up. It's really not possible to totally rule out some sort of "altercation." Though there does appear to be some other mark closer to her jawline. According to several medical websites, intravenous drug use increases the chances of contacting several types of skin infections, and also makes it much harder for the body to fight them off. Logically, a person would think, "Clearly Amy Winehouse has a skin infection, because if she got punched in the face she would of course stay home to avoid the paparazzi." And while a normal, healthy, logical person would do that, Amy Winehouse would not. This is a woman who wanders around bloody and barefoot… and not even on her worst day. That's just a typical Wednesday afternoon. Considering all the health issues that Amy's got going on, and the fact that she's never struck me as a particularly rigid bather, I would really love it if she'd see another doctor… and take her damn finger out of her mouth.
Update: Amy Winehouse has been diagnosed with impetigo, according to her rep, and many of you pointed out in the comments that's what it looks like. US Weekly quotes the Mayo clinic website as saying that "Although it commonly occurs when bacteria enter the skin through cuts or insect bites, it can also develop in skin that's perfectly healthy. Impetigo is seldom serious, and minor infections may clear on their own in two to three weeks."
Written by JayBird

Posted in Amy Winehouse, Health

- Mariah Carey lip synced on American Idol [CDAN]
- Colin Firth is looking good [Lainey Gossip]
- Internet celebrity charged with murder! [D-Listed]
- What is Paz Vega wearing? [Go Fug Yourself]
- New bachelors on The Bachelorette [Reality Tea]
- Goodbye to The Office [Pajiba]
- Bachelor Sean's fiance cheats on him [Evil Beet]
- Britney Spears out with her man [Popsugar]
- Nina Dobrev works it [Popoholic]
- Cindy Crawford needs to lay off the 'tox [Celebslam]
- Who said it: Carrie Bradshaw or The Dalai Lama? [Buzzfeed]