Professional douchenozzle Ryan Phillippe is on the May cover of Men's Health Magazine, probably to promote his supporting part in MacGruber, which is the full-length movie based on that f-cking skit on Saturday Night Live. Dude… Ryan has worked with Clint Eastwood. He was in the Oscar-winning Best Picture four years ago. Why has his career taken such a tumble? I actually don't think Ryan is a bad actor at all. But he's made some weird career choices, and there is the little problem of his douchey personality. Speaking of, Ryan is still talking about his divorce from Reese in the interview: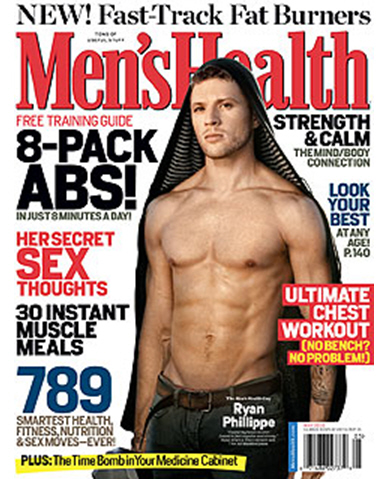 The marriage of Ryan Phillippe and Reese Witherspoon may have ended nearly three years ago – but he admits to having unresolved emotions about the split.

"I still have sadness and complicated feelings about my divorce," Phillippe, who also recently broke up with live-in girlfriend Abbie Cornish, says in the May issue of Men's Health, on newsstands Tuesday. "But how beneficial is it to keep hanging onto those feelings?"

Phillippe, 35, who has two children with Witherspoon, is also surprised by the self-discoveries he's making as he ages.

"I thought the most experience you had, the more certain you would be about life," he says. "But I'm finding the opposite, man. I'm more in wonder and confusion than I was in my 20s."

For inspiration, Phillippe says he looks to Clint Eastwood, 79, who directed him in 2006′s Flags of Our Fathers. "He's in the latter part of his experience on the planet, and he's still growing," Phillippe says. "He's open to new ideas and he's changing the way he sees things … It's something I want to encourage in myself: Don't close off."

Judging by his role in the upcoming MacGruber, Phillippe appears to be taking that mission seriously. The actor exercises his comedic chops in the movie, which originated as a Saturday Night Live sketch as a spoof of the '80s TV hit MacGyver. (Phillippe will appear on SNL April 17.)

"I tend to internalize and analyze, but with them, there's none of that," Phillippe says of his MacGruber costars, Kristen Wiig and Will Forte. "There was no edit, no judgment. It was just a really free atmosphere."
[From People]
Do you think Ryan is just dumb? I never used to think so. I used to think he was one of those "still waters run deep" guys. But I'm starting to doubt that, especially given his recent douchey interviews, especially the one he gave to Howard Stern. Ugh.
Here's the trailer for MacGruber… holy crap, Val Kilmer is in it too! WTH?!?