Michael Lohan and Kate Major in cheesy engagement portrait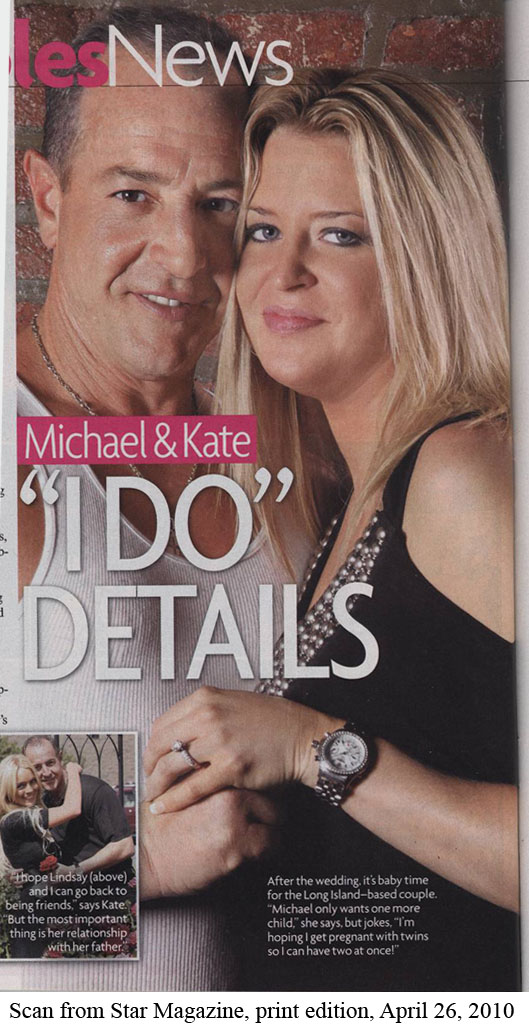 This week's Star Magazine has a really amusing article from ex Star employee and weepy wronged Jon Gosselin ex, Kate Major. Major and her new fiance, abusive creep Michael Lohan, pose in a creepy engagement portrait, Michael's wild eyes searing the camera as if to say "Look, here's another woman who will have me," (until I sell her out to the press for a minor perceived wrong.) Kate is blissfully unaware, and judging from an interview I've seen with her and her glassy-eyed look I think she gets through her days with help from liquid courage. She tells Star about her wedding plans, as if we care about the details. Kate has already revealed that she plans to have the wedding in the fall and that she wants to have Lohan's babies. You know that Michael will be trying to sell the wedding and baby photos no matter whether he's still talking to Kate or not.
The former Star reporter dished about the duo's plans for their nuptials, which will likely take place in November at Long Island, N.Y.'s Oheka Castle, where Kevin Jonas recently wed.

And it looks like it's going to be a lavish affair. "I come from a big family, and so does Michael, so it will probably be a very big," says Kate, 27. "And my dad will walk me down the aisle. He's so happy that I'm happy, and he gets along great with Michael."

While Kate is already thinking about her perfect gown – Vera Wang tops her list of designers – she insists she's no bridezilla. "I guess I'll have to buy some wedding magazines and start looking now!" she says. "I'm not really girly, so as long as the dress looks good and fits, I'm okay. Something strapless, probably. Nothing froufrou." Her eight bridesmaids will have gowns that are similarly unfussy. "I'm thinking plum or navy dresses, but that could change at any moment."

Kate adds that Michael, 50, would love for Lindsay to be a bridesmaid. But she doesn't know if the star, who has expressed disapproval of the pair, will show up. "I hope that for the sake of her father's happiness, Lindsay will be in attendance," says Kate, adding that Michael's three other kids with ex-wife Dina are invited to be in the wedding party too. "We just want all the people who care about us to be there and have a good time."
[From Star Magazine, print edition, April 26, 2010]
Previously Lindsay said that her father's engagement made her want to puke, so you can imagine that she might not show up to his actual wedding. Michael will of course try and convince her to come, so that he can sell the exclusive rights to the photos to whichever tabloid will pony up the money. Maybe Lindsay will show up, her pupils tiny pinpricks and a look on her face like she's about to pass gas, which is how she's looked for months. Seeing this engagement photo I'm struck by how similar Kate Major and Lindsay look. We'll already heard that Michael likes strippers that look like Lindsay. Now that Lindsay's gone off the rails, is it a coincidence that Michael's girlfriend looks all puffy and drunk too?
Written by Celebitchy

Posted in Kate Major, Lindsay Lohan, Michael Lohan, Weddings

- Who butchered the National Anthem? [D-Listed]
- Rob Lowe never ages [Lainey Gossip]
- What is Vanessa Hudgens wearing? [Go Fug Yourself]
- Summer guide to reality TV [Reality Tea]
- Game of Thrones recap [Pajiba]
- Tan Mom's music video [Buzzfeed]
- Amanda Knox is broke [Starcasm]
- Backstage at the Billboard Awards [Popsugar]
- Miley is still stuck in the 90s [Popoholic]
- Blind Items revealed: Adam Levine [CDAN]
- Hugh Hefner bought Crystal Harris a house [Celebslam]
- What happened to Aimee Teegarden? [The Blemish]
32 Responses to "Michael Lohan and Kate Major in cheesy engagement portrait"