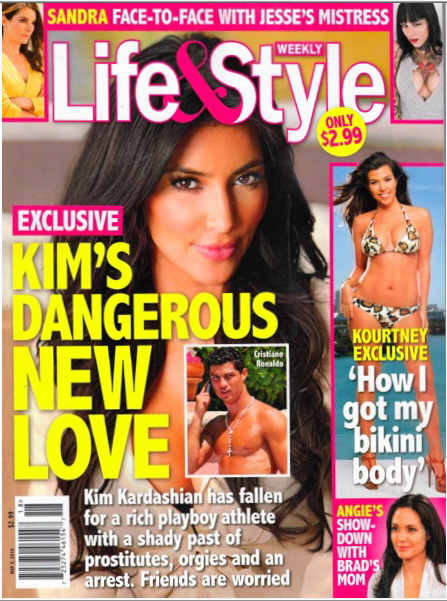 Several days ago, it was widely reported that Kim Kardashian hooked up with Cristiano Ronaldo while she was in Spain. At the time, I didn't really think anything of it, mostly because I was too entranced by Kim's "tweaked" face, and because the reporting of the hookup made it sound like it was literally a one night stand. Not even – they f-cked during the day, and Ronaldo made Kim leave his house after a few hours. Anyway, most of the tabloids now have stories about Kim and her new "dangerous" romance. "Dangerous" because Ronaldo is something of an international douche it seems, and he's going to break poor little Kim's heart. Here's Life & Style's version, who put this nonsense on their damn cover:
Things between Kim Kardashian and new love interest, International soccer stud Cristiano Ronaldo, may be getting steamy but some close to Kim hope the two don't get too serious. Life & Style has learned Cristiano has an arrest record (charges were dropped) and a reputation for being a massive playboy with a taste for call girls and group sex. Cristiano has reportedly hired prostitutes for group-sex parties on several occasions. When asked how many women the soccer star has slept with, an ex-girlfriend of Cristiano's laughingly guessed 80,000!

"Cristiano loves to party," British journalist Debbie Manley, who has followed his scandalous personal life, tells Life & Style. "He's gone out with paid female escorts. Like a lot of European men, he doesn't see a problem with that, I don't think."

In the past, he's been known to have friends text women on his behalf to arrange hotel trysts. After having fun, Cristiano leaves solo and asks the woman to wait an hour before she exits, Manley claims. The reason? He doesn't want to risk getting photographed with her.

"Women throw themselves at his feet," another insider tells Life & Style. "The last time Cristiano was in LA, I saw three different women trying to push their phone numbers on him at once! He's a huge celebrity, and he's gorgeous too."

And while Cristiano is a fun, sexy rebound, he's not boyfriend material.

"Cristiano is wild," adds another insider. "I just don't think he'll ever settle down and be faithful to one woman."
[From Life & Style]
Ugh. For goodness sake. Either Kim knew what she was getting into (likely) when she hooked up with him – ONCE, or she didn't know but now does, and will likely never see him again. Why the need to feel so protective over Kim? She's not a girl. She's a grown woman, nearly 30 years old. If she wants to fly to Europe to get laid, let her.
CB and I were just talking about why this one hookup has garnered so much press. I theorized that it's because tabloids are lazy, and writing about the Kardashians is so f-cking easy. CB replied: "Maybe that's part of the reason why these people shot to fame – they're easy on so many levels." True fact.
Life and Style cover courtesy of CoverAwards.