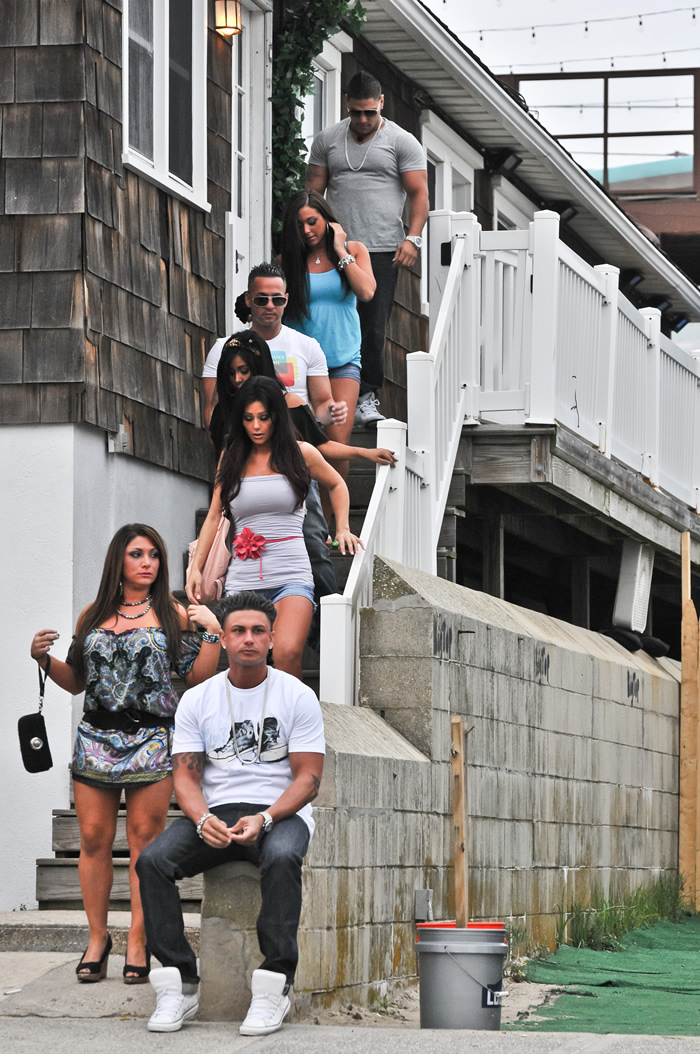 At long last, Italy's national nightmare is over. After the Italian government tried and failed to deter "Jersey Shore" from filming in its country by revoking filming permits for historic sites, the guido bunch still descended upon Florence. Once on the scene, the boys commenced street-bound fistfights (both of the real and pretend variety) while Snooki crashed into a police car, thereby injuring two officers and losing her license. Finally, after the conclusion of season 4 filming, the cast members have left behind countless empty bottles of fake tanning lotion and hairspray; now, they have immediately returned to New Jersey to begin filming on season 5. For many of them, this shall be their last go round before MTV recruits a new bunch of cheaper drunk tarts. In other words, they'd better save their money for the long, steep decine from fame.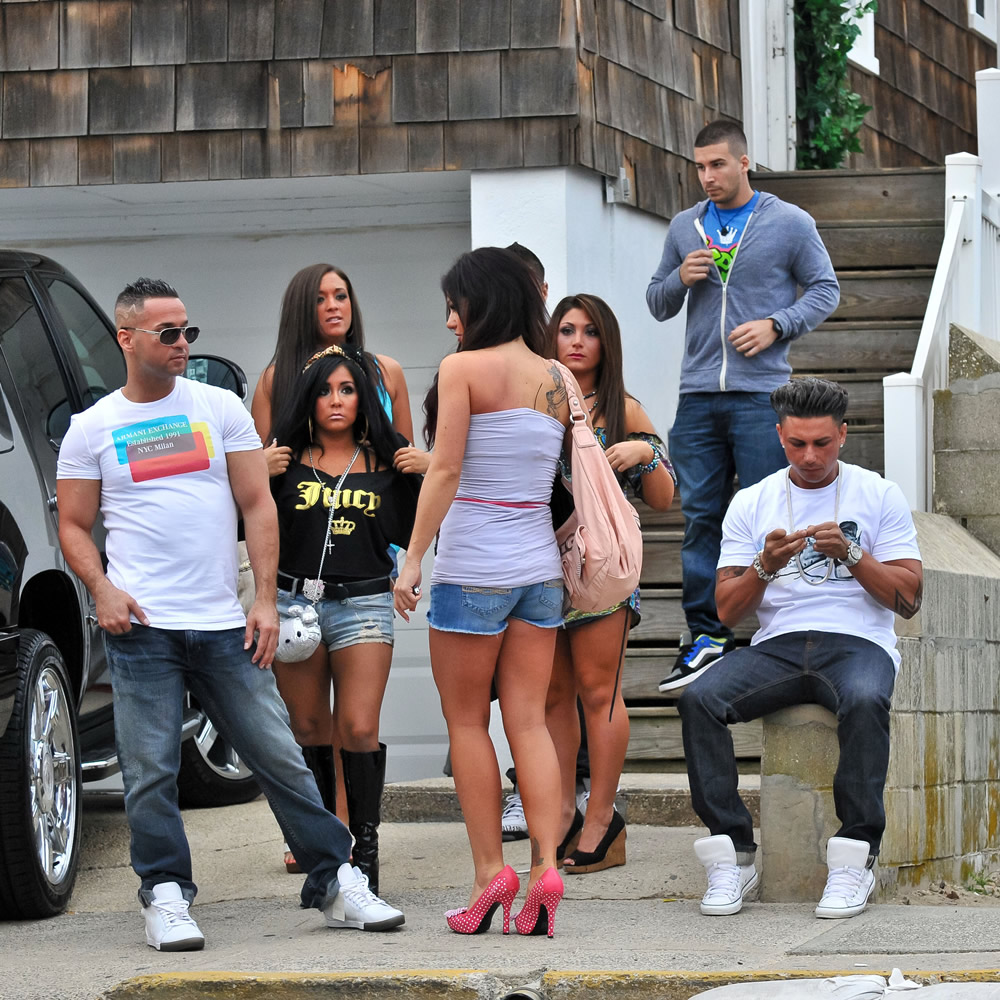 In semi-related news, a very odd and obviously planted story has popped up about Snooki's hardcore fitness regime, according to People:
Has Snooki been putting a little more stress on the "G" in her GTL routine?

Now back from Italy, where the "gym, tan, laundry" gang was filming season four, Jersey Shore star Nicole "Snooki" Polizzi, 23, seems to be gearing up for season five by working out.

The pint-sized reality star was spotted heading to the gym Monday with cast mates Jenni "JWoww" Farley and Sammi "Sweetheart" Giancola, who will all be heading to the Seaside Heights, N.J., house Sunday to begin filming the next season.

And despite her concern that all the spaghetti in Italy would interfere with her diet plan, Snooki seems to have steered clear of excess carbs. The reality star looked fit and healthy in her black and grey gym get-up.

"I definitely want to get in shape and be healthy again," she told PEOPLE in January. "But it's really hard to eat good when you're traveling because you see fast food and you want to go to this restaurant and that restaurant."
[From People]
While we don't have access to the particular photo that People uses for illustrative purposes (you can see it here), the photo appears to be taken at a highly flattering angle and does not accurately depict Snooki's true appearance as of yesterday, which is shown below.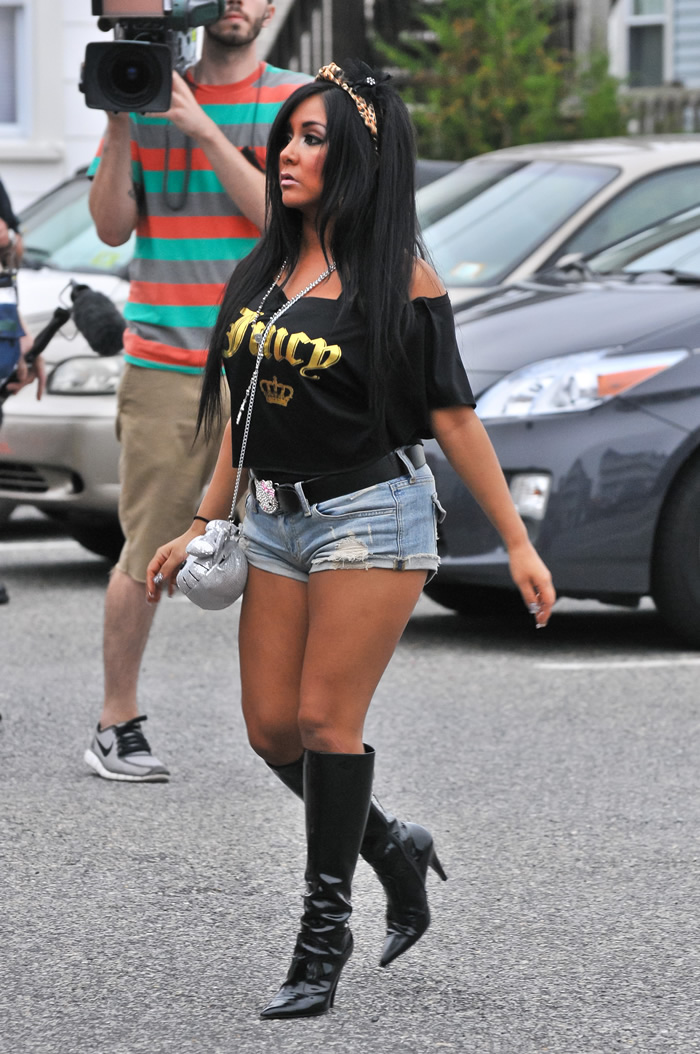 As for the notion of Snooki avoiding carbs while in Italy, well, that's easily disproven as well. These photos, taken on 7/6, show Snooki during a 2:30 am cafe binge that reportedly included tortilla chips and two large ice cream sundaes. Of course, I don't intend to poke any fun at Snooki's weight in and of itself, but if her people are going to plant "fitness" stories in People, they ought to be prepared to deal with photo evidence to the contrary. I'm not saying this is anywhere near the degree of Kirstie Alley delusional territory, but let's just not go there, shall we?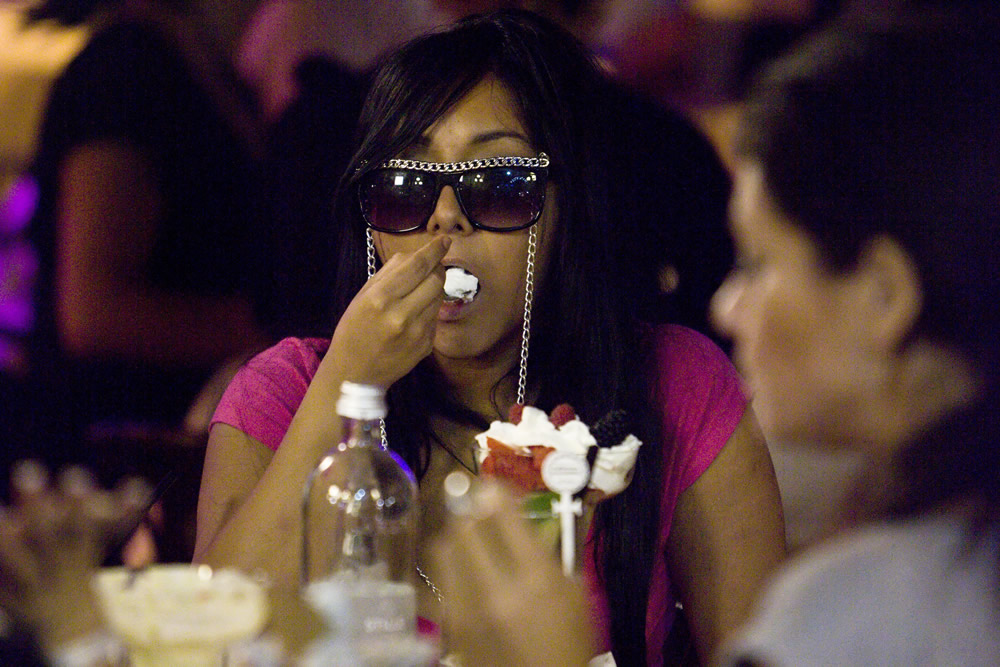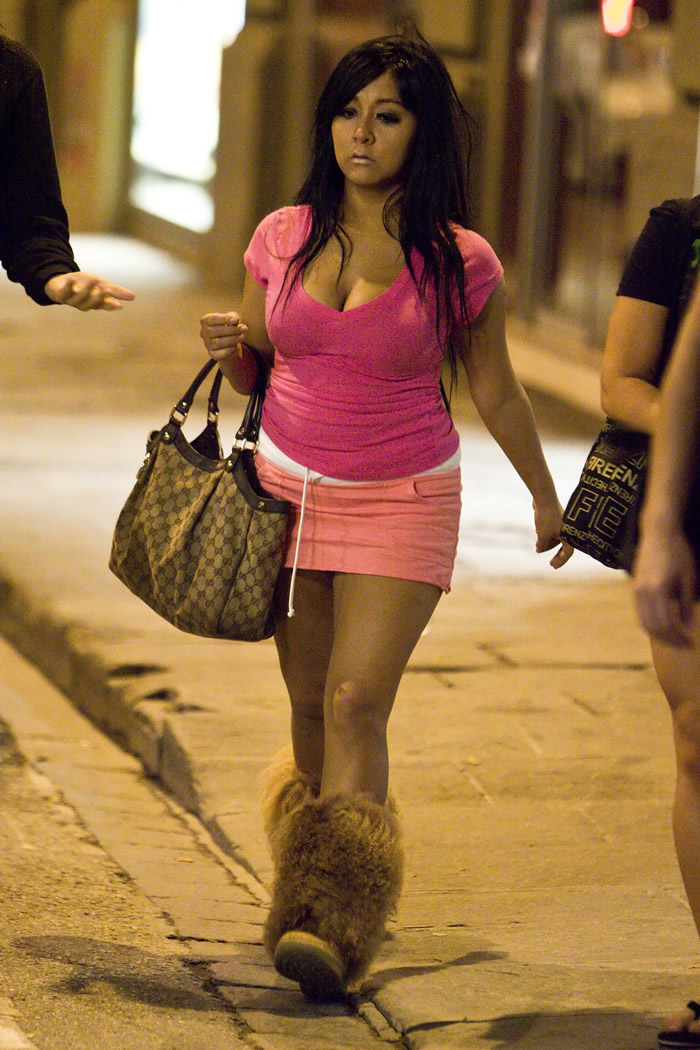 Photos courtesy of WENN