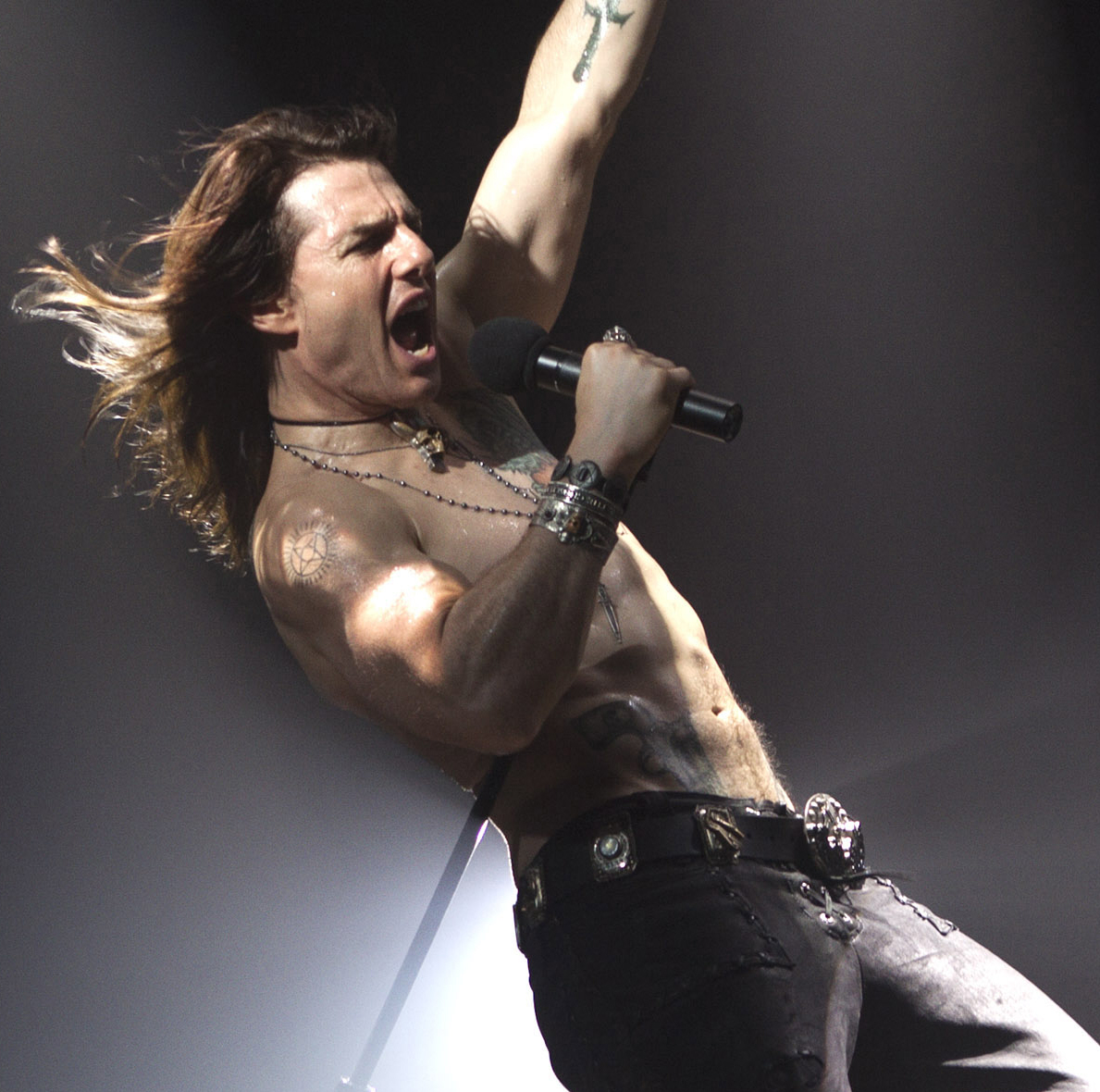 Leave it to Tom Cruise to one-up Victoria's Secret model Adriana Lima in the diva preparation department. While Adriana may very well eschew solids for nine days and exercise twice per day for her chosen art, Tom took his role as rocker Stacee Jaxx in Rock of Ages so seriously that he reportedly sang five hours per day and then added another daily dose of five hours strictly dedicated to dancing. Well, I guess this sort of explains why Mr. Desperate To Please was photographed rocking out on a balcony to universal cringes. All of this fuss happened just so that Tom was able to belt out songs such as "Pour Some Sugar on Me" to the best of his ability. Still, Tom bestows all credit upon Katie for his relatively newfound fascination with dancing:
On Dancing: "I had started dancing because I was inspired by my wife. She kept saying, 'You've got to do a musical sometime,' Kate's a dancer, so she would say, 'Let's go to dance class,' and she would take us and that's how I kind of came up with the idea of Les Grossman doing hip-hop. And then to take it to this level with this? It was really fun."

On Preparing For His Role: "I was working on it when I was finishing Mission and I was singing five hours a day and I was dancing five hours a day. Adam said, 'Look, we're going to have a lot of fun,' and we really did…. I did six months preparing for the movie, and all my stunt training and all of those years doing that, it helped me with the choreography."

On Working With Director Adam Shankman: "He's on fire. What he accomplished with Hairspray was amazing. My daughter has seen it 15 times and our whole family has watched it over and over and it's just enormously entertaining. To be able to hold that tone throughout is really something."
[From 21 Frames]
I kind of love that Tom went home at night from the Mission: Impossible – Ghost Protocol set and headed straight into dancing mode. After all, nothing quite polishes off a day of dangling from a giant phallus as, say, doing the hustle in the pale moonlight. Really though, I am somewhat impressed by Tom's devotion to be the best little dancer that he can possibly be, but ten hours per day of practice is a bit excessive although not entirely inconceivable because — let's face it — Tom is manic. He is the classic unhinged, lift-wearing midget. He must be exhausting to be around, which is probably one reason that Katie looks so zoned out all of the time. Seriously, when these two make whoopie (shut up, you know that's what they call it), Tom still feels the need for speed. Yuck.
In addition, no one should be the least surprised that Tom loves Hairspray, and I'd be willing to bet that he's the one who encouraged Suri to watch it fifteen times. "Awww, dad …. again?" Seriously, Tom probably admires John Travolta for having the metaphorical balls to wear a dress in that movie; yet Tom must also take comfort in the fact that he's the one who's brave enough to wear the heels in Rock of Ages. And for that matter, in all of his other movies as well.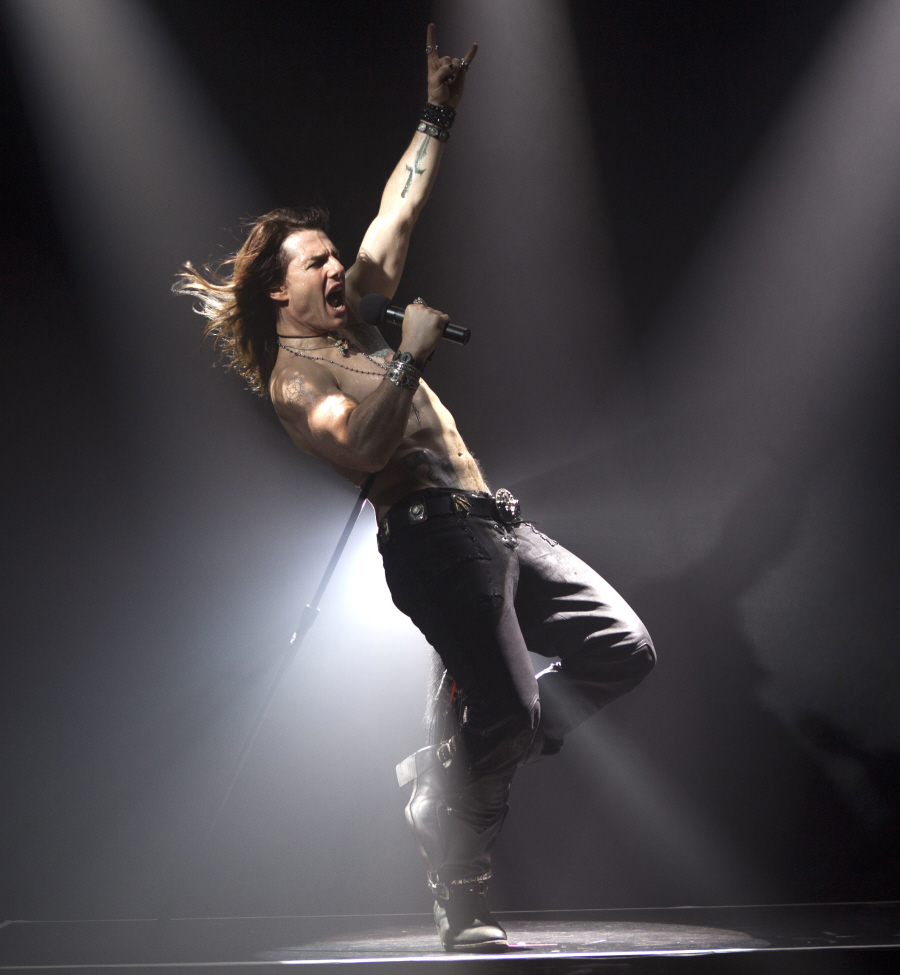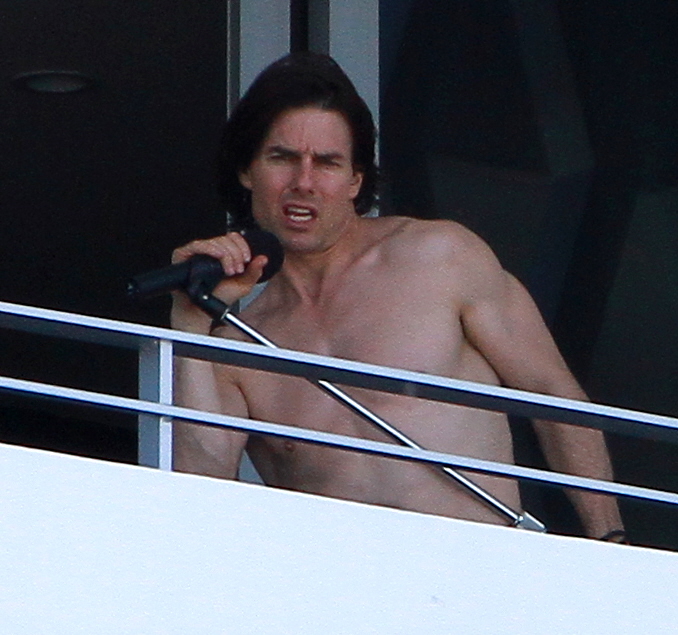 Photos courtesy of Fame